Review: St. Patrick's Day at SPACE with Todd Snider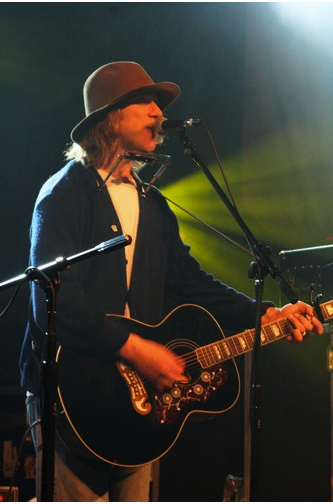 Contributed by: Chris Murtaugh
The stage was small and the mushrooms were large at Evanston's SPACE on St. Patrick's Day.  My first time at the suburban venue, I wondered if the prop mushrooms were always on stage at this intimate facility, or if they were a Todd Snider thing. Minutes before he came out for his Sunday night gig, the true purpose of these large mushrooms became apparent: they hold incense. It must be a Todd Snider thing. But these were the only showy thing about the stage setup: a table, some fresh flowers, and a red cup were the only other decorations that adorned Snider and a few of his guitars. Afforded no backstage, Snider entered from the back of the room and snaked his way through the crowd. He began the set immediately with "If Tomorrow Never Comes", an ode to living in the moment. I had arrived.
During the next five songs I was struck by the vast range of emotions Snider could construct with the simple tools of a guitar, his voice, and a harmonica -- ranging from broken-hearted musings on "The Very Last Time" to humorous social criticism with "Happy Hew Year". Over the course of the opening fifteen minutes I did not know weather to laugh or cry, sometimes in the same moment. The songwriting, coupled with the stripped down presentation, was elemental in extracting this emotion.
Late in the first set, he payed homage to John Prine with an excellent cover of "Bruised Orange".  A bit of a history lesson: Snider was Prine's touring assistant, then later his opening act. Prine thought so much of Snider's material in those early days that he even put out some of Snider's early music on his own label, Oh Boy Records. The refrain "A heart stained in anger / grows weak and grows bitter / you become your own prisioner / as you watch youself sit there / wrapped up in a trap/of your very own chain of sorrow" was sung with real emotion, the room appropriately silent -- Prine would be proud of his young protege. After the fan favorite "Play a Train Song", Snider exited through the back door, promising to come back for a second set.
Twenty minutes later, his second set began and immediately reinforced every reason I go out to see live music. Forging the type of connection you only get "in the room", Snider captivated the audience by telling stories, followed by songs that seemed to enlarge their meaning. His tales were at once hilarious and stearnly earnest. This was authentic music, spun by a true troubadour whose most essential gift is to present  his material in a direct way. One story remembered Snider's days on the high school football team. One line stands out: "Large men moving towards each other and away from each other, all in relation to this ball". The best art always makes the familiar seem less so, and Snider succeeded.
Each song contained a piece of some kind of timeless message or meaning, and it is Snider's unique ability to be able to present these themes in a way that is funny and entertaining. "Ballad of the Kingsmen" weaves together the indephierability of "Louie, Louie", the tragedy of Columbine, and Maryln Manson. How can this be done you ask? The song speaks for itself, and the answer to your question lies therein.
Before the last song of the encore, Snider told one last story. He and the great country songwriter, Jerry Jeff Walker, closed down a bar in Santa Fe, New Mexico. They walked out of the bar to a silent early morning, save a faint but persistent melody, thinking to themselves, "we have to see where that is coming from". They walked around a corner and discovered a man, his banjo, and a hat on the ground meant to collect a tip that would never come at that hour of the night. The banjo player was playing "Mr. Bojangles", a song written by Jerry Jeff. In the silent and still desert air of Santa Fe, with not a soul in sight, here was this man playing a song that Snider's companion wrote. He explained that he decided that it was not his place to tell this musician that the man that wrote that song was standing no more than a few feet from them. Jerry Jeff did not tell him either. Like most of the songs and stories that that Snider gave that night, a meaning was cloaked in the most simple of garb. I was reminded of the words to The Grateful Dead's Cassidy: "Nothing to tell now, let the words be yours, I'm done with mine".
Snider' s music, coupled with his presentation is unlike anything else going right now: a church for the restless.