Review / Stream / Download | ALO @ Double Door 10/14/15
Shapeshifting In Chicago - ALO @ Double Door 10/14/15
By @312mrg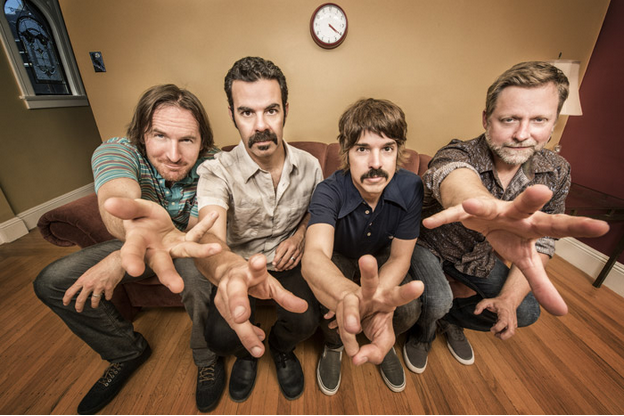 A Wednesday morphed into a Saturday last week in Chicago, with ALO playing a smoking hot, extended set at the Double Door.
A week into a tour supporting Tangle of Time, their latest release, the band took their party to Bucktown with an undeniable swagger.  The band brought polished new tunes t0 an eager audience, while balancing some of their classics with exploratory fervor.
It was fun and lively show that proportionally weighted the lyric to jam ratio, putting a welcoming arm around new listeners while embracing the seasoned.  Despite its length, it left me walking away wanting more.
I prepped for this show by listening to over 11 years of live installments of their archive.org catalog -- dating back to when I first saw the band live -- so I thought I had a beat on what to expect. But when a act can continue to surprise like ALO, no amount of prep can set the proper expectation.  They took a turn from a band I couldn't stop thinking about seeing in the days prior to the show, to a band I couldn't stop thinking about for days after it. ALO has become one of those bands for me.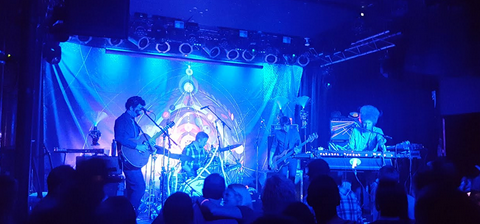 Tangle of Time provided four of the first six songs of the near 2-hour set and encore. But these weren't batting practice warm ups.  "Sugar", "The Ticket", "Not Old Yet" and "Push" each had their unique appeal and, like their studio counterparts, provided moments for different band members to shine.
Sandwiched between the two Tangle bookends were "Walls of Jericho", with vocals by drummer Dave Brogan, giving every member in the band at least one song to sing in the opening 40 minutes, and "Lady Loop", which turned the intensity up to 11 early. "Loop" gave the audience the first opportunity to see that album and live ALO are drastically different experiences. I think there may have even been a confetti cannon at some point, with Dan Lebowitz's solo and the band's energy igniting the Wednesday night crowd to a frothy status, capitalizing on the fun "Jericho" tee up.
This was where the show dynamically changed gears, as "Time is of the Essence" leapt out of the box, dedicated to a "Tahoe Ted". One of the older songs of the group's catalog took the show down a Dr. Seuss-meets-Willy Wonka wormhole. Starting off with funky space disco, the song went bonkers on the posterior of another of Lebo's fret-frenzied explosions, and into layer after layer of a cerebral dissection jam. Zach Gill, as Wonka and wearing a captain buffalo hat, wants to tangle audiences in yarn each stop of this tour.
Mid jam, Gill broke into audience participation leader-mode. At least 3 balls of yarn spider-webbed their way across the venue.  It was a pretty stunning visual that accompanied music to match. For a moment there was complete unison between band and audience. Art was not just being created on stage but really everywhere, and it was pretty fucking cool.
"Time is of the Essence" was pulsating, literally and figuratively. The tone of the evening changed and ALO somehow juxtaposed pop with mindfuck in less than an hour.
Roar trombonist Carly Meyers came out for a dirtier and more soulful run through audience sing along "Girl, I Wanna Lay You Down", setting up the back end of the set. "Try" > "Scarlet Begonias", "I Love Music" and a charcoal scorching infused "Barbecue" ended the set with style and smoke.
An extended encore started off with a slowed down alternative take on "Sounds Like That" from Sounds Like This that got groovy and spacey before it windingly led into a sinister "Shapeshifter".
One of the darker, more ominous tunes in ALO's more routinely played repertoire, the tune showcases Gill as a Harvey Dent/Two-Face character, deviously exalting, "I'm the kind of guy you want in your government / I'm the kind of guy you want in your bed."
The song launches off into a jam on Brogan's foundation, holding it down joined by Adam's thick bass fills. But Lebo took the reigns yet again while Gill swirled patterns behind him, kicking into numerous "My Favorite Things" phrases.  It was a moment that screamed of the influence and confidence of his more recent playing with Steve Kimock and Phil Lesh. "Shapeshifter" built to a frenzied climax, whipping back into the refrain and chorus of Gill's soothingly buttery vocals, ending the second of the evening's most demented demolitions of an ALO song.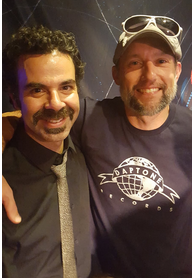 If there is a signature album sound of ALO, it comes from the ukelele of Gill.  It helped close out the night with two feel-good love anthems: "Plastic Bubble" and "Storms and Hurricanes". Lebo, switching to pedal steel for "Storms and Hurricanes", added another catalyst of sound, included a brief "Happy Birthday to You" sing along from band and crowd to the guitarist, turning 41. Since I was turning 40 myself, I gratuitously took it as their dedication to me. Thanks guys!
It may be another two years before we see ALO again in Chicago but I get the feeling that the best things could still lie ahead for a band that continues to evolve. Hopefully the exuberance and excitement of hitting the road with fresh material will expose a desire to take this West Coast party to more markets and give even more folks a chance to catch their first show.
There is nothing more "Liberating" than finding a band that can speak in ways beyond just the music -- and then spending your birthday with them.
Download Entire Set (mp3 .zip) via archive.org
Sugar, The Ticket, Walls of Jericho, Lady Loop, Not Old Yet, Push, Time Is of the Essence, Girl I Wanna Lay You Down @, Try > Scarlet Begonias, I Love Music > Barbeque

Encore
Sounds Like That > Shapeshifter #, Plastic Bubble %, Storms and Hurricanes

@ Carly Meyers on trombone
# w/My Favorite Things teases
% w/Happy Birthday Lebo
This is the final installment in a three part series, spotlighting ALO for The Barn Presents. See more:  Tangle Of Time Review | Zach Gill Interview