Review / Stream / Download | Garage A Trois @ Double Door 9/6/15
Words & Photos: Carmel O'Farrell (@carmelocorn)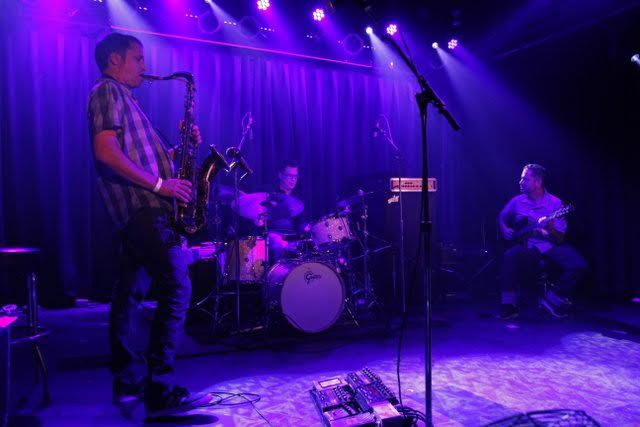 The word "supergroup" gets thrown around far too often these days.  But let's break down Garage A Trois. Each member of the band is a virtuoso in their own right. They are not a "one-off", usually finding the time for several gigs per year despite the principal's busy schedules / main bands.  They've even found time to record, including 2011's delightfully titled Always Be Happy, But Stay Evil.
All of this translates to high-quality, off-the-cuff musicianship that leaves you in awe almost immediately when they start playing. At least that was the case on September 6th when they took over the Double Door, a hidden gem in Chicago's Wicker Park neighborhood.
Billed as a late night, after party for the North Coast Music Festival, it also drew a sizable crowd from Chicago's Jazz Fest on Sunday of Labor Day Weekend. Many of those in attendance were avid music fans who were familiar with at least one, if not all three of these musicians. While the group has dismantled and reassembled from time to time, bringing in notable artists like Marco Benevento and Mike Dillon, this show at the Double Door would return Garage A Trois to its original lineup of players: guitarist Charlie Hunter, drummer Stanton Moore, and saxophonist Skerik.
GAT originally formed in 1999 as an all instrumental group when Moore recruited Skerik and Hunter to perform on one of his solo albums. An impromptu jam session lead to the creation of GAT with a heavy focus on improvisation and musical craftsmanship.
Each member has a gift for blending techniques and flawless execution within their own expansive repertoire of skills.Charlie Hunter is an 8 string guitar player that combines both bass and lead guitar for a truly unique two-for-one sound. Meanwhile, Skerik is a saxophone player that has been summoned by many notable acts including The Meters, Primus, and Roger Waters. Then there is Stanton Moore, a New Orleans native, drummer for the funk outfit Galactic, and master of his instrument who can easily stand alone, but feeds off other players just the same. Each of these musicians has the ability to take you on a journey but when they come together to form Garage A Trois, it's truly out of this world.
DJ Otto opened up the late night show as folks filed into the Double Door. The room was about half filled when Garage A Trois finally kicked things off with "Whatever Lola Wants" to get everyone acclimated to their surroundings. This being one of the hottest weekends of the summer, it didn't take long for things to get warmed up. There were colorful solos almost immediately, just as you'd expect from a supergroup but when they played of each other, their synergy was obvious.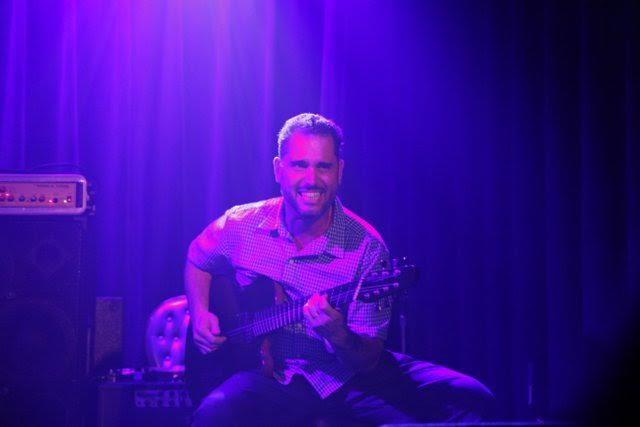 Charlie Hunter sat cool as a cucumber on the left side of the small stage, playing both bass and guitar simultaneously as if that's the way it should always be done. The intimate crowd watched in awe at his musical prowess, as did Moore. The drummer focused in on Hunter as he ventured from riff to bassline, keeping perfect time and enjoying the hell out of the whole scene. They even surprised each other time and time again with their exceptional skills and spontaneous interjections.
If anything, these guys have mastered the artistry of improvisation. Combine that with their rock solid musical rapport and the result is almost hypnotic. There was a chemistry happening on stage that is almost indescribable, as if Garage A Trois speaks its own language that gets lost in translation when you try to define it.
The focus finally broke when the trio ventured into an impromptu blues number dedicated to the promoter's wife for her birthday. Skerik took lead vocals belting out a story about the girl who "married the FIYA." When they took off into a jam Skerik noticed Hunter singing to himself, so the saxophonist grabbed a mic and held it up to Hunter's mouth for yet another improvised verse.
Skerik came across as the glue that held it all together, adding a special texture of marinated melodies and playful banter to the mix. Even when he took a step back to encourage Moore and Hunter to do their thing, his presence held the jams together. From jazz fusion to funk and rock, there was no territory that didn't get the Garage A Trois treatment. The versatility of each player made their stop and go jams shine and the space between the notes was just as important as their enchanting solos. The threesom created compositions off the cuff with softer stripped-down jazz tunes to deep grooves that laid down a thick funk.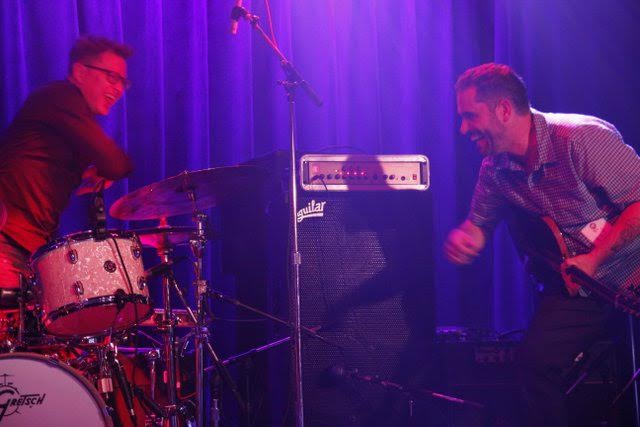 The small crowd was filled with connoisseurs of the live music scene. They absorbed the show for what it was, accepting each twist and turn with eagerness. The band played two sets, the first lasting an hour and a half and the second lasting just over 45 minutes, ending just before 2am. While the first set showcased the variety of styles this group had to offer, the second set magnified the spacier side of this jazz trio.
This show was not without its flaws, but that's part of the beauty of improvised music. At one point Stanton Moore took the lead with an explosive drum solo. Hunter mouthed to Skerik "I can't play to this" shaking his head and laughing at himself. But then later when Moore's kit needed some tweaking, the guitarist busted out the riff to Lorde's "Royals" until the drummer was back in action. It was a total pro move, lightening the mood when things could have easily gotten awkward.
I am going to go out on a limb and say this was the best show of the weekend. It completely restored my love for musical craftsmanship, exceeding any and all expectations I had for this group. Charlie Hunter blew me away time and time again, not so much on what he played but with his ability to hold back, composed in the moment, and reacted appropriately to everything that challenged him. While no future Garage A Trois shows are scheduled at this time, I look forward to seeing this act do what they do again sometime soon.
Download Entire Show (mp3 .zip) - audio via sizehump