Review, Stream & Download: Ragbirds & Chicago Farmer @ SPACE 7/15/22
Chicago Farmer and The Ragbirds @ SPACE - Evanston, IL July 15, 2012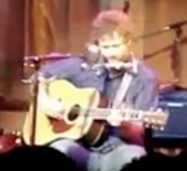 For a small town man from just south of Peoria, Cody Diekhoff sure has adapted to life as Chicago Farmer. The folk singer with a one-man-show was an appropriate choice to open up for The Ragbirds as just a few days earlier his reincarnation folk hero Woody Guthrie celebrated what would have been the legend's 100th birthday. There was plenty to celebrate for Cody as well as he and his wife Kymber recently had a milestone anniversary of 5 strong years together. Although he jested that he never liked love songs having only penned eight (of them, six were about revenge, he mused) during this special evening he dedicated a few sweet stories of the time they met, and even one song about "true love" in "Nothing Better To Do."
His fast talking approach on stage lays in stark contrast to the pace of his upbringing in Delevan, a town of just 25 people. Still, his lyrics, like Guthrie's, are timeless and can be appreciated by folk of any size town as his set in the college-town-cum-suburb of Evanston demonstrated.
He tells the audience that "Who On Earth" came to him after he was asked to write a protest song to stop mountain top coal mining in West Virginia. Being that he was from the flat lands of southern Illinois he drew his inspiration partly from the Occupy movement with lyrics that hit home like "it seems poor criminals are kept on a leash, and rich criminals are catch and release."
While his message is politically charged he is never polarizing. It seems as if he simply wants to make you think about what's right in the grand cosmic scheme of things.
The reason for his success I believe is accessibility. During "Workin On It", he teaches a lesson on how to speak like a "folk singing hillbilly from the upper Midwest side." He gets the crowd into the refrain, having them repeat in hillbilly dialect "Im-ma/ Werk-in / Ah-oOn / It" that brings the room together and sets a comfortable tone for the evening.
Another story recounted  his first time playing Subterranean's open mic night.  A homeless man asking for change instead turned the tables and offered him some after seeing the look on Diekhoff's face.  He later "busted the roof" off of all 8 people in the place and gave the CD proceeds from the evening to the vagrant who gave him an even better gift: the inspiration for the song "Hero". Those days are long gone as he now has an contingent of loyal fans to keep him company during his travels.
Despite frequent forays into jokes and causal banter, he never strays far from his humble roots: family, honesty and hard work. In these days where prefabricated pop rules the airwaves...that in and of itself is a breath of fresh air.  He also threw in "Illinois Anthem" into the set, the tale of a wayward ex,  one of his revenge songs. Gotta love that twist Cody puts on life.  With his in-laws in the front row "looking up his nose" as the Farmer put it, he surely made them proud, setting the table for the main act.
The Ragbirds are a world music act out of Ann Arbor that put a folk spin on life with their music. With the positive infectious floaty voice of Erin Zindle front and center, they easily captivate a room. Good storytellers never force a subject of discussion on an audience and neither does Zindle. Quirky but cosmically centered, she suggests that her band's music comes from inspiration from the moon, but that maybe she is personifying the moon as herself.

Juxtaposing and analyzing her stance on self psychoanalysis the band launches into "The Frame." What's nice about the group's playing style is they pull from different musical elements and play multiple different instrument arrangements. Rarely does one see the electric kalimba much on stage and it complements the rangy swinging number greatly.
In "Lemon Grove" Zindle shares that the winter is a great time to store lyrics until they can be put to melody in warmer weather when the music comes to her.  This number was the proof. Of course, it is also about the moon.
One can't help but grin and let it melt away as the Ragbirds perform the old African tribal dance "Moribayassa" --  a tune with lyrics  featured by the sirens in the movie "Oh Brother Where Art Thou?"
Zindle likes a good dance.  On "Tarantella" she bounces and strums a variety of instruments next to her guitarist brother T.J. and percussionist husband Randall Moore. She tells us that it is important to sing and likes times where she can be alone with her thoughts to create. The ancients believed dancing got poison out of the soul and The Ragbirds urged those feeling brave to try their hand for the tango influenced number with Zindle on violin.
A great version of The Talking Heads "Nothing But Flowers" kept Zindle with bow in hand. It felt right to hear the earthy group cover a song recounting Brian Eno's dystopian future. During the set they also expertly teased the Beatles "Norwegian Wood" and a number of Paul Simon tunes.
- Words and Photos by Dave Weckstein
The Stream