Review / Stream / Download / Video: Anders Osborne + Amy Helm & The Handsome Strangers @ Thalia Hall 3/4/16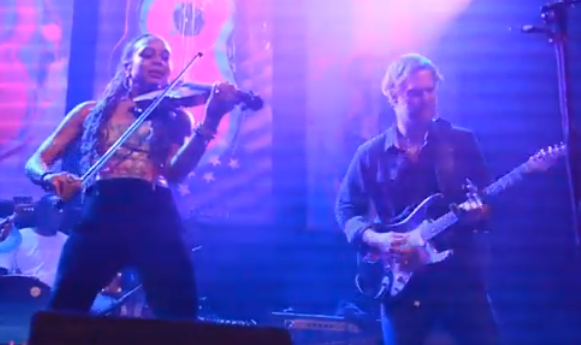 What if -- suddenly -- Neil Young exploded on the scene at age 40, complete with his very same prolific master songwriting stroke, an unstoppable propensity to rock the fuck out, and the ability (and willingness) transform himself and his band from tour to tour and gig to gig?
Then, my friends, you'd be pretty close to how I have come to perceive the work of Anders Osborne, who visited the great Thalia Hall on Friday night. Overwhelming thought while taking in this gig: where have you been all my life?
Comparisons to Neil Young are not hyperbole.  He's just that good.
Yes, Anders has experienced a lifetime's worth of music -- and it rings out in every note -- but it still comes off as fresh and more importantly, singular, to these ears.  Musically, he knows exactly  who he is and has proved time and again he knows how to get others to follow suit.
He arrived in Chicago with plenty of new tunes, hitting heavy right away with "Lafayette" as the show's second song, a Louisiana origin story, for this new rock superhero.
He also blended the acoustic side of his personality seamlessly, with guitar-foil-of-the-tour Eric McFadden switching over to mandolin for the mid-set "Coming Down". The pair transformed yet again for the encore, closing the show with "Acapulco" and the new classic "Back On Dumaine".
But the unsung hero of the night may have been Danny Eisenberg, who more often than not coaxed a pulse-quickening scream out of his B3. The organ's wail on the jam before "Ponchatrain" evoked "Mornng Dew" at times, and Anders didn't exactly shy away.
But the true Dead came out for NOLA inspired "Fire On The Mountain" that featured special guest Anne Harris on fiddle -- a performance that combined smart soloing with joyful exuberance and, yes, sensual dancing.  See the video.
Osborne and his crew truly came with a different look from their last Chicago gig, but opener Amy Helm & The Handsome Strangers also played against type in a strong showing in the opening slot.
It's not exactly that they defied expectations. For me, and much of the crowd, they were a little bit of an unknown.  But for a band fronted by Levon Helm's daughter, you tend to think that cultivating a more classic sound in on menu.
True to form, Helm and the band covered Sam Cooke, Bob Dylan and Allen Toussaint in their opening set.
But staring down at an a four-piece, where the lead instrument is an acoustic, you might think they'd tackle these covers -- and their original brethren -- with a relaxed and mellow vibe.
Wrong.
With pedals and effects, Helm and the band brought a full, in-your-face sound that was suitable warm-up for Osborne's sonic assault.  Quite plainly, this band rocks, and in a way you might not get from looking at a photograph.
And that's great news no matter what you expect.
Download Entire Set (mp3 .zip)