Review, Stream, Download, Video: Furthur @ Northerly Island, Chicago, IL 7/17/12
It was 25 years ago this summer that "Touch Of Grey" became an unexpected top ten hit for the Grateful Dead.  The band had been steadily building an audience over the previous 22 years, but the exposure certainly led to a huge commercial boost for the band.
The legions of teenage and young-adult so-called Touch-heads consequently became some of the most passionate and engaged fans that the band had.  We came to one of the world's pre-eminent and storied rock bands with its legacy fully formed, their history read like a legend, there were hundreds of shows documented on tape, and a huge network of fans steeped in a one-of-a-kind culture.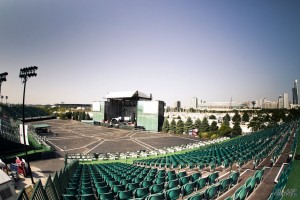 When we tragically lost Jerry Garcia, we still craved more and today, it is this legion of fans who finds themselves coming out in full force for Furthur, the latest collaboration between Bob Weir and Phil Lesh -- and a band that seems somehow unstuck in time.  On Tuesday night at the awesome Charter One Pavilion on Chicago's Northerly Island, a capacity audience consisting primarily of those fans, who now span from their upper thirties to mid forties, came for a little taste of that magic.  Where other post-Dead bands served to honor the songbook, approach and ethos of the Grateful Dead, Furthur seems the band most committed to replicating that sound.
The secret weapon, of course, is John Kadlecik who so ably channels the unmistakable tone and style of Jerry Garcia.  Admittedly, the very concept is a tad cringe inducing-- I had a good smirk when the lineup for this band was revealed back in the winter of 2009. But, any Deadhead present for the crescendo of "Morning Dew", in which John remarkably took the focus off of Weir and Lesh and put it squarely on his aggressive yet nimble fretwork, can appreciate that this ensemble has been built to challenge and push each other.  Likewise, drummer Joe Russo evokes the swinging '73 era Bill Kreutzman with his ability to define a musical passage, as he proved right out of the gate, guiding the band through a lilting, sun-drenched jam out of "Here Comes Sunshine" which hinted at that bouyant path traveled by so many early seventies "China > Riders".
A hearty and egalitarian musical conversation allows Weir and Lesh to do what they do best - craft a psychedelic pastiche of rhythm and melody that opens up wide vistas of potential for lead instruments.  Weir staples like "Feel Like A Stranger" and "Cassidy" go quickly to this place, leaving John and keyboardist Jeff Chimenti to fill our ears with a sound that is not just Dead-influenced, it downright conjures the gestalt of the Jerry-led band.  Ratdog and Phil & Friends alternately found inspiration in jazz, blues, southern rock, fusion and Americana-- and each has produced vital music -- but Furthur is where these guys tap into that primal Dead groove.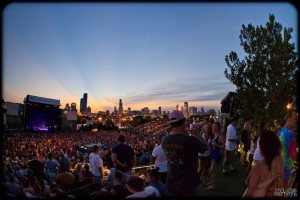 Yet, Jerry's spirit does loom large.  While Lesh and Weir are formidable - no matter what age or background of Deadhead, it was Jerry's perfect and incomparable combination of writing, playing and singing that had brought us here. And so, the best moments in Tuesday's show (like many Furthur shows) were where the middle-aged audience didn't have Jerry blueprint forever stamped on their minds.
I would venture 90% of this crowd never saw Jerry perform "Passenger" or "Lost Sailor" and 99% weren't around for any "Doin' That Rag" or "Mountains Of The Moon".  This is where Furthur excels, creating a new template for experiencing this music in the live setting.  The surging, blistering final three minutes of "Passenger" could have been the best music I've heard all year.  Clocking in at nearly 20 minutes, "Viola Lee Blues" ventured deep into what Phish fans call Type II territory, with all form and structure of the song dropping away during the improvisational passages, yet the band still driving forward and purposefully exploring new spaces -- this version even fell into some extended quotes from "Cumberland Blues", whose 11 minute performance in the first set was a rocket ship to Planet Boogie.
Finding such room to explore in such a wide variety of songs is something that Grateful Dead did not do often, particularly in the late period where such open jamming was largely confined to a set of staples (Playin', UJB, Estimated, Eyes, Terrapin, He's Gone, etc.) .  With its younger members, Furthur has seemingly incorporated styles and approaches forged by other jambands in the days since the Dead closed up shop.  "Mountains Of The Moon", a crown jewel of late sixties psychedelic sound was transformed into a jazzy funky improv that would have felt at home at a Galactic show.  At its finest, Furthur can remind us what we loved about what Garcia has created without feeling like a rehash.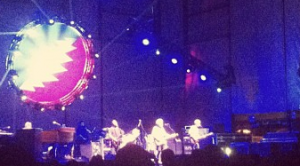 After the catharsis of "Dew", while some may have preferred a rocker to close things out, 90 minutes deep into the second set, "Throwing Stones" felt like free music and "Attics Of My Life" was one of the rare occasions on this night to showcase what vocalists Jeff Pehrson and Sunshine Becker bring to the band.  For me, it felt like a fine resolution and for the 7000 or so fans that braved heat that plateaued in the nineties well after the sun went down, it was an opportunity to yet again experience live a bit of the Grateful Dead legacy that was rare in the band's final years.  For all those whom this music matters enough to gut it out in these conditions, Furthur was a fine vehicle to deliver the goods.
The Stream
Setlist
One: Here Comes Sunshine > Mississippi Half-Step Uptown Toodeloo > Cumberland Blues, Cassidy > Doin' That Rag, Lost Sailor > Saint Of Circumstance
Two: Feel Like A Stranger, Passenger, Truckin' > Viola Lee Blues > Mountains Of The Moon > All Along The Watchtower > Morning Dew, Throwing Stones
Encore: Attics Of My Life