Review, Stream, Download: Yarn @ City Winery 12/18/13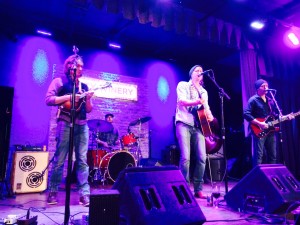 If you've got the songwriting gift and are starting to get damn good at it, I suppose there are three paths you can go down.
1. Grab a guitar and hit the road as a one-man-show. Refuse to dilute your vision with other musicians.
2. Be a band leader.  Step out in front of a team committed to reaching your objectives.
The third is more ambitious, and more difficult. Thus, it's probably the least common.
3. Form a band that can both realize your vision but also challenge and add something distinctive to your output.
This is the route chosen by Yarn's Blake Christiana. His songs were at the core, but the "sound" of Yarn was what dazzled at a weeknight performance at Chicago's City Winery just a week prior to Christmas.
Whether backing an impromptu sing-along ("Fussin' & Fighting") or driving an extended jam ("Abilene"), the band enhanced each of these well crafted songs.  Reeling off fierce instrumental breaks on mandolin or electric guitar, Andrew Hendryx and Rod Hohl were quick to punctate Christiana's weighty, nuanced vocal performances with instrumental dexterity and emotional resonance.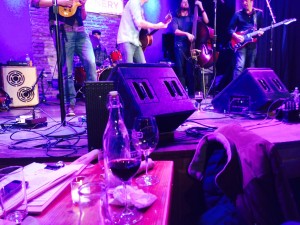 The full band sound often transformed songs drenched in a homespun Americana into full-fledged rock-tinged workouts, but also yielded to Blake's gentler side when needed.  Meanwhile, Rick Bugel and Cemre Dogam served the same purpose on standup bass and drums respectively: alternating between cosmic country shuffle ("Alone On The Weekend"), driving rock ("I'm So Tired") and delicate balladry ("Angel Place That Halo").
With songs sourced from the band's entire career, but drawing heavily from their latest release, Shine The Light On, most of the tunes were spun from sympathetic tales of regret or broken relationships.  Characters and situations are presented honestly, and with a knowingly cocked eyebrow ("here's another cocaine song"), the perspective of a man who naturally looks a situations slightly askew.  Christiana's output come from a place of the detached outsider, forging his identity in a world not necessarily made for him.  But there is no doubt, and it came through in every note played that night, that those who live at the fringe make such lovely art.
Rounding out those originals were a pair of covers.  Coming near the end of their set was a perfect reading of Velvet's Underground's "Oh! Sweet Nothing", practically the template for Yarn's sound -- a slice of meaningful country rock with a seamy, gritty underbelly.  They sent us home with the crowd pleasing take on INXS's "Devil Inside".  If you can process the parallel's between those to choices, you can begin to appreciate where Yarn is coming from.

Setlist
1. Lies I've Told
2. Alone on the Weekend
3. I Hate You
4. Angel Place That Halo
5. Bobby Weeks
6. Down on Your Luck
7. I'm So Tired
8. One Man's Trash
9. Fussin' and Fightin' (Singing Jim Croce)
10. Bad Bad Man
11. Wasted Life
12. Abilene>Jam
13. Jam>Abilene
14. Turn the Light Off
15. When the Summer Ends
16. Oh! Sweet Nuthin'
17. Meanest Kind
18. Take Me First
19. It's All Over Now
20. Devil Inside