Review / Video| Umphrey's McGee Plays All-Improv Set @ Orpheum Theater
Words: Carmel O'Farrell (@carmelocorn) | Photos: Kristine Condon Photography | Video: shinepigeon 2.0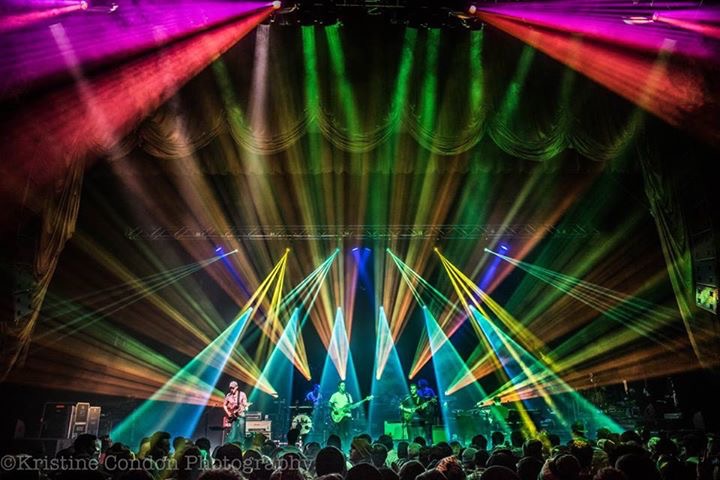 On Thursday, January 28th, Umphrey's McGee kicked off their two night run at the Orpheum Theater in Madison, WI. This was unquestionably the most anticipated show of winter tour with a promise of a full set of music that would be 100% improvised.
With special guest saxophonist Joshua Redman on deck, Jefferson Waful on lights, and an audience of of nearly 1,500 people in attendance, the stage was set for an unforgettable live music experience.
It seemed as though the band was firing on all cylinders as they came off an unforgettable New York run amidst Winter Storm Jonas, which caused their final sold out show at the Beacon Theater to be canceled.
The first set of the Madison show was anything but typical as the six piece unit soared through their repertoire. From a tempered "Conduit" to the fresh baked "Attachments", Umphrey's showed their cards fairly quickly and proved they weren't holding back. After all, it's not every Thursday night they bust out "Got Your Milk (Right Here)".
Though the first set featured plenty of "jams", it was the second half of the show where things got interesting as each and every song was created on the fly. In fact, this was the first time these live music crusaders have ever attempted to take on an all improv set.
In a recent interview with The New Flesh, Umphrey's keyboardist Joel Cummins shared, "We went through our hand signals and made sure we remembered all our different cues we have for the live setting to help guide improvisation, but we didn't really talk about or necessarily make a plan for what we were going to do."
In stark contrast to the S2 quarter of their annual UMBowl event, the only input from the audience kicked off the all improv set with a request from Bayliss, "Alright we need a key, somebody yell a letter out." It was then decided that the key was "D" as Umphrey's journeyed into a sexy, bass-driven jam.
While preparing for an all improvised set of music may seem ironic, Umphrey's has been doing just that for quite some time. First off, this group's improvisational bag of tricks includes talkback microphones, which have been incorporated into their live music approach for the better part of the past decade. Not only are band members able to communicate with each other as they're jamming, but light designer Jeff Waful is also kept in the loop for a seamless presentation that appears completely off the cuff to the audience.
Even before talkback mics, Umphrey's was using hand signals to communicate on stage. "We developed a system of hand signals where we can tell each other different key areas or give a cue to tighten up, bring it down or bring it up, to increase the tempo or decrease the tempo..." Joel explained. "Subtle changes that you can do when you are improvising will completely affect the texture and perception of what's going on."
Over the course of about an hour, the fully improvised second set captured the creative force behind Umphrey's mojo. From funky dance parties to raging group improvisation, everything was brought to the Orpheum's stage. Each section was structured as if it were an individual song and each member brought their specific voice to the musical conversation.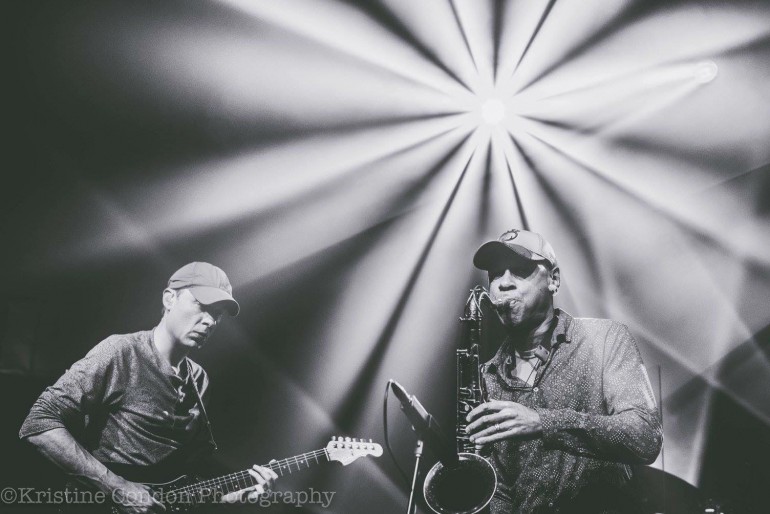 Saxophonist Joshua Redman joined the group for a slow-growing helicopter jam that gradually climbed it's way to the highest altitudes until the room was held at the mercy of his notes, proving to everyone that this set was well worth the hype.
"You know," said Cummins, " that guy is the official 7th member of the band… He's got an incredible ear and is obviously an accomplished musician on a lot of fronts. So our music is a little easier for him to tackle than most people."
Redman has been a recurring guest on Umphrey's stage since 2004 and now joins the band for multiple shows a year, often sitting in on a handful of songs per show.
"He [Redman] wanted to get into the texture of the band and he wanted to learn all the parts," Joel explained, "...get in there and improvise with us and trade lines with us and not just solo over the top of us."
While the back and forth between Redman and guitarist Jake Cinninger grabbed the attention of the room, drummer Kris Myers also delivered a relentless backbeat as the group journeyed through their jam fairytale. The set also feature a lyrical Jimmy Stewart as well as a comical whistling break down that brought it all to a close.
Umphrey's encored the show with "Hindsight" followed by "Don't You Forget About Me", which was dedicated to Joel's father, Jerry Cummins, who recently passed away. Towards the end of the Simple Minds' cover, Brendan Bayliss gave a touching tribute to the man who was very well known and loved by the Umphrey's community. In honor of Mr. Cummins, Bayliss encouraged everyone to live in the moment, just as Umphrey's did that night.
Once again, Umphrey's McGee proved that their well-oiled machine can take on any musical challenge. After all, playing a full set of improvised music is a risk, even for your typical "jamband". Yet the essence of the genre is just that: improvisation.