Review & Video | 30db @ Tonic Room 12/19/15
By: Carmel O'Farrell (@carmelocorn) | Photo: Megan Sanders | Video: Charles Izenstark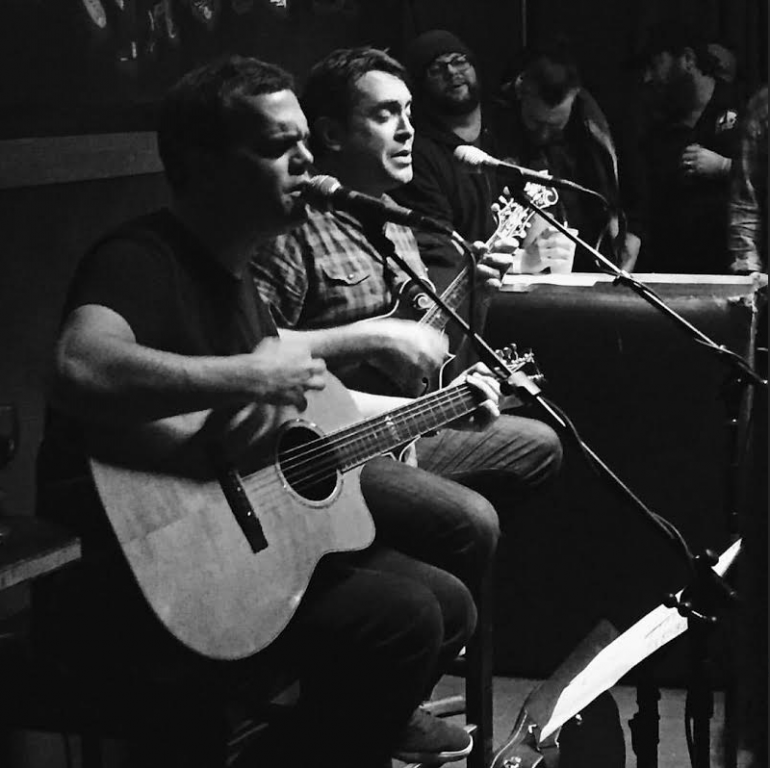 Once again, Tonic Room in Chicago's Lincoln Park neighborhood brought a unique Umphrey's McGee side project to its intimate stage.
On Saturday, December 19th, it came in the form of 30db, which consists of Umphrey's lead vocalist Brendan Bayliss and mandolinist Jeff Austin. It's been years since these two shared a stage together, but they didn't let that phase them as they played two back-to-back sold out shows.
The duo emerged from behind the long bar as the Star Wars theme song blared over the room's PA system. According to Bayliss, there was no formal setlist because they wanted to feel out the audience and take requests. The setup couldn't have been simpler with the two musicians propped up on bar stools, each in front of a microphone with their worn instruments in hand.
The evening was built upon original 30db music featured on the debut 2010 album One Man Show. In addition to the title track, many more 30db tunes were brought back from a dormant status.
"Always Up" is probably one of 30db's most successful, pop-centric originals, but it was a spitfire "One More" and ominous "Backbone" that really captured the uniqueness of 30db's collaborative abilities that night. Throughout the show Austin and Bayliss traded licks and solos, feeding off each other's notes while the crowd reveled in their back and forth.
"Susanah," is a tune written by Bayliss with Austin in mind. It has managed to find its way into Umphrey's setlists 18 times over the past four years, so the audience was more than familiar and sang along accordingly. "Cut the Cable" is a lyrical "Jimmy Stewart" that was originally slotted as a 30db song until Umphrey's decided to claim it as their own a few years back. It's ever changing improv-birthed approach went from porno-dance-party to sweet-love-making until it finally found its home within raging-improg-rock. The newest version seemed to leave Austin perplexed, yet intrigued. Once again the familiar crowd served as the third band member as they sang along passionately.
Bayliss proudly dropped a "Hajimemashite" on the Chicago crowd at the second sold out show, though his stage mate seemed less familiar with the popular Umphrey's song. Yet when it came time for a blast-off solo, Austin stepped up to the plate with vigor. Then, in the ear-grinning chills of "Haji"'s aftershocks, Austin gave a coy smile and asked Bayliss, "Did you write that?"
Lots of playful banter kept things light as Brendan sipped his red wine and the rowdy audience chimed in with requests. You could tell the two musicians were rekindling the flames of their bromance and enjoyed the dialogue with their audience. Brendan's wise guy sense of humor mixed with Austin's quirkiness kept the laughs coming, even during the heavier moments of the show.
Covers that night included "I Used to Love Her" by Guns and Roses and a sing-a-long version of The Beatles' "Don't Let Me Down." Bayliss also delivered the vocals for Modest Mouse's "The Good Times Are Killing Me;" a ballad more than appropriate given 30db's origins.
The room often grew warm with the stories they told. Austin discussed the history of their friendship, the meanings behind their songs, their inspirations, and the recording process of One Man Band.
The material created by 30db way back when was used to heal the fresh wounds of dealing with broken relationships and the sobering reality of adulthood. In fact, Austin described 30db as a "survival experiment" for the two musicians.
But at Tonic Room, it was more of a window into a past life. Nowadays both Austin and Bayliss are proud fathers with more life experience to anchor their music, but a timehop to the past seemed to irritate old scars.
There was an obvious apprehension behind a few of the old 30db songs dug up from the rough patches of their past. "Automatic" was a tune Bayliss had to convince Jeff to play that night. "Can you hear me Dallas, Texas?" was delivered in a quiet, sweet fashion- much different than its One Man Show studio recording. Written for a fallen friend, its somber delivery fit the song perfectly and Austin shared that he had never actually played it live before.
It goes without saying that 30db songs are much different than the usual rock style of Umphrey's McGee and Austin's bluegrass roots. They provide a context for a simpler, almost naked approach to their music. And at Tonic Room that night there was no backing band to shield their vulnerabilities.
And there was perhaps a little something else to feel melancholy about that night.  It was a show that made you miss the old Yonder Mountain String Band.
Austin is so unique and special, his stage presence unlike any other artists'. There's a joy that this musician exhales after inhaling the energy of a sold out room and he seemed almost humbled by the crowd's response that night.
Over the past year he has hit the road and released new music in an attempt to re-establish himself outside of the long shadow of Yonder - a long and undoubtedly challenging process. But if this one-off 30db show was any indication of things to come, expect much more from Jeff Austin in 2016.
As for Bayliss, his songwriting abilities have never been better, which leads one to predict the return of the 30db power duo in the near future. Though heartbreaks have healed since One Man Show was released, new songs can always be birthed out of trying times.