Review / Video / Audio | Phil & Friends Do 1985 @ Terrapin Crossroads 3/25/16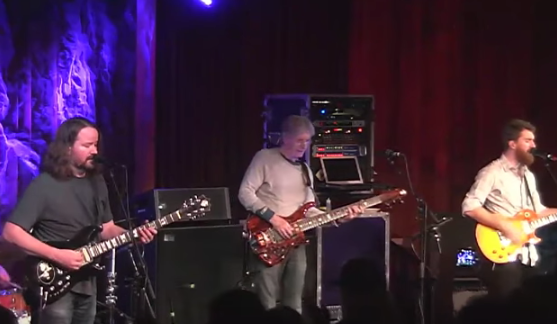 Intimacy is a word that gets tossed around a lot in music writing.
Sometimes it describes a feeling of connection with the artists, or their particular openness to the crowd.  Sometimes it's the relative size of the venue (I've heard 8000 seat amphitheaters described as intimate).
But since the last time I saw Phil Lesh it was in an NFL stadium with about 70,000 others, the coziness of the Grate Room at Terrapin Crossroads, amongst another 249 souls was quite the contrast.
Further, I feared I may never see Phil perform in person again, so to be able to experience a performance like this was extraordinary in more ways than one.  His appearance in Chicago for Fare Thee Well notwithstanding, us Midwesterners seemed to have been closed off from the experience.  If I wanted to see my favorite member of the so-called Core Four, I'd have to do it on his terms -- on one of the coasts.
With an already planned family vacation to the Bay Area, I was on high alert to the possibility of a Terrapin Crossroads appearance.  But, in the spirit of intimacy, Phil doesn't make it quite so easy.  His performances are announced with little advance notice.  For most normal travelers, there's a slim chance to actually plan a trip around a Phil show.  You just make your plans and hope for the best.
With just about a week until we were scheduled to leave for the Bay Area, we got news that Lesh would be celebrating the year 1985 with his friends on March 24th. Of course, tickets were snatched up before I could have a chance at them; however with a little legwork, an assist from social networks and some kind Marin County residents, I was in.
Terrapin Crossroads pretty much met every expectation set up by this series of events.  That word again -- intimate -- rings true in every aspect.  The physical space is just so homey and welcoming, with a touch of class, yet retaining a neighborhood feel (although tucked away amongst car dealerships just off the highway, it is hardly in the "heart of town").  It was packed with locals for whom these types of shows are a routine, comfortable retreat from day-to-day life. Yet, remarkably, nobody seemed to take it for granted.
From the opening, I was impressed that something that had the potential to feel "old hat" (having previously done over 20 of these year-by-year Dead celebrations, plus even more regular P&F shows and sit-ins) could still seem exceptional.  Phil strolling up like he owns the place (ha!), and sitting down for an engaging and revealing discussion with Jay Blakesberg.  Sure, some of the '85 tales I'd heard once-or-twice before, but particularly for somebody like me, who'd just spend a few days site-seeing in the Bay Area, the tales were quite the thrill.
I'm used to a different type of Phil & Friends -- where Lesh sets the tone, crafts an adventurous setlist and drives a team of all-stars through some space/time continuum ripping psychedelia.  The 1985 show was a little different.
While we were handed a replica of the flyer from the Berkeley Greek Theater's "20th Anniversary" shows on our way though the door (and that run was discussed in the pre-show conversation), the 1985 show proper went in a different direction: a recreation of the June 30th, 1985 show at Merriweather Post just two weeks later.  I was faked out, thinking they'd play selections from the Greek Theater run.  Meanwhile others were busy googling the setlist immediately after the "Mississippi Half Step" opener, but I remained gloriously ignorant.  All the better to take in the experience I suppose.
The band this night was essentially set up exactly like the 1980s Grateful Dead, with each "Friend" playing a role:   Stu Allen as Jerry, Grahame Lesh as Bobby, Scott Guberman as Brent and Ezra Lipp and Alex Koford as the Rhythm Devils.  And so it went, progressing just as the MPP show did, with each member dutifully singing the songs originally sung by their doppelgänger  Which means we were spared any Phil vocals (which generally doesn't concern me anyway), and the show ended up with more of a classic GD feel than a typical P&F affair.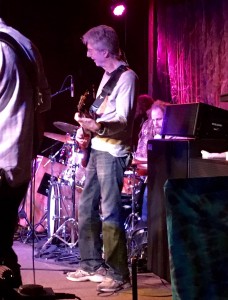 That said, this was talented group of recreationists indeed. But Phil was obviously the star.
It takes a singular talent as a bass player to be able to still convey the feeling of a whole band.  That's exactly what Lesh's playing does.  There is simply nobody that can sound like that and it was such an essential element to the Grateful Dead's sound.
In a band that featured one of the most incomparable musical personalities of all time, to be able to evoke the group's spirit via the bass guitar is a rare treasure.  The fact that he is still finding ways to showcase that today is beautiful.
One thing both the '85 Greek shows and the Merriweather gig shared was a rare performance of Derek & The Dominoes' "Keep On Growing" -- then and now, featuring an ebullient, joyful Phil.  The tune was only performed four times by the Dead.  I'm glad Phil selected a show that contained this unique slice of '85.
The same can be said of "Cryptical Envelopment", which totally threw me, until I remembered that it made a late, brief comeback in the 20th anniversary year before being shelved for good.  "The Other One" that followed the drums / space segment featured quintessential Phil bombs and commendable guitar work by both Allen and Grahame Lesh. Guberman offered Mydland-like organ runs throughout, and captured the late keyboardists' feel perfectly on "Gimme Some Lovin'".
"Shakedown Street" was a clear highlight of the Dead's '85 show and as presented by Phil & Friends, it retained the same funked out, table-setting role as a second set opener, stretching out to nearly 15 minutes, just like the '85 version.
A quick in-and-out from the Grate Room and you're in the main restaurant / bar area of Terrapin Crossroads. There, I spotted the incredible poster (see below) and heard a few tunes by the band performing for free on the bar stage.  They were billed as a Top Forty dance band, and during bathroom visits I caught snippets of tunes by Fleetwood Mac, Tom Petty and The Cars.
Between the music and the physical space, it was enough to make this Midwesterner weak in the knees.  So what else was there to do?  Return a few days later of course.
This year, Terrapin Crossroads is introducing an adjacent outdoor venue for music and events.  While the first show proper for this area is not scheduled until later this month, Lesh chose the Easter weekend for a few family-friendly events on Saturday and Sunday.
Since we had the kids in tow, and were visiting a friend in Marin on Sunday, one more visit was certainly in order.
The "backyard" event space features a smallish stage backed up against the marina, a swath of astroturf, some bocce courts, a ping-point table, a few outdoor fireplaces.  Probably good for a capacity of 500 or show if you packed 'em in, but on this day there was a loose, picnic feel with not even half that.  Kids were invited to make s S'Meep (s'mores made with Peeps FTW) and participate in an egg hunt.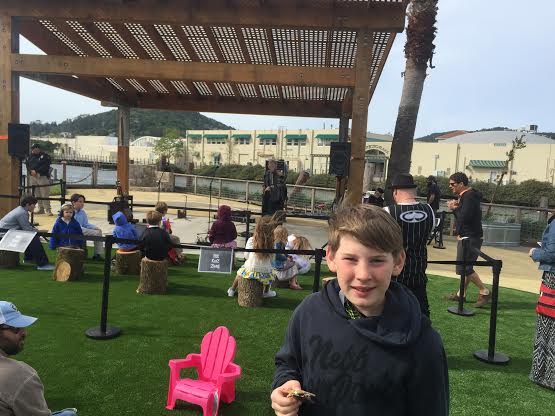 And of course, there was music.
Phil was joined again by Grahame on acoustic guitar and Scott Law on mandolin for a short set of material that drew largely from Garcia & Grisman's Not For Kids Only ("Jenny Jenkins", "Ain't No Bugs On Me"), but also featured "You Are My Sunshine" and a closing take on "Ripple" (finally got my Phil vocals).  A small kids zone was roped off in front of the stage, though many parents hovered around.
Afterwards, Phil chatted with kids, greeted parents, posed for pictures -- perhaps just another day-in-the-life in Northern California, but the whole thing had me floating on air.
More live music awaited inside the bar / restaurant.  With happy hour and evening sets being played to diners spending their Easter dinner under archival photos and artwork of the Grateful Dead.
Grateful Dead is mythical, larger than life, beyond description.  But there is also a very real humanity -- yes, an intimacy -- that we feel with the music and its creators.  Terrapin Crossroads reminded me of that.  Yet another reason to be forever grateful.