Review / Video | Kamasi Washington @ Bottom Lounge 9/9/15
By: @WeirScrewed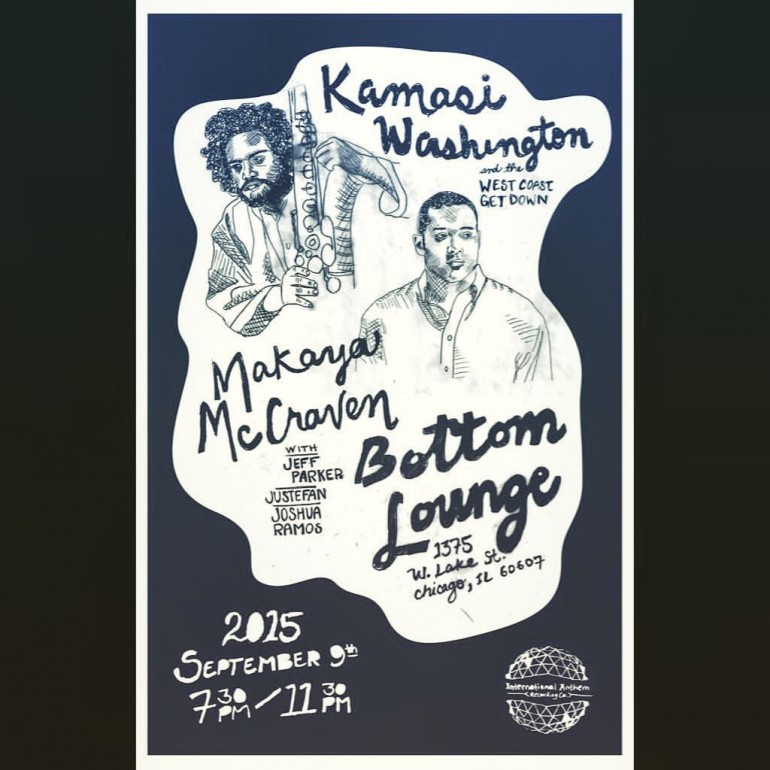 Kamasi Washington is a musical force.
Having played with jazz legends like Wayne Shorter, McCoy Tyner, Herbie Hancock, and George Duke, it became clear that the jazz world couldn't contain the Los Angeles based saxophonist.  His unmistakable tone has also contributed to recordings by Lauryn Hill, Snoop Dogg and Kendrick Lamar (he also was the string section composer on To Pimp A Butterfly). This spring, he released The Epic, a 3 CD masterpiece recorded with his musical friends that make up the collective known as the West Coast Get Down.
On Wednesday night, part of that collective known as Kamasi Washington and the Next Step made their first Chicago appearance at the Bottom Lounge for a show that left all in attendance with an appreciation for his genre-smashing influences, a head full of challenging music, and smiles on their faces.
Taking the stage around 9:30 and playing for a solid two and a half hours without a break, the band tore through a good part of The Epic starting with the opening track "Change of the Guard". Just a couple minutes into this song, keyboardist Brandon Coleman showed off his chops with an incendiary solo.  A mere 18 (!) minutes after it had begun, the song charged headlong to a thrilling conclusion, still feeling like they had not exhausted every possibility contained within the composition's framework.
Throughout the course of the night, Washington and his band deftly maintained a balance of the tightly plotted, yet expansive structures that comprise The Epic along with a loose, free jazz spirit that channeled the spirit of John Coltrane and Pharaoh Sanders. Driven by the rhythm section of upright bass player Miles Mosley and drummers Tony Austin and Ronald Bruner, Jr., the band played an amped-up jazz that fit right in to a room like Bottom Lounge, as likely to host rock, funk, soul or hip-hop, rather than a stuffy, sit down jazz club.
Not that the jazz feel was completely abandoned.  Vocalist Patrice Quinn shined on tracks such as "The Rhythm Changes" and "Henrietta Our Hero", an ode to Washington's grandmother that featured Kamasi's father Rickey Washington on the flute (and later on alto sax).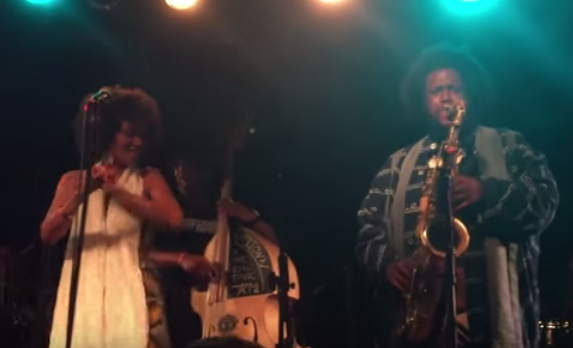 Rounding out the horn section, slide trombone player Ryan Porter ("Soul Brother #1", as he was referred to throughout the night) proved a more than able compliment to Kamasi's fierce playing.
In all, it was around two and a half hours of full band jamming at the intersection of Sun Ra, Ornette Coleman and Frank Zappa.  At one point Coleman even strapped on a key tar with the Grateful Dead's Dancing Bears on the strap.  Yeah, it's that kind of jazz band.
When the final notes rang out around midnight, the substantial weeknight crowd shared a feeling that they had seen a pretty incredible Chicago debut.  When word of mouth gets going, it's likely that Washington and his band may need a bigger venue, and maybe a prime weekend slot the next time they return.
Opener Makaya McCraven showed the crowd why he is one of the most versatile and skilled drummers around. During his opening set, he and his band --a  unique mix of drums, electric bass, guitar and vibes -- also pushed at the boundaries of what can be considered jazz.
Videos courtesy of Matthew Ferguson