Review / Video | Phish @ Wrigley Field
Photos via phishfromtheroad instagram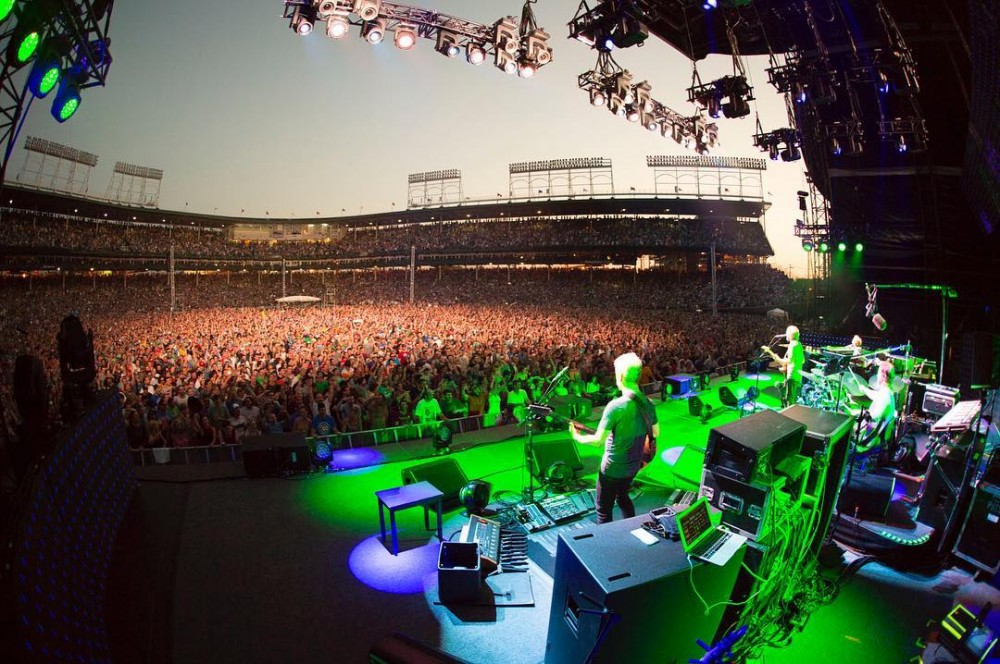 Phish at Wrigley.  From the time it was just a rumor, it was a band and venue combination that got people emotional.
I'll admit to being one of them.  I'd been visiting the ballpark regularly since I was a kid, and the place was heavy with history even then.  I'd spent summers wrapped up in the narrative that played out on that field for most of my life.
I also lived in the neighborhood in the nineties, during a time that I was traveling the world seeing 20+ Phish shows per year.  The bustle and energy of the area was perfectly suited for a time in my life when touring merged with the sporting life.  I was equally engrossed in the story of a band whose storylines could be just as compelling, whose highlight reels were just as breathtaking, as those featured on SportsCenter.  If you can't have fun in Wrigleyville, can you still have fun?
So the fact that these shows were happening there was a recipe for nostalgia, and that's a word that can bring the knives out when discussing Phish.
But let's be clear… nostalgia has little to do with the four exhilarating minutes of "Tweezer Reprise".  That's a tune that plays in arenas and festivals, in corporate-sponsored sheds and, yes, 102 year old baseball stadiums.  It gets you in the gut, you respond instantaneously.   "Tweezer Reprise" can help put everything around it in perspective.  It helped reveal the joyously incongruent crossing-the-streams of Americana that allowed us to witness some truly weird improvisational music in the space where legends of the National League have been patrolling since well before rock music was even a thing.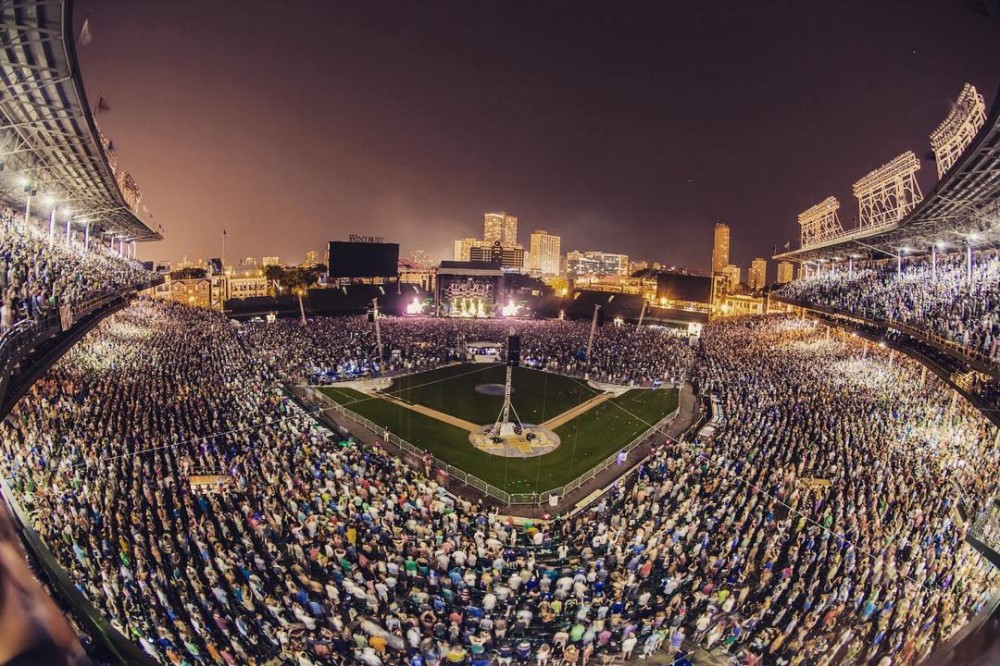 These were just the second and third shows of a summer tour – with the promise of a forthcoming album looming – and it's a bit like watching your team take the field after an off season filled with trades and free agent signings.  Just as hope springs eternal at Wrigley with the Cubs; the hardcore fans hope for something special from Phish, but if they fall short, know that we'll love 'em anyway.
So it was these competing forces that shaped the pair of shows – a strong emotional tie to the past and the promise of something new – and there was plenty of evidence to bolster both sides of this continuum.
The band charged through the pair of first sets like they were being paid by the song, only Friday's "Sand" showing the slightest signs of breaking out of the box.  The debut of "Miss You", a dose of lite rock schmaltz in the mold of "Show Of Life", was notable, but this rookie probably won't be winning any MVP awards any time soon.
Luckily, the second sets delivered what they were supposed to, the band using the night sky as a backdrop to stretch out and lighting director Chris Kuroda using it to experiment with the new LED screens added to his rig for the summer. 
That said, most of the jams came in familiar spaces ("Disease", "Carini", "Twist", "Tweezer"), and felt comfortable, safe and lived in.  They evoked happiness in the way that, win-or-lose, there's still fun to be had at the old ballpark.   
The a capella cover of David Bowie's "Space Oddity" was the highlight of Friday night's show, precisely since it worked on so many levels.  A tribute to a legendary artist who had recently passed away.  A new, and challenging, arrangement of an instantly familiar song.  An extremely welcome cover debut in an era where covers themselves seem to be written out of the script.  And most importantly, it seemed practiced and with a touch of only-at-Phish magic.  Trey singing the guitar parts as one of four voices ringing out amongst 40,000 strong was, in a word, awesome.
Saturday, in particular, offered a second set loaded with fan favorites.  It's hard to argue with the song choices, especially the much anticipated return of "Fluffhead".  But while Mike, Page and Jon provided ample opportunity for Trey to push many of these great songs through into brand new territory, he retreated into rhythm work, or on to the next song, more often than not.  The rushed "Harry Hood" was like watching your favorite veteran player come up to bat – and strike out.  Disappointing in the moment but still worthy of a smile remembering some of the dingers he's hit in the past.
The encore, again, saved some face from a set that was big on the feels, but didn't break too much ground.  The band dusted off their cover of "I Am The Walrus" – a larger-than-life song perfectly suited for the epic location -- and certainly something that the majority of the crowd hadn't experienced before.  For their part, the guys seemed to relish in the lovely freak-out section that closed the song, so fiery and intense that it could have made John Lennon blush.
Phish is the team that strung together many championship seasons in a row back in the day.  I'm not sure they have yet defined the ceiling for 2016; and besides a damn good time, these shows offered little visibility into how they'll be come playoff time.  We know that there will definitely be some exciting plays, but it remains to be seen if they can go all the way.
Setlists (via phish.net)
Soundcheck: Unknown song, Unknown song (Mike vocals), Unknown bluegrass song, Miss You, Blues Jam
Set 1: Sample in a Jar, Chalk Dust Torture, Martian Monster > Rift, Yarmouth Road, Sand,Miss You[1], The Wedge, Free > Blaze On
Set 2: Down with Disease[2] > Fuego > Twist > Twenty Years Later > Waste > Also Sprach Zarathustra > Backwards Down the Number Line, Loving Cup
Encore: Space Oddity[3], Run Like an Antelope
[1] Debut.
[2] Unfinished.
[3] Phish debut; a capella.
Set 1: The Moma Dance, AC/DC Bag > 555, Waiting All Night, Heavy Things, Happy Birthday to You, 46 Days, I Didn't Know, Divided Sky, Cavern > Good Times Bad Times
Set 2: Carini > Tweezer > Fluffhead > Piper -> Steam > Wading in the Velvet Sea, Harry Hood > Tweezer Reprise
Encore: I Am the Walrus