Review & Video Playlist | Kishi Bashi @ Athenaeum 1/15/15
By Alex Wood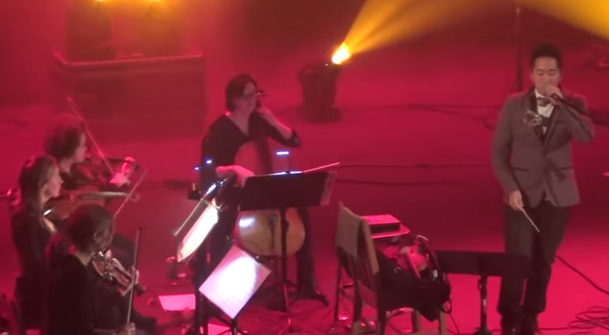 Kishi Bashi debuted his new string quartet at Athenaeum Theatre on Thursday as part of the Tomorrow Never Knows festival.
The songwriter and violinist was joined by two violas, a cello and a violin, as well as his touring guitarist guesting on banjo when needed. In addition to vocals, Kishi Bashi conducted the string quartet, played violin and looped his instrument and vocals.
Opener "Manchester" used the string quartet beautifully, its members recreating the dramatic and dense arrangement of the studio version as the vocals slowly built the song to a gentle climax. A cover of the Talking Heads' "This Must Be The Place" followed, a surprising choice that transformed the song effortlessly into Kishi Bashi's unique style.
Throughout the show, Kishi Bashi's vocals were spot on, the singer's endless range utilized while following the quartet's shifts in dynamics.
As a whole, the string quartet showcased a different side of Kishi Bashi than his usual shows, such as his performance at The Metro less than a year prior. Usually accompanied by guitar, bass and drums, his shows become upbeat dance affairs, leaning heavily on his pop sensibility as heavy drumbeats push the songs forward.
The string quartet put a stronger emphasis on the vocal lines and arrangements, songs constantly building and diminishing, release and tension playing heavily into each song's complex sections. Despite the band being a polar opposite of his usual accompaniment, the songs lost none of their fervor or energy, attesting to the strength of Kishi Bashi's initial arrangements.
"In Fantasia" began with slow, dissonant strings with gentle, off-beat strokes accompanying the verses, building to a moving legato finish. "Carry On Phenomenon" featured a big drumbeat performed on the back of a banjo to maintain the song's dance vibes.
Always one for unique covers, Kishi Bashi performed Beirut's "A Sunday Smile," a nod to another contemporary musician composing music beyond classification. "Evalyn, Summer Has Arrived" found the artist looping his vocals over another banjo drumbeat, providing thick vocal harmonies without assistance from the band.
Set closer "Bright Whites" reached a highpoint for energy, the crowd clapping along and eventually standing at the singer's request. A lively encore followed, the audience still clapping along with "It All Began With A Burst," the song's energy perfectly translated amongst the strings until vocal loops and a violin solo take over entirely.
Dance tracks "Philosophize With It" and "Ballad Of Mr. Steak" closed the show, each with vigorous accompaniments from the quartet that easily rivaled the performances of his previous band.
In the end, the audience was given an intricate look at Kishi Bashi's music from an entirely new perspective in the intimate theater setting, the quartet still showing the beautiful intricacy of the songs' unique compositions.
Nearly the entire show in HQ video courtesy of YouTuber the1stmikec.
Setlist:
1. Manchester
2. This Must Be The Place (Naïve Melody) (Talking Heads cover)
3. Bittersweet Genesis For Him And Her
4. I Am The Antichrist To You
5. Atticus, In The Desert
6. In Fantasia
7. Carry On Phenomenon
8. Conversations At The End Of The World
9. A Sunday Smile (Beirut cover)
10. Q&A
11. Evalyn, Summer Has Arrived
12. Bright Whites
Encore:
13. It All Began With A Burst
14. Philosophize It! Chemicalize With It!
15. The Ballad Of Mr. Steak