Review / Video | Umphrey's McGee @ Ravinia 8/14/15
Umphrey's McGee Rocks Ravinia
Words: Carmel O'Farrell | Photos: Kristine Condon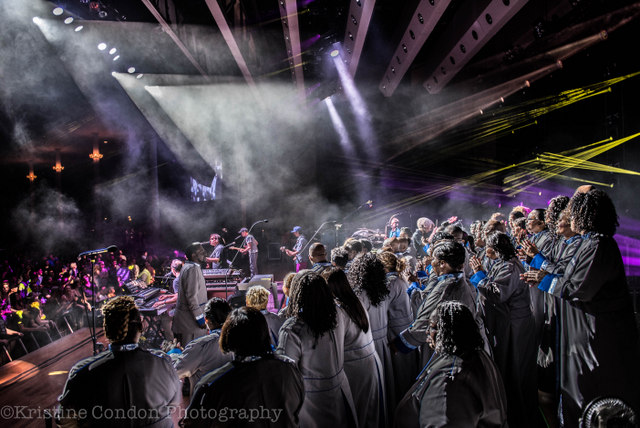 Ravinia Festival is a summer long concert series that takes place in the hoity-toity Chicago suburb of Highland Park. Concert goers are encouraged to picnic on the lawn surrounding the pavilion as they listen to the relaxing sounds of artists like Aretha Franklin and Steely Dan throughout the warm summer months.
If you want to go all out you can also purchase a ticket upgrade to an assigned seat inside the pavilion with great lines of sight and excellent sound quality. The venue is kept up by the community and season ticket holders, who get first dibs on tickets.
With a limited number of outdoor music venues of this size in the Chicagoland area, prog-jam masters Umphrey's McGee made the most of what Ravinia had to offer. For the band this meant bussing in the Chicago Mass Choir for a special collaboration and encouraging their rowdy followers to behave themselves. But for fans, this translated to a "bring your mom" sort of setup, which many of us did!
The gates opened in the late afternoon on Friday, August 14th, giving us plenty of time to set up shop and indulge in some fine wine and aged cheese before the main event. A large screen was set up on the north lawn streaming live tweets that came through with the hashtag "#umphreys." This new technological interaction was well received by fans, including myself.
There was also a Nothing Too Fancy picnic competition where themed picnics were judged by lighting designer Jefferson Waful, as well as a handful of other Umphrey's crew members and favorite fans.
The rock show eventually kicked off with the intro "October Rain" that segued into a long-winded "Bridgeless" as fans entered the pavilion one by one, past the ushers and into their assigned seats. While the venue is actually BYOB out on the lawn, no drinks besides water are allowed inside the pavilion. Many chairs were still empty as I walked down the securely guarded aisles and found my row. Umphrey's then soared through a heartfelt "Haji" and then the newly rejuvenated "Out of Order" as if they were just warming up for the main event.
"Made to Measure," which seems to be making a major comeback in Umphrey's current song rotation, was one of those Mantis tunes I was able to call right away. I let the song's creepy keyboard line wash over me and take me on a journey with its mystical composition and crafty lyrics. Soon the tune ventured into a cover of Hendrix' "Who Knows" with sassy back and forth vocals before it contorted back into "Made to Measure." The whole segment left fans elated and ready for more.
Up next was a quintessential hodgepodge of dance complexities and rage trajectories. By now Ravinia's pavilion was practically filled to the brim with sauced up fans and the large awning that covered them allowed Waful's lights to shine bright, even though the sun had yet to set. This is often a winning combination for any Umphrey's show.
"Day Nurse" > "The Linear" > "In The Black" elevated Umphrey's first set to a special level of progressive prowess. "In the Black" is a heavier Umph song still in its infancy. It's dark, finding a unique spot for this band amongst many of their jam scene peers.
While most fans openly accepted the dark side of Umphrey's, many moms in the audience didn't quite "get it." The look on their faces was that of shock, shaking their heads in disapproval. But then, almost as an apology, Umphrey's won them back over with a cover of Fleetwood Mac's "Rhiannon." The band was joined by Michelle Hallman on vocals, who has a striking resemblance to Stevie Nicks both in looks and tone, confusing the hell out of those on the outskirts of the pavilion. In fact, I ventured out that way during the setbreak and was told by a friend how surprised they were that Stevie Nicks joined Umphrey's for the cover. Obviously the lines of sight from the lawn were not as good as the pavilion.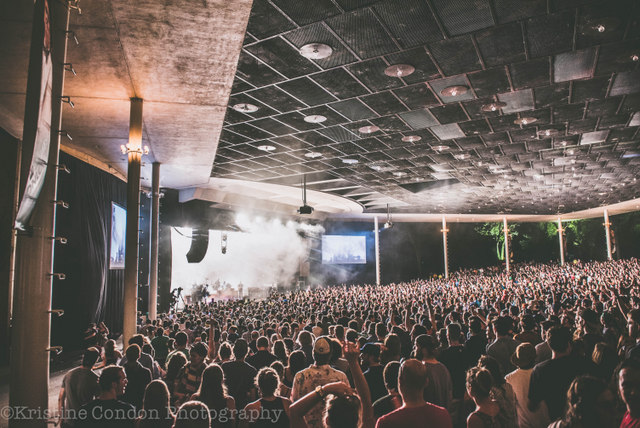 The set break showcased a light show from Mother Nature herself as a storm began to move into the area from the north. Many picnickers started to pack up and some of the older crowd actually left the show altogether knowing they would soon get soaked if they stayed much longer. Their prediction was right, second set kicked off with a massive downpour, as well as the fan favorite "All In Time."
The pavilion quickly filled with eager fans this time around and many lawn ticket holders snuck into the covered back end in an attempt to get away from the rain. Security quickly took to the aisles checking tickets and kicking out anyone not in their proper seat.
"Bad Friday" eventually rolled around and it was time to witness this band do what they do best. The energy from both the crowd and the band took this show to that special place that most live music fans dream about. By the time "Much Obliged" peaked into "Bridgeless" the only question left on everyone's mind was, "Where the hell is the choir?!?" What we failed to realize, unless we religiously check All Things Umphrey's, is that August 14th, 2015 will go down in history as the 300th "Bridgeless" performed. Neat!
On paper this setlist seemed fairly standard with minimal bust outs, yet it still contained everything diehard fans have come to love about this band: locked in improv, slick transitions, and versatile shredding. While expectations were high for the Chicago Mass Choir's addition to the mix, I don't think anyone was prepared for what came next...
"Wife Soup" started pretty standard as Waful lit up both the band and audience with rays of light, but gradually a choir appeared on the right side of the stage, looking like a squad of angels ascending upon us in their long gowns. They slowly began to chime in until they finally overtook Jake Cinninger's guitar riff. The crowd's arms raised to the heavens in solidarity with the choir as Bayliss belted into the microphone, "You wouldn't even believe your eyes, it's all your circus now…" It was a magnificent moment of grace that won't soon be forgotten by anyone blessed enough to witness it. The song ended with the choir taking on the final solo and leaving us all with our jaws on the floor. If ever this band had taken us to church, this was it.
The second set closed with a debut cover of the Talking Heads' "Once in a Lifetime," which was grand, and encompassed the singalong/dance party feeling that Talking Heads songs are known for. Bayliss played the part of David Byrne perfectly and the choir backed up his punchy delivery, clapping in unison and giving the song the power that makes it monumental.
The rain continued through the break between the second set and encore. Those that braved the elements outside the pavilion were soaked to the bone, but still smiling ear to ear. Umphrey's took to Ravinia's stage once last time, joined by the Chicago Mass Choir for yet another new take on their original, "No Diablo," as well as another debut cover, Bill Withers' "Lean On Me." The latter featured a special guest appearance by the multi-talented Jen Hartswick for its final verse to bring it all home. This musician is a superstar through and through. While many know her through her work with the Trey Anastasio Band, she has really made a name for herself these past few years. Hearing her sing with a choir could make a blind man see and practically brought the Ravinia crowd to its knees. Talk about ending a show on a high note!
While the setting was less than typical for these Midwest ragers, Umphrey's McGee has finally proven their point. After seeing them grow over the past two decades and taking their craft to new heights, they are now giving their fans experiences they didn't even realize they could appreciate. While I'll admit that I was not impressed by their choice of venue, it's now clear that Umphrey's isn't just a band for me, it is a band for everyone -- all ages, demographics, and yes, even moms. So as long as they keep doing what they do, I will keep showing up with open ears and an open mind.
Set 1: October Rain > Bridgeless > Hajimemashite, Out Of Order > Made to Measure -> Who Knows[1] > Made to Measure, Day Nurse > The Linear > In The Black, Rhiannon[2]
Set 2: All In Time, Bad Friday, Prowler > Higgins, Much Obliged > Bridgeless, Wife Soup[3], Once In a Lifetime[4]
Encore: No Diablo[3], Lean On Me[5]