Review / Videos / Full Show Audio | U2 @ Soldier Field 6/3/17 & 6/4/17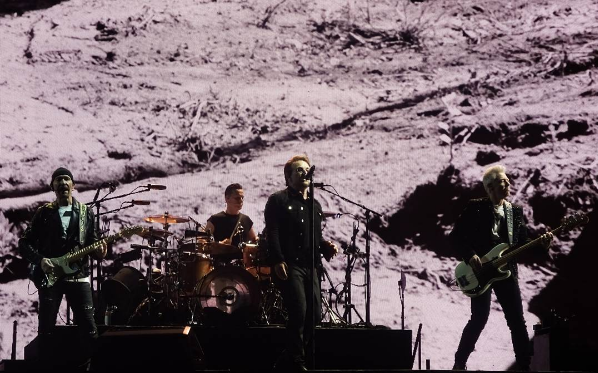 Words: Alex Wood | Photo: @tbergnation
U2 sold out two shows at Soldier Field as part of their Joshua Tree Tour, with sets centered around a full performance of their seminal 1987 album.
The stage setup matched the band's epic sound, featuring a gigantic, rounded screen the entire width of the football field, in addition to a smaller, offset "b-stage" that was closer to the audience.
The show began with four songs on the smaller stage, both nights opening with "Sunday Bloody Sunday" and focusing on older material.
These songs emphasized the same pointed, political topics as The Joshua Tree itself, setting up the relevant return of the album to come, with 1984's "Bad" containing an interpolation of Paul Simon's "America."
The performance of The Joshua Tree was predictably the highlight.
While songs like "Where The Streets Have No Name" and "I Still Haven't Found What I'm Looking For" were easy crowd-pleasers, others like the heavier "Bullet The Blue Sky" or the infectious, harmonica-driven "Trip Through Your Wires" offered a rarer and more intimate opportunity for longtime fans.
A truly dynamic album that begs to be pegged as "epic," the Joshua Tree performance was truly brought to life by the band's tight and powerful rhythm section, The Edge's effects-drenched, massive guitar sound and Bono's commanding, emotional vocal performances.
The remainder of the sets differed between the two shows, but focuses more heavily on songs from the 90s and 2000s, including "Beautiful Day" and "Elevation" from 2000s All That You Can't Leave Behind and "Ultraviolet" and "One" from 1991's Achtung Baby. Sunday's show featured a cover of Bob Marley's "Three Little Birds."
In the end, the shows were truly a special opportunity for fans, feeling more relevant than nostalgic, the band's gigantic sound filling the massive stadium with ease.
Stream or download recordings of the shows below, and watch videos from select performances.
Saturday, June 3rd
Download Complete Show (mp3 .zip)
Sunday, June 4th
Videos
"Sunday Bloody Sunday"
"One"
"I Still Haven't Found What I'm Looking For"
"Bullet The Blue Sky"
"Beautiful Day"