Riot Fest Announces Schedule, Additional Performers | WIN TICKETS!
By: Alex Wood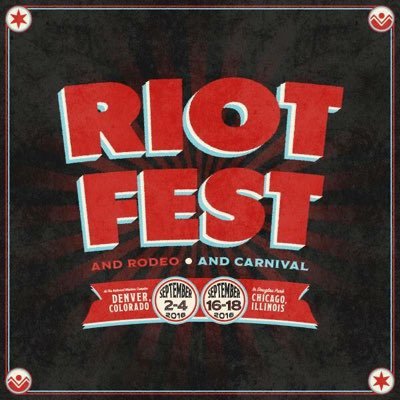 Shortly before single day tickets went on sale for Chicago's Riot Fest, festival organizers annouced the daily schedules, including a few surprise additions to the already massive lineup.
Amongst the bands added are The Flaming Lips, Sleater-Kinney, Julian Marley performing Bob Marley's Exodus in full, The Bronx, Fucked Up and The So So Glos.
The eclectic lineup seems to be organized slightly to taste. Friday features the stranger acts like The Flaming Lips, Ween, Meat Puppets and Diarrhea Planet. Saturday features more accessible names like Morrissey, Death Cab For Cutie, Motion City Soundtrack's final show and the majority of the hip-hop acts, while Sunday offers the much-hyped Misfits reunion alongside a number of large alternative names such as Sleater-Kinney, Rob Zombie and Bad Religion.
We are pleased to be partnering with the folks at Riot Fest to set some of our readers up with a 3-day pass to the fest.  Check out the details below.
Read the full list of bands performing daily below, and purchase single-day tickets here.
Friday, September 16
The Flaming Lips, Ween, The Specials, Jimmy Eat World, Julian Marley performing Exodus, NOFX, Refused, Pierce The Veil, All Time Low, Glassjaw, Pepper, Meat Puppets, Dan Deacon, GWAR, The Anniversary, Set Your Goals, Neck Deep, Highly Suspect, Fu Manchu, Girls Against Boys, The Dillinger Escape Plan, Tigers Jaw, Basement, Toché Amoré, Diarrhea Planet, Big D & The Kids Table, Citizen, Turnover, Violent Soho, Off With Their Heads, Holy White Hounds, Laura Stevenson, Somos, 3Teeth, The Wans, Jule Vera, Worriers, Eskimeaux, The Far East, Bad Cop/Bad Cop
Saturday, September 17
Morrissey, Death Cab For Cutie, Social Distortion, Nas, Brand New, Fitz & the Tantrums, Descendents, Motion City Soundtrack, The Hives, Bob Mould, The Hold Steady, Method Man & Redman, GZA, Smoking Popes, The Vandals, Fucked Up, I The Mighty, The Toasters, Hippo Campus, Balance & Composure, People Under The Stairs, White Lung, Jessica Hernandez & The Deltas, DEE-1, Brick + Mortar, Night Riots, Plague Vendor, Microwave, Death Spells, Deal's Gone Bad, Black Foxxes, The Walters, Nots, Donna Missal, Tasha The Amazon, Blackbox, High Waisted, Summer Cannibals, Partner, Kitten Forever, Sleepy Kitty, School of Rock
Sunday, September 18
The Original Misfits, Featuring Glenn Danzig, Jerry Only and Doyle Wolfgang Von Frankenstein, Rob Zombie, Sleater-Kinney, Deftones, Bad Religion, Underoath, Thursday, Jake Bugg, Death Grips, The Julie Ruin, Joey Bada$$, Chevy Metal, Me First & The Gimme Gimmes, Tiger Army, The Wonder Years, Dee Snider, Andrew W.K. Leftöver Crack, Billy Talent, The Falcon, Juliette Lewis & The Licks, FrnkIero AndThe Patience, The Bronx, Pouya, Swingin' Utters, Denzel Curry, Bleached, Tancred, Creeper, Marina City, Syd Arthur, The Dirty Nil, The So So Glos, Big Ups, All Dogs, War on Women, Hard Girls, A Will Away, Can't Swim, With Our Arms To The Sun, The Gallow Walkers, School of Rock