Review / Photos / Setlist: Bustle In Your Hedgerow @ Bottom Lounge 6/14/13
The music of Led Zeppelin occupies a rarified air. With a songbook as beloved as any seminal rock band, and an outsized mythology that seems to revere its members to the point of forgiving their general aloofness, they find themselves in a comfortable zone -- able to maintain mystique and prestige aming their diehard fans long after the initial discovery period when their passion burns brightest.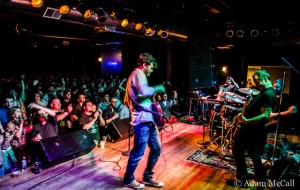 Interestingly, those same fans looking to experience at bit of the live Zep are often forced down the nostalgia route, with imitation, rather than interpretation, being the order of the day (with a handful of notable exceptions) for the shirtless and dragon-pantsed "recreators" of the band's music. Add to that list of exceptions Bustle In Your Hedgerow, who played Chicago's Bottom Lounge on Friday night to a large and enthusiastic crowd as a part of SilverWrapper's Taste Of Randolph after show program.
Given the pedigree of the performers in Bustle, it's tempting to call them a jazz band and look at their performance through that filter . But that's not really true. Bustle is a rock band... distilling the pure concentrated power at the heart of the Zeppelin catalog live and on stage. But their arrangements, often built on the sinewy and groove oriented interplay of longtime collaborators keyboardist Marco Benevento & drummer Joe Russo, are certainly informed by the openness and freshness of jazz, exploiting the quiet and loud dynamics of Led Zeppelin music to uncover the hidden places within.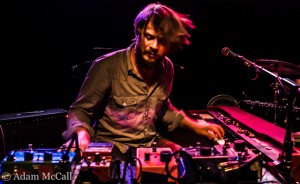 Photo By Adam McCall Photography - See Entire Gallery Below
On Friday, it seemed the first notion of what this band was capable of was revealed via the lack of vocals.  The focus during the show opening "Wanton Song" was on the ensemble, creating tension between the push and pull between members.  Benevento twisted a few knobs on his rig during the "Nobody's Fault But Mine" that followed and you could detect a faint ethereal vocal melody hovering above the blues rock crunch of the classic.  It was as early as that moment when I decided that Plant - who has probably been the foremost interpreter of his own material in the years since Zeppelin broke up -- would feel right at home fronting this band.
The first set was chock full of the so called "deep cuts". The band reeled off one delightful choice after another. Admittedly, without those lyrics to grasp on to, I think I had misidentified a good 40% of the songs in my setlist notes after the set. And. That. Is. Awesome.   I love to get turned around at a show like this, and Bustle stepped up to shake up the notions of what a tribute band could be.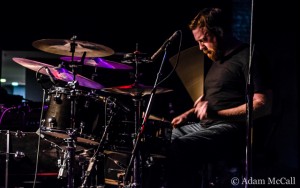 Photo By Adam McCall Photography - See Entire Gallery Below
This feeling was ameliorated a tad by set two, where they trotted out a nice volley of the "hits" in succession. This segment was anchored by three distinct solos. The first was a smoldering Benevento organ romp in "No Quarter", wrenching every ounce of psychedelia out of one of most open tunes in the catalog. Almost as impressive was Scott Metzger channeling Pagey on the guitar breakdown in "Heartbreaker" while inserting some fresh ideas of its own. In what very well could have trumped both of those, the band launched headlong into the tune that contains the mother of all drum solos, and there was enough Bonham thunder married with the trademark Joe Russo swing in this reading of "Moby Dick" to keep the crowds energy up way past midnight, before yielding to a set closing "Custard Pie".
Setlist
Bustle In Your Hedgerow
Friday, June 14th, 2013
Bottom Lounge, Chicago, IL
Set One
Wanton Song, Nobody's Fault But Mine, Ramble On, Wearing and Tearing, Since I've Been Loving You, Out On The Tiles, What Is And What Shall Never Be, The Ocean, For Your Life, Hot Dog
Set Two
We're Gonna Groove, No Quarter, The Song Remains The Same, Heartbreaker, Kashmir, Dazed & Confused, The Lemon Song, Moby Dick, Custard Pie
Encore
Immigrant Song
Photos courtesy of Adam McCall Photography.