Review, Setlist, Stream, Download, Video: Neil Young & Crazy Horse, United Center, Chicago 10/11/12
In advance publicity for his autobiography Waging Heavy Peace, Neil Young has been pretty public about his recent abstinence from weed and booze for the first time in just about forever.  I'd like to provide (happy?) testimony that this decision has had no material affect on his stage demeanor or ability to perform long, psychedelic noise rock experiments. He comes through with the same twisted up and gnarled expression, the same feedback drenched guitar slashing, the same beautifully angry shouts and haunting asides. Though this is the first full-fledged Crazy Horse tour in many moons, the unit's ability to craft so much out of so little remains at the heart of their appeal. The group spend the majority of the night in a makeshift huddle in front of the drum riser, seemingly poking and prodding aggressively languid sounds out of each other over the foundation of one of rock's most timeless catalogs.
The set Thursday at the United Center began with some pantomimed theatrics.  While The Beatles' "A Day In The Life" was piped through the PA, roadies and eventually band members clad in white lab coats urged the Live Rust style mega-prop roadcases off of their equally outsized amps as a microphone fit for Godzilla sailed in from overhead.  The whole spectacle culminated in a stately and dignified of honoring of "The Star Spangled Banner", in a building that has hosted numerous memorable versions over the years.
When the enormous stars and stripes that blanketed the rear of the stage dropped dramatically to reveal the Horse logo, still wearing lab coats, the foursome slipped into "Love and Only Love" like a master storyteller, wrenching every bit of drama and tension out of a simple tale.  Thirteen minutes later they had covered ground in many unexpected and inspiring ways.
Trying to peel back the covers, Crazy Horse appears to be an intense game of musical follow the leader.  The rules of their game have always conceded that their playing is not polished enough to win any beauty contests -- in fact, without material as enigmatic and profound as "Powderfinger" the result would be considerably uglier. Neil will drop hints on where he wants the unit to arrive and via a evolving deliberate communication, an arena sized sonic landscape emerges. In the measures it takes for the band to chase down one of Neil's precious ideas, he will have coaxed entire vistas out of Old Black.  When this winding, building conversation is allowed to play out into a peak, as it did during the Psychedelic Pill tune "Walk Like a Giant", it can be glorious.
But before the audience could bask too long in its glory, the rest of Crazy Horse exited the stage while Neil strapped on an acoustic.  This surprise interlude kicked off with "Needle And The Damage Done", but it was another new tune "Twisted Road" that nearly upstaged the classic.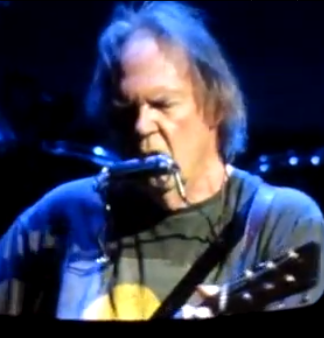 With an attentive and eager audience focused on one man and his guitar, Neil rattled off a first verse about the first time he heard "Like A Rolling Stone" and Dylan's affect on him and his art, and collectively we were cast into the moment.  The chorus included a line about "listening to the Dead on the radio" and from there he had me -- this song is a fine complement to Neil's already bursting-at-the-seams acoustic repertoire, presented here in the heart of a Horse set reinforced the diversity and brilliance of the artist.
The next few new tunes didn't quite measure up, though I did welcome the piano playing on "Singer Without A Song" -- a Crazy Horse debut -- to close the acoustic portion of the evening. "Ramada Inn" served as the table setting for the relentless sequence the band used to close the show.   It was all spirit and life and emotion. Rumbling on from classic to classic, extending each to fill in the details of 20, 30, and 40 year old songs with the palate of colors used by 2012 Horse.  Crazy Horse was timeless as well as ageless.
Los Lobos opened the show and are a true rock treasure.  They've been around for so long, it's nearly easy to forget, but they haven't lost a step either -- cranking out a guitar assault that leverages punk, roots and traditional music.  The set swung from limb to limb, tossing in a Spanish serenade next to Richie Valens' "Come On Let's Go" and a Willie Dixon cover (dedicated to Buddy Guy).  They sandwiched a rousing verse of "Lovelight" into the boozing anthem "I Got Loaded", prepping the way for the set's highlight.  Proving they know where their bread is buttered, Los Lobos ran out the Spanglish hard rocker "Mas Y Mas" and then turned a swift corner into one verse of "Not Fade Away" before revving up The Dead's "Bertha" to close the show.
One last point.  This concludes a run of three shows I've seen this fall in stadiums and arenas by established artists.  As I mentioned before, the arena is almost a requirement for appreciating Neil's huge sound, but it was a little off-putting to see so many empty seats (50% capacity?), especially in lieu of the very high ticket price.  I would guess that the United Center was half full and nowhere was this as obvious as the General Admission floor.  Would cutting ticket prices have produced a packed house?  Even at a 50% discount these seats would not be what anybody would call a bargain.  I think that in slashing prices, we'd see much happier fans, many more people willing to experience this incredible music and all at the same bottom line for Neil.  What gives?
The Stream
Download Entire Show (mp3 .zip)

Neil Young & Crazy Horse
October 11, 2012
United Center, Chicago, IL

Love And Only Love, Powderfinger, Born In Ontario, Walk Like A Giant, The Needle And The Damage Done, Twisted Road, Singer Without A Song, Ramada Inn, Cinnamon Girl, F*!#in' Up, Mr. Soul, Hey Hey, My My (Into The Black)

Encore
Tonight's The Night

Los Lobos opened