Setlist / Recap: DeadPhish Orchestra @ Wire 4/17/15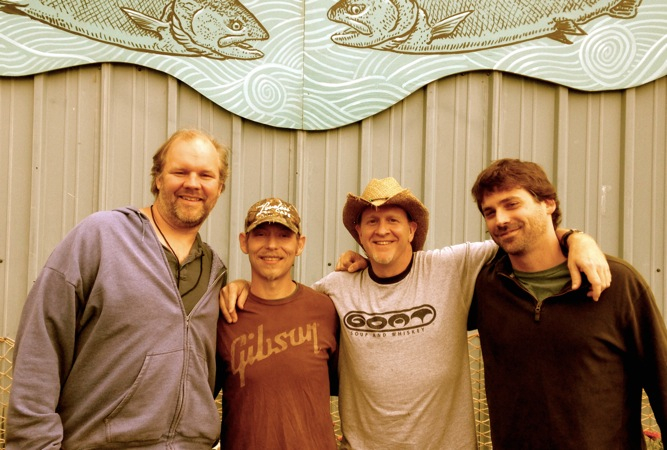 Five things I learned attending DeadPhish Orchestra at Wire on Friday, April 17th.
1. Intellecutally, I can't help feeling a small sense of betrayal in choosing a cover band over the many original music options available. But, my heart very much belongs to Grateful Dead and Phish, and in creating a band that specializes in those two catalogs in equal measure (and nothing else), DPO is aiming straight for the ticker. The act of attending this show is a interesting exercise in balancing mind and body… and you just have to let yourself submit to your love of these tunes. The heart wants what the heart wants.
2. That said, DeadPhish Orchestra is a band that is all about the transitions. They specialize in pace and set construction, mining joy in unlikely bridges crafted between songs that we haven't grown accustomed to being connected in just this way. There's fertile ground here, and enough appreciation by the musicians to make it a thing — over and over for two sets.
3. For all the talk of how DIFFERENT and UNCOMPARABLE the Dead and Phish are, there is a certain segment -- which apparently myself, the band and many of the folks in Wire that night fall into -- that can find near equal appreciation for both of these acts. There's enough here to make a band like DPO work.
4. DPO is 3/4 of The Phix, the first Phish cover band I'd heard of, seen, and almost certainly the first that ever toured nationally. When keyboardist Derek Berg moved on from the band to be an (*ahem*) adult, the remaining three latched on to another player and added the Dead to the repertoire. Berg dropped in for a sit-in with his old bandmates, looking every bit the adult, and threw down on "Maze", "Shakedown" and "David Bowie" (and a bit of a "Bathtub Gin" jam). Before he was introduced, I was seriously wondering who the accountant-looking dude was that didn't miss a step during "Maze"!
5. Wire is a bit of a hidden gem. I'm sure the Berwyn location may keep a few people away… but it shouldn't. A wonderful music room, with great staff and high production value. It's probably not as far from you as you think.
They'll be back for a pair of shows (afternoon and late night) at House Of Blues Back Porch Stage on July 5th, the final day of GD50.
Friday, 4/17/15 - Wire - Berwyn, IL
SET ONE: Runaway Jim > Cumberland Blues > Wolfman's Brother > Viola Lee Blues > Twist > Viola Lee Blues, Moma Dance > Casey Jones, Golgi Apparatus > Throwing Stones > Golgi Apparatus > He's Gone# > Runaway Jim
SET TWO: Saint Stephen > Cities > Saint Stephen > Maze^, Shakedown Street^> David Bowie^, Tube > Samson & Delilah > Harry Hood > Sugar Magnolia > Harry Hood
(# Bluegrass - ^ w/Derek Berg on Keyboards)
Saturday, 4/18/15 - The Wire - Berwyn, IL
SET ONE: Wilson Intro > Help on the Way > Slipknot > Sand > Slipknot > Franklinstein's Tower, Limb by Limb > Lady with a Fan > Terrapin Station > Free, Foam^ > Stash^, One More Saturday Night.
SET TWO: Rift > Here Comes Sunshine > Bathtub Gin > Here Comes Sunshine, YEM > Friend of the Devil > My Friend My Friend > Black Muddy River, Run Like an Antelope > The Music Never Stopped > Antelope
^ ft. Derek Berg (The Phix) on keyboards