Setlist / Recap / Media: Dawes @ Reggies 4/1/13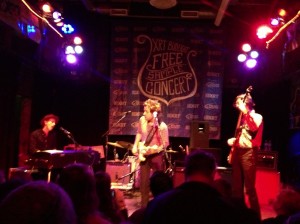 On the cusp of the release of their third LP,
Stories Don't End
, southern California band Dawes is criss-crossing the country on a promotional tour playing primarily radio shows and record stores.  The Chicago stop, on April Fool's Day, was part of WXRTs "Free Sample" concert series, which afforded them the luxury of playing in a club (the South Loop's Reggie's), a fact that singer / guitarist Taylor Goldsmith expressed appreciation for.
Though it was an early start time (6 p.m.), and an expectedly short set that showcased material from the forthcoming album, there was considerable buzz in the room -- with a lot of knowing glances and excited conversation between fans who seem to realize that days of small rooms and freebies from Dawes are numbered.  Through slick playing and graceful hooks, Goldsmith has had the uncanny ability to make fresh material seem instantly recognizable.  For me, even the first spins of North Hills and Nothing Is Wrong felt like returning to well worn favorites.  Although "From A Window Seat" had been released as a single, I was interested if seeing the impressive run would hold up for songs seen for the first time live.
As in their recorded output, Dawes puts the vocals right out front in performance, with straightforward line readings of melodies that cut to the songs' emotional core.  The band jumps on mellow grooves that emphasize harmonies and bright tones -- easy to listen to but not ingratiating.  The result is music that people connect with, as evidenced by singalongs on hits like "Time Spent In Los Angeles" and "A Little Bit Of Everything".  But I swear the crowd could even telepathically complete some of the lyrics of "Something In Common", a song I'm sure 95% percent of them room had not heard walking into the room.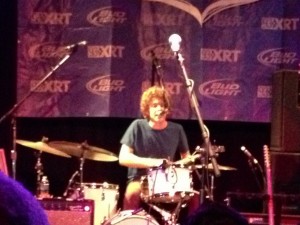 The new material carries the same vibe as their most popular tunes -- alternating from melancholy yet hopeful to untamed heartfelt exuberance.  Drummer Griffin Goldsmith's vocal turn on "Hey Lover" was particularly sweet, keeping the breathless pace of the pop nugget while waxing about a perfect imagined life with his sweetheart .  After being swept up about 45 minutes of highly enaging songcraft, it was jarring to be spit back on the street in broad daylight.
Setlist
Dawes - April 1st, 2013 - Reggie's,  Chicago, IL

Most People, Someone Will, Just My Luck, Time Spent in Los Angeles, From A Window Seat, Something in Common, Hey Lover, A Little Bit of Everything
The band begin a run with Bob Dylan shortly, before setting out for an extensive tour and hitting the festival circuit hard this summer.  Happily though, they must hate charging Chicagoans to see them perform.  Taylor promised an announcement about a return to Chicago soon, and the next day it was revealted that Dawes's next appearance in the city will be a free show at the wonderful Jay Pritzker Pavilion in Milenium Park on July 8th.
Here's a stream and download from a similar promotional stop in Philadelphia a few weeks prior.  The entire album is streamable from amazon.com for a limited time.
[box type="download"]Download Entire Set (mp3 .zip)[/box]