Setlist, Recap & Photos: Bruce Hornsby & Van Ghost @ Park West 6/17/12
Bruce Hornsby and the Noisemakers sucked the audience down a into wormhole on Sunday night.  We entered an alternate reality where popular music valued chops and musicianship over flash and gimmick -- a world were Bruce and his primary musical outlet have had unparalleled commercial success over the past 25 years.
But alas, we don't live in that world.  In Chicago, where Hornsby and friends played a rare club gig at the Park West, a smallish crowd that can appreciate finely crafted songs, peppered with jazz overtones and a rich and complex musical language, could only imagine that the world's tastes were so refined.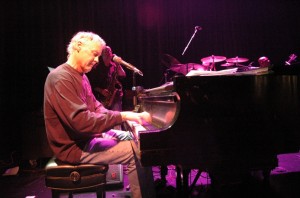 While its easy to infer meaning from the careers of bands that emerge as a unit and are associated with a certain time and place, Hornsby and his band seem to exist in a place out of time -- a collective of musical "athletes" cultivated by their leader to realize his unique sound.  Not every musician has the skill to help realize Bruce's vision, but he has certainly discovered the crew that is up to the task.   It is the spirit of hard work, challenge and collaboration which defines this collective.
Hovering over his Steinway grand piano, Bruce was the focal point, especially during poignant moments of solo piano, like that which preceded the opener "Great Divide".  However, he sparred with each member of his band in turn to produce a package of tunes that were executed with a spontaneity and precision rare for music that is so accessible.  J.T. Thomas provided color and counterpoint on keys -- allowing the piano's higher register showcase the trademark Hornsby runs on "Circus on The Moon".  Saxophonist Bobby Read spat out fanciful runs on the acoustic and electric sax, providing a jazzy interlude on "Across The River".  All of this was bolstered by the swinging low end offered by bassist J.V. Collier.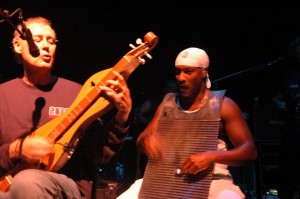 Heading over to center stage for a mini-set on the dulcimer, Hornsby reworked versions of "The Good Life" and "Valley Road" among other tunes. But, the interlude's highlight was Hornsby and drummer Sonny Emory, dueling away on dulcimer and washboard & spoons -- an exercise in rhythm that simply amazed.
Predictably, the crowd erupted when Bruce ably and confidently shifted gears in the middle of "Pete and Manny" and produced a verse of Grateful Dead's "Scarlet Begonias", albeit one with some forgotten lyrics.  It also manged to musically quote his Grammy winning collaboration with Branford Marsalis, "Barcelona Mona", with the promise that a "Mona"/"Begonia" mash-up could be in order for a pair of gigs scheduled with Bob Weir and Marsalis later this summer.
This was all explained in Bruce's undeniable cadence, one that manifests itself in equal parts while singing and speaking, proving just how much musicality is locked in his bones.  He also remarked that the venue was a perfect hybrid for the crowd he brings, with a combination of seating and dance floor, and, that too is a perceptive observation.  This is thinking-person's music that at time can make you move -- there is room at Bruce's shows for both.
Oddly, guitarist Doug Derryberry was less of a presence than his bandmates, though his backing vocals were welcome as was his mandolin on the trademark "Mandolin Rain", which kicked off a run of "real" hits, including  (by request) "Tango King" and "Candy Mountain Run".  "The Way It Is" was perhaps the most representative song of the night.  The 80's mega-hit was performed faithfully but yielded a magnificent jam that showcased full band interplay and more brilliant runs on the Steinway.
Setlist

Great Divide, Stander on the Mountain, Circus on the Moon, This Too Shall Pass, Across the River, The Good Life*, Prairie Dog Town*, Jack Of Diamonds* > Valley Road*, Pete and Manny > Scarlet Begonias, Mandolin Rain > That Would Be Something, (Time Machine Sounds) > The Way It Is, Tango King, Big Rock Candy Mountain Run > Candy Mountain Run

Encore: Swan Song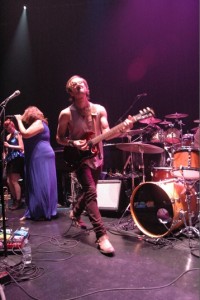 Chicago's own Van Ghost played a short set opening the show and proved to be an inspired pairing -- they seem to embody the same rare hybrid of musicianship and pop sensibilities that Bruce and his band occupy.  Band leader and principal songwriter, Michael Harrison Berg has surrounded himself with top notch players -- who are able to wrench everything out of his catchy, bouyant tunes.  On the majority of tunes, the hooks are right out front, but it takes a crafty set of performers to prevent them from being cloying.  Van Ghost succeeds in making it okay to sing along and get a little swept away because their approach is so honest and sincere.
The set felt much different that the acoustic setting where I last caught this band, and with the addition of trombone player / vocalist Natalie Cressman, they packed much more punch.  The horn lines in particular, added a much funkier element, and one that is entirely welcome.  Their best moments were the ones where the level of musicianship managed to burst that bubble of collective consciousness -- opening act or not, even audience members not familiar with Van Ghost seemed to prick up at Jennifer Hartswick's bold voice and Grant Tye's precision guitar playing.  That said, the hometown crowd was mellow during the songs, but enthusiastic and appreciative after they ended.  I would guess they picked up quite a few fans along the way and throughout this tour with Bruce and the Noisemakers.
Photo Set By Charles Izenstark
[gallery link="file" columns="2" orderby="ID"]