Setlist / Review / Full Show Video | Disco Biscuits @ Concord Music Hall
Words & Photos: Carmel O'Farrell (@carmelocorn)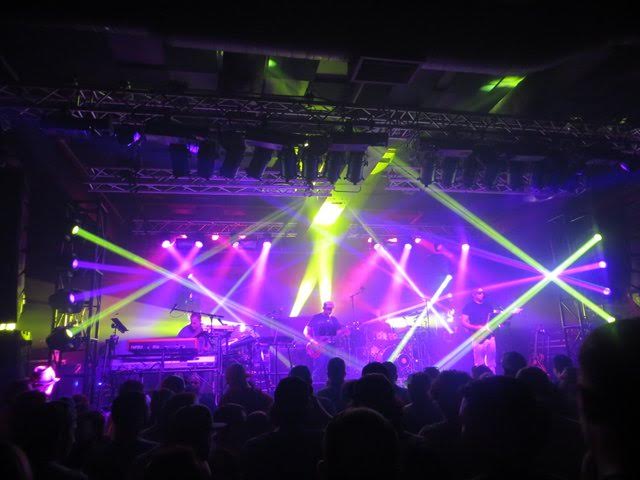 The Disco Biscuits have now clocked in numerous appearances at North Coast Music Fest but their sets in Union Park tend to be short and perhaps a bit too formal for most die-hard Biscuits fans like myself. A late show is a natural place to rectify this, and that's just what we got on Saturday, September 5, when the Philly foursome took over the Concord Music Hall in Chicago.
While the show was offered with an 11pm start time, the band didn't actually take the stage until closer to midnight. Frank Zappa's "Pygmy Twylyte" opened the show under an umbrella of laser beams and cloudy smoke, setting the tone for the night.
Guitarist Jon "The Barber" Gutwillig donned his sunglasses like a superhero's cloak (yes, indoors and at night) -- I guess this proved he meant business. There's a simple phrase that gets passed around when Gutwillig is in prime form: Barber Shreds. It was certainly appropriate for this North Coast after party, jam packed with improv. The guitarist jumped on every opportunity to throw himself out there, elevating each jam to that special level of Bisco fury.
Though it was fairly cool inside the air conditioned Concord when they first started playing, things got hot and sweaty once the dance party was in full swing. The Biscuits segued from song to song, not letting up for the late night North Coast crowd, playing for a solid hour and fifteen minutes before taking a 45 minute set break.
By now, my feet were hurting and my body grew tired. It had been a solid 12 hours since I ventured into festival land and the absence of chill time had me yearning for some R&R. Though I made it through the set break, when the band took the stage again at 1:45am, I was in desperate need of high energy music to refuel my battery.
"High Wire" opened the second set but it never really took off. I personally believe there's no time for playing slow when the clock is nearing 2am during a late night show. Some say they never hit that sweet spot, that Brownie was too slow and Barber was too fast. While I didn't pick up on it at first, the beginning of the second set had me laser focused on the details. I couldn't help notice how transitions got sloppy and the slow parts dragged on.
Once the seed had been planted, I couldn't shake my negative head space. I moved to the back of the venue to grab some perspective, perched myself up on a booth, and watched the show from afar.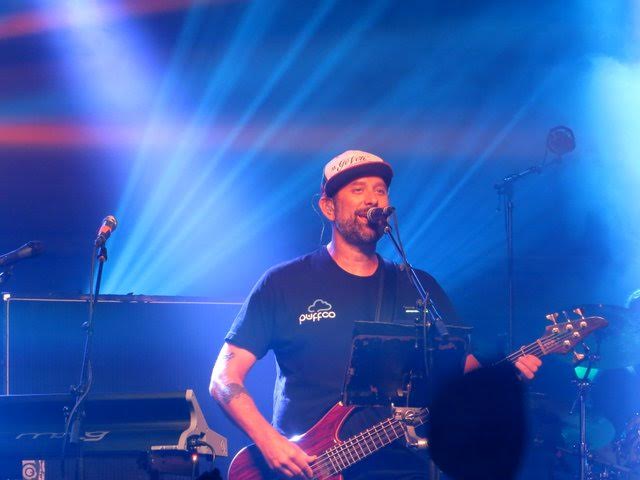 I wasn't only one giving in. In fact, I noticed many others leaving early as the second set dragged on. I silently wondered to myself, "Could Bisco redeem this show?"
By now Brownstein had picked up his pace and the bass lines were penetrating the Concord. The nice part about the Concord is the sound is strong no matter where you are, including the farthest most corner of the room.
Just like clockwork, The Disco Biscuits fell into their groove and everyone who left early ended up missing the best part of the show. As they ventured back into "High Wire" and landed in an explosive "M.E.M.P.H.I.S.," it was clear this band had finally found their magic. Maybe it was lack of Debbie Downers like myself upfront or maybe the band just finally clicked -- either way the Concord was set on fire and the room exploded with energy.
The clock tick-tocked well past 3am and as I sat with the interpretive dancers in the back room, I started to question my life choices... What brought me here? The sun would soon be coming up and I couldn't decide if I loved or hated this show.
I came to the conclusion that maybe it's not to be judged because when it comes to Bisco, it just is what it is. Sometimes it's ok to love and hate the exact same show. That's the beauty of this beast. Either way, it didn't keep me from seeing them again at North Coast Music Festival the very next day when they were on their absolute best behavior.
Video (with soundboard audio) via Ticranium
Setlist (via PT Bisco)
Set One: Pygmy Twylyte > Spectacle, Aceetobee (beg) > Catalyst > Aceetobee (end), Jamillia > Wet, And the Ladies Were the Rest of the Night
Set Two: Highwire > Spraypaint (beg) >< Save the Robots (end/beg) > Highwire > M.E.M.P.H.I.S > Basis for a Day
Encore: Mirrors