Setlist / Review: Neutral Milk Hotel @ Riviera Theater 2/7/14
Words / Photos: Alex Wood (see Alex's thoughts on the Thursday show here)
Thursday's show
, their second Riviera date was equally stunning.
Though the songs were the same, the set list was not.
Jeff Mangum approached the microphone alone for opener "King Of Carrot Flowers Pt. 1." After two verses, the six other members crept quietly onto stage, Julian Koster's accordion filling the theater with its peculiar warmth.
"King Of Carrot Flowers, Pt. 2 & 3" followed with force, Koster performing the delicate intro on banjo before the song explodes with fuzz and drums, Koster then scraping violently at the banjo with a bow.
Mangum was more talkative than the previous night, often chatting and joking with audience members and asking the crowd directly to refrain from using their phones, as he wanted everyone to "be present."
The audience was enthusiastic throughout the set, Mangum's voice itself getting cheers when hitting the highest notes of "Oh Comely."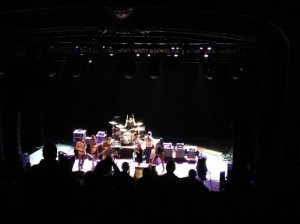 As always, the band explored strange sonic territory with its use of a musical saw, accordions and horns, all working together to create their trademark sound, the result like no band I've ever seen.
Halfway through the set Mangum addressed the audience and band, saying, "Thank you very much from the bottom of my heart for being here, and to the friends I love so much for being here as well," motioning to his band.
This is a heartwarming moment for a fan that never knows when he'll see them again, if ever.
The band walked off stage to roaring applause, Julian Koster waving and practically skipping off stage. The last thing I saw was Scott Spillane putting his arm around Mangum's shoulder, filing through a door backstage.
Neutral Milk Hotel is really back, for now, and I guess that's enough.
Setlist:
1. The King Of Carrot Flowers Pt. One
2. The King Of Carrot Flowers Pt. 2 & 3
3. Holland, 1945
4. A Baby For Pree / Glow Into You
5. Gardenhead / Leave Me Alone
6. Everything Is
7. Two-Headed Boy
8. The Fool
9. In The Aeroplane Over The Sea
10. Naomi
11. Ferris Wheel On Fire
12. Oh Comely
13. Song Against Sex
14. Ruby Bulbs
15. Snow Song Pt. 1
Encore:
16. Ghost
17. Untitled
18. Two-Headed Boy Pt. Two
19. Engine