Setlist / Review / Photos | Steve Earle @ City Winery 2/3/15
Words & Photos: Alex Wood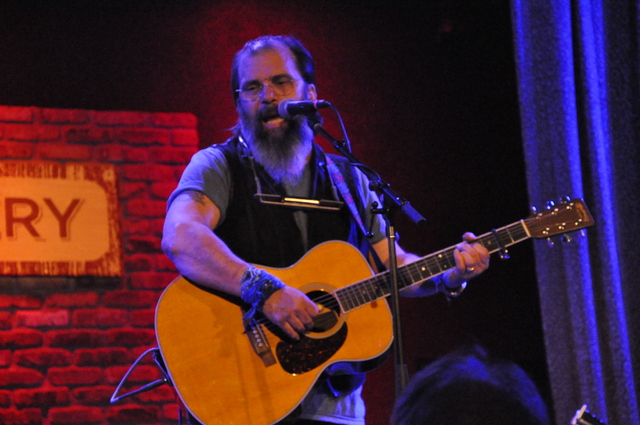 Steve Earle's third of four nights at City Winery found the songwriter performing a well-constructed acoustic set that felt like a guided tour through the history of roots music.
The show began with a preview of Earle's new blues record, Terraplane Blues. "Ain't Nobody's Daddy Now" featured country twang over a coarse vocal melody that screamed of the blues tradition. "You're The Best Lover That I Ever Had" featured a blues guitar riff with repetitive vocals, while "Gamblin' Blues" was described by the singer as "me doing Doc Watson doing Mississippi John Hurt."
New song "King Of The Blues" was paired with "My Old Friend The Blues," from Earle's debut record, the latter finally allowing a predominantly country influence to seep into the set.
The next portion of the set seemed dedicated to the artist's oldest work, all of which abandoned blues influence in favor of country. "Someday" again stretched back to his debut album, while "Angry Young Man" came from his second record, featuring rough harmonica solos that matched an equally rough vocal delivery.
Next came a series of what Earle referred to as "chick songs," featuring slow, emotional ballads.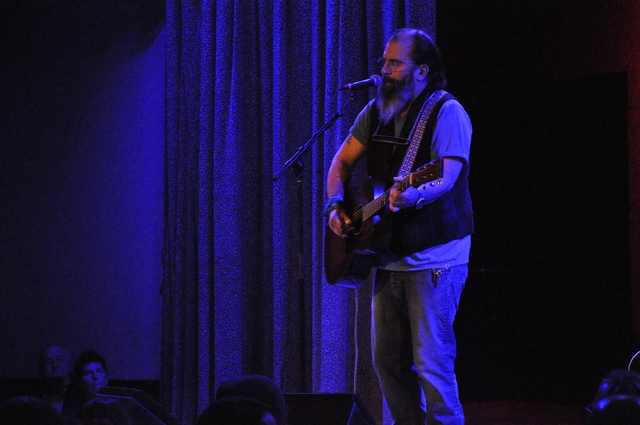 "Goodbye" featured dramatic harmonica and finger picking, matching the somber lyrics with its delicate feel. "Sparkle And Shine" was made for the acoustic setting, a simple love song offering optimism in an otherwise solemn portion of the set list.
Next came "the flagship of the whole chick-song fleet," according to Earle, "written February 13, 1999." Earle told the story of being on probation after jail time for drug charges. Unable to attain a license, the singer was continually pulled over for driving. This specific day, according to Earle, was when "I knew I was fucked."
"Valentine's Day" followed, a timely performance roughly fifteen years after its creation, the lyrics a perfect example of Earle's ability to use his life experiences to make songs.
"If I could I would deliver to you/ diamonds and gold, it's the least I can do
So if you'll take my IOU/ I could make it up to you
Until then I hope my heart will do/ For Valentine's Day"
The classic song marked the beginning of a run of hits that lasted the remainder of the show.
"Feel Alright" followed, the first upbeat, energetic performance in nearly a half hour. Instead of fitting into a categorical genre like country, blues or ballads, the song was distinctly Steve Earle, a combination of all roots music blended with Earle's flawless guitar work and songwriting, a reminder of the artist's importance in recent music history.
Earle replaced his acoustic guitar with a mandolin for a series of songs. "Dixieland" featured a long mandolin solo before becoming "The Galway Girl," its light, sing-along melody matching the mandolin's sound. Earle kissed his mandolin before setting it back in its case.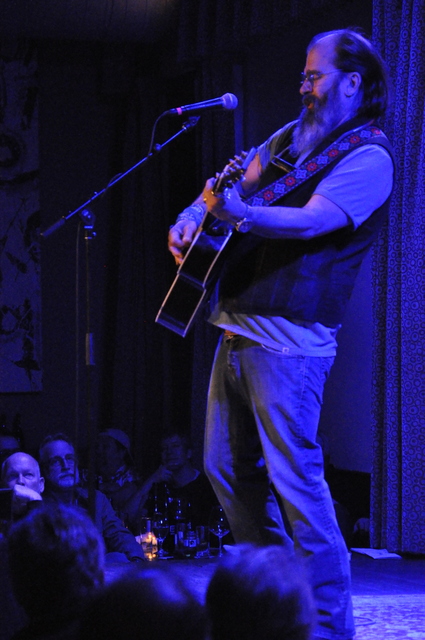 Atop finger-picked guitar, Earle then told the story of his friendship with Townes Van Zandt, describing Townes' annual trips through Colorado mountain ranges on his horse, Amigo. Earle once drove the same mountain ranges after Townes' death, facing dangerous blizzards, and claimed to have seen the ghost of Townes and Amigo "five times."
"Rex's Blues" followed, Earle's style fitting Townes' perfectly, with intricate finger picking and somber vocals. The song became "Ft. Worth Blues," a song written by Earle about Townes, Townes' influence on Earle apparent in the song's style.
"Jerusalem" was introduced with a long political rant, Earle telling the story of recording in Israel amongst political unrest, the singer claiming he'll sing the song "until I die or until it becomes true, whichever comes first."
"Copperhead Road" closed the set with fervor, Earle eventually stepping back from the microphone to let the audience finish singing the song.
The one-song encore featured another long political speech, this time about the quality of American democracy, an idea Earle referred to as an "impossible situation." He specifically spoke on not being disappointed in Obama's presidency and the need for liberals to remain in office.
"I wrote this song on election night, 1,000 years ago it feels like," he said, referring to the election of Obama. "Christmas Time in Washington" followed, its soft, slow verses met by a big chorus, which Earle encouraged the audience to sing. The chorus seemed to summarize both Earle's political rants and mastery of roots music throughout the evening.
"Come back Woody Guthrie/ Come back to us now
Tear your eyes from paradise and rise again somehow"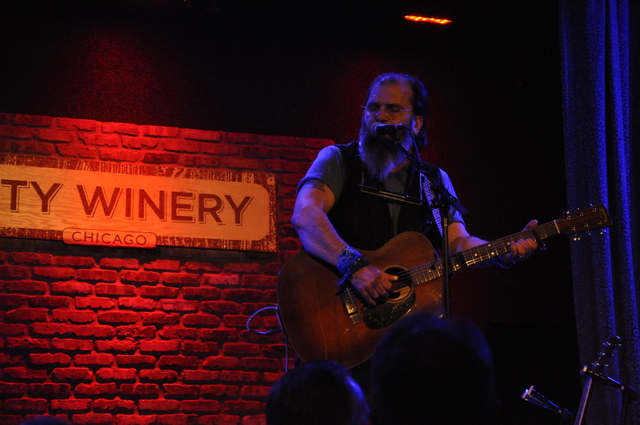 Setlist:
1. Ain't Nobody's Daddy Now
2. You're The Best Lover That I Ever Had
3. Gamblin' Blues
4. King Of The Blues
5. My Old Friend The Blues
6. Someday
7. Angry Young Man
8. Tom Ames' Prayer
9. God Is God
10. Now She's Gone
11. Goodbye
12. Every Part Of Me
13. Sparkle And Shine
14. Valentine's Day
15. Feel Alright
16. Little Emperor (on mandolin)
17. Dixieland (on mandolin)
18. The Galway Girl (on mandolin)
19. Rex's Blues (Townes Van Zandt cover)
20. Ft. Worth Blues
21. Jerusalem
22. Copperhead Road
Encore:
23. Christmas Time In Washington