Setlist / Review / Photos | Steve Miller Band @ Ravinia 7/10/15
Steve Miller Band Keeps on Rock'n and Blues'n with Feeling
Words: Joann D. Ball | Photos: Philamonjaro Studio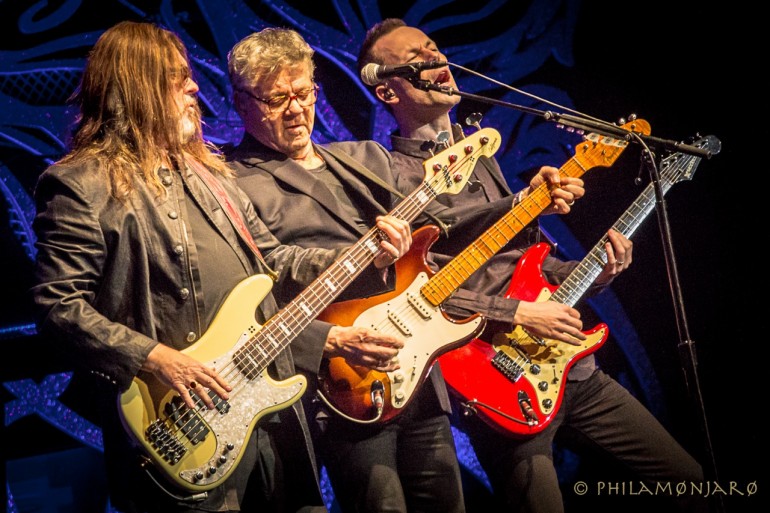 Ravinia's house lights dimmed, and the stage curtain dropped, while the familiar intro to "Jungle Love" fired up a near-sellout crowd. After that flashback workout, Miller told enthusiastic fans "Ooh, it's good to be back. Thanks for coming!"
On the strength of the ubiquitously radio friendly Steve Miller Band's Greatest Hits 1974-1978, it would have been easy to stick to the sing-alongs and "take the money and run." Instead, tracks from the classic rock showpiece were presented as highlights from a remarkable career still ignored by the Rock and Roll Hall of Fame.
Miller dedicated "Living in the USA" to his late godfather and mentor Les Paul, the recently departed B.B. King, and blues harp legend James Cotton. He recalled playing with Cotton during the 1960s in Chicago's Old Town clubs before a version of jump blues classic "One Mint Julep."
Time slipped forward with several songs from breakthrough album The Joker, then back again to the music Miller considers America's gift to the world. Given his deep connections to the area, "Sweet Home Chicago," included on Let Your Hair Down from 2011, was an obvious choice for the lively mid-set blues session.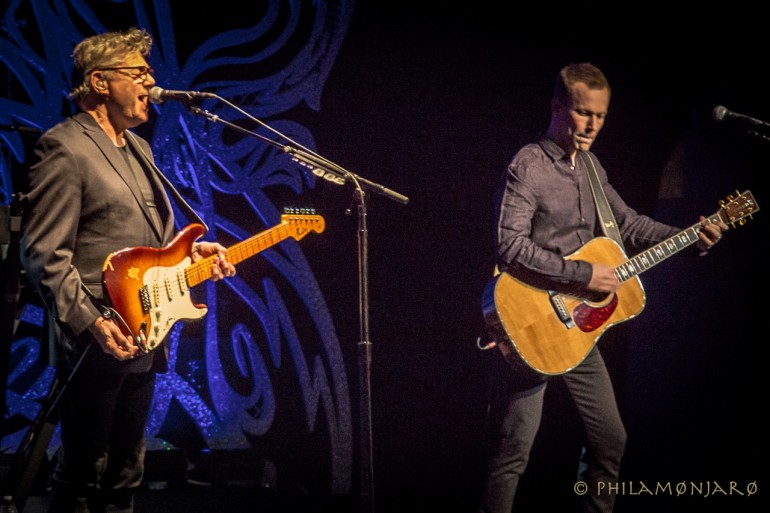 Downstate Illinois-based singer/guitarist Matthew Curry, whose band opened the show, gave the quintet a mega boost of blues power. Miller traded licks with the 19-year old southpaw on Texas scorcher "Tore Down," essentially passing the torch to the rising guitar hero. There's no doubt many in the appreciative crowd will heed Miller's advice to catch the Matthew Curry Band the next time it blows through town.
Acoustic versions of "Jet Airliner" and "Wild Mountain Honey" were a gentle transition to an extensive song catalog.
Miller explained that "Gangster of Love" from 1968's Sailor dated back to a high school band with classmate Boz Scaggs that played Dallas frat parties in the late 1950s.
After "Dance, Dance, Dance" from Fly Like an Eagle, he put on a familiar mask to introduce "The Joker," which received the biggest crowd response of the night. The Steve Miller Band unleashed several more hits before ending the 2-hour show with the knockout encore of "Swingtown" and "Jet Airliner."
SETLIST
Jungle Love
Take the Money and Run
Abracadabra
Space Cowboy
Living in the U.S.A.
One Mint Julep
True Fine Love
Sugar Babe
Shu Ba Da Du Ma Ma Ma Ma
Lovin' Cup
Blues with a Feeling
Sweet Home Chicago
Tore Down
Jet Airliner (acoustic)
Wild Mountain Honey
Gangster of Love
Dance, Dance, Dance
The Joker
Fly Like an Eagle
Serenade
The Stake
Rock'n Me
ENCORE
Swingtown
Jet Airliner