Setlist / Review / Photos / Video / Audio: Greensky Bluegrass @ Bell's Brewery 6/7/14
Photos: Eric Fischer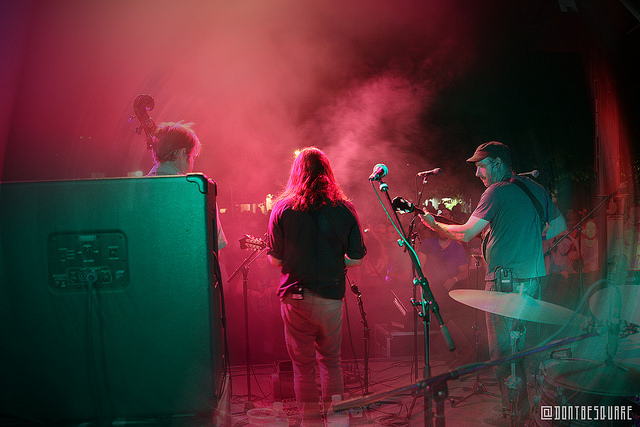 Truly outstanding shows don't just achieve that status by virtue of a single song choice or inspired jam. The best of the best are a collection of moments -- some arising spontaneously as the music is created, some as punctuation in the continuing narrative of the band's career.
Over the course of the last five years, my love for Greensky Bluegrass has gradually moved from a band I've been interested in to a band I've become obsessed with. That change has been intriguing to me, because it's the first time that I've experienced those feelings for a band whose members are all younger than me. It feels a bit uncomfortable to admit that, but the more I try to wrap my head around it, the more I feel confident that they follow a direct lineage from the great jambands of the previous generation. Why? They routinely elevate their performances by producing the types of moments I describe above.
This was proved to me again and again as I enjoyed their final performance of a three night run at Bell's Brewery Beer Garden in Kalamazoo. Each one of these moments -- snd probably a 1000 others that I can't quite articulate in words -- contributed to that. Here's what I'm talking about:
1. Train Whistles. Sometimes bands make these special moments, sometimes the moments make the band. With the Beer Garden nestled amongst Kalamazoo's central train routes, every now and then a locomotive would pass during the show, blowing a signal that seemed to fit in with the cadence and sound of whatever the band was playing. Don't believe me? Head to the stream below and check out "Copper County", it's almost as if it was planned.
2. "The Chain". Yup, The Fleetwood Mac Song. As much respect as I have for The Mac, I'm convinced that it this song basically waited around for 28 years to be played like Greensky's cover. The urgency of the strings, the extra few minutes of jamming out on the theme -- they really unlock some hidden potential. Then after the high of closing the first set with it, calling it back for a reprise fit so naturally within the improv section of "Eat My Dust" -- I just couldn't get the smile off my face.
3. The stage power going out during "Windshield". This was a classic turning lemons into lemonade situation. The band just keeps on playing right along once the sound drops out -- it's no problem, they're already on acoustics -- but the crowd also lends a hand by chiming in on the infectious wordless chorus. A "had to be there" moment made even better by the fact that "Windshield" is the lead track on their album If Sorrows Swim, which won't even be released until September 9th. Chalk one up for the hometown heads and hardcores who make the pilgrimage to the Beer Garden.
4. "Broke Mountain Breakdown".They were so good at not being a straight bluegrass band up until that point, it was refreshing to just sit back and just watch them rip into something that sounds a bit like traditional grass. And, man, can these guys pick on something like that. But that didn't last long. Truly, this song provided the most amount of WTF moments per square inch of the entire night. Leaping without guardrails into Talking Heads style funk and slowly morphing into a truly out-there psychedelic space.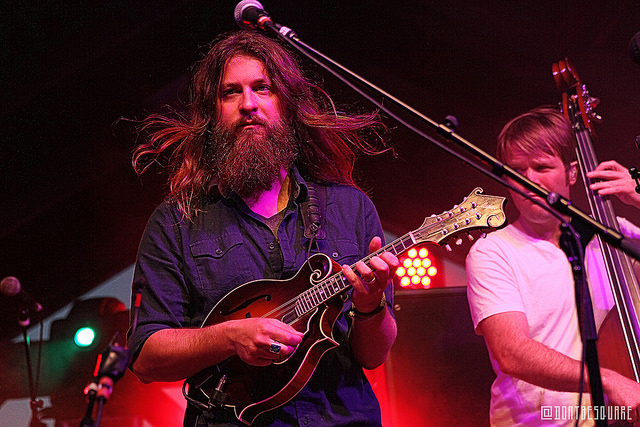 5. Bringing out Steppin' In It. There is something delightfully old school jamband about having your buddies open up the show and featuring them at key points. GSBG doesn't just play backup, or jam out some standard covers with the guests, they fully integrate them into some of the most dramatic, high leverage points in the show, even on some of their originals. That said, when the Wilson brothers stepped out on stage with their horns during "Ain't No Bread In The Breadbox" following the huge jam in BMB... it was the timing of their entrance more than anything that kicked this performance into another gear.
6. Cap tips: "After Midnight" / "Workin' on a Building" / "Breadbox" These covers are more than just song choices -- remember when I mentioned Greensky being a direct lineage? While choosing to cover "The Chain" was just Greensky Being Greensky, these choices have a bit more depth. They know where their bread is buttered, and although none of these songs are technically jamband covers, they are associated by many fans with Phish, ARU (!), and Jerry Garcia Band versions of them. The vigor and approach that was developed for each, tipping their caps to these versions, but also making them each their own gets a ton of mileage. Listen carefully for teases of "Wilson" and "Playing (Reprise)" during this show, too. You can't make this stuff up.
7. "Dustbowl Overtures". After several left-field song choices and tough-as-nails performances, leave it to harmonies to create the seventh incredible moment on this list. If the music industry wasn't so entirely fucked up, I'd tag this tune to be a runaway smash. And until writing this piece, I never even knew that this was a Steppin In It song!
But this is the arrangement, with the song's composer right up there on stage, the lush vocal arrangements were a perfect complement to weariness and wonder of the song's great-big-world lyrics. This embodies the thing I love about Greensky Bluegrass: of course, they are an A+ jamband, but you don't even have to like jams to appreciate what they bring. A performance like this just grabs you. What a way to wrap up the run, until...
8. "All Four". After three nights with no repeats, the band triumphantly walks off the stage with their hometown crowd chanting "one more song". But wait... there's more.
In this case much more. I've made it this far without talking much about the venue. If you're not from the Midwest, perhaps you don't know about Bell's Brewery. I'm not exaggerating when I say that the name is synonymous with craft and quality. Amazing product from an unlikely place. Sound familiar?
Take a look around at Eric Fischer's photo gallery below. The place oozes with the art and flora -- it's an actual beer GARDEN. Perfectly situated. Ideal size for an outdoor event.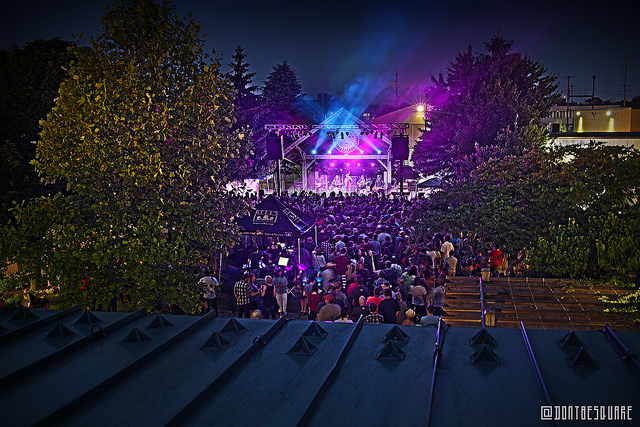 So, of course, they commemorate the opening of this special place each summer with a beer brewed specifically for the occasion. In this case, it is a crisp Pale Ale with pine and grapefruit tones. I'm not joking when I say that it could be this oustanding brewery's flagship beer. It's too bad it's only around once per year. Complex, yet drinkable... in fact, I drank them all night. The name of this nectar? All Four.
And so it was for the final moment on my list. The band had made it through three nights without playing one of their most beloved tunes, and one that has strong connection to the very spot in which they found themselves. They threw everything they had into this version of "All Four" as the second encore of the final night of their run. Listening to those strings clamoring for new places, it tied everything together. It contributed to the sum being way greater than the parts. It was magic.
Ladies and gentlemen...Greensky Bluegrass. Nobody is putting it out there and delivering quite like they are.
Stream Entire Show
[box type="download"]Download Entire Show (mp3 .zip)[/box]
Set One
Old Barn, Demons, Letters to Seymour, Grow Bananas, Walking the Dog*', Copper Country*', Can't Make Time, Train Junkie, Just to Lie, The Chain
Set Two
Windshield, Eat My Dust> The Chain Reprise > Eat My Dust, I'd Probably Kill You &, Broke Mountain Breakdown, Breadbox &, Leap Year, After Midnight '
Encore One: Working On A Building$, Dustbowl Overtures $Encore Two: All Four
* with Joshua Davis
' with Mike Lynch
& with Andy and Joe Wilson (horns)
$ w/ Everybody in Steppin In It