Setlist / Review | STS9 @ House Of Blues 3/6/15
By: Matt Fricks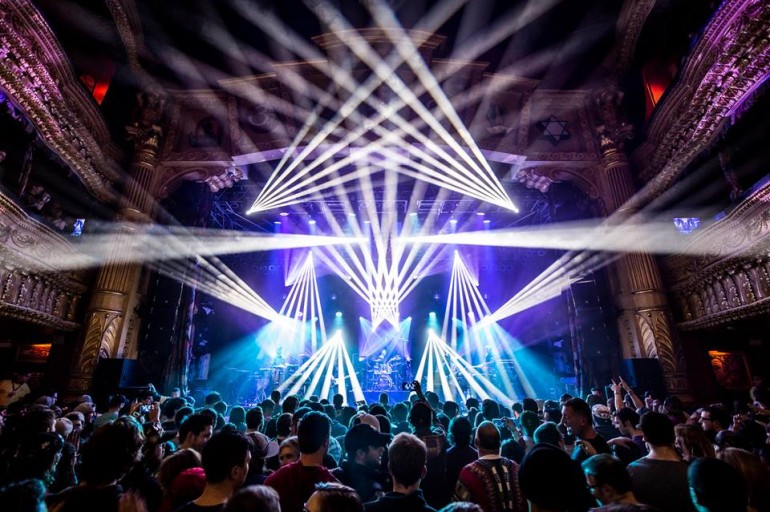 See Matt's reviews of Thursday & Saturday.
Wow. This band is not fucking around.
Following one of the best STS9 shows I've ever seen, I knew that the Friday show would have a tough time topping the previous night's gig… but somehow, it did.
And it started even before the show began.
I attended the Sound Check Party at 5pm that also included a 'meet and greet' with the band. Everyone in STS9 was very humble and appreciative of the fans' support – particularly Hunter. Never have I met a musician that is so willing to have an extended personal conversation with a fan.
I am also a guitarist and Hunter's melodic styling and creative riff construction has always been amongst my bigges inspirations. In 2008, I broke my neck is a serious car wreck and I almost lost the ability to play the guitar (thankfully, I made a full recovery and can still play music). The first song that I learned after the accident was STS9's "Baraka" and I remember playing Hunter's riff on an acoustic guitar from my hospital bed. We all have a few select songs that are life-changing and "Baraka" is certainly one of mine. When I told Hunter this story, he gave me a hug and told me, "That story means a lot to me."
After an incredible conversation with Hunter, the band took to the stage for sound check. Zach hopped on the microphone and said, "You guys are lucky, 'cause, uh, we're just…we're just gonna fuck around."
The small crowd roared in approval as STS9 took to an extended improvised jam that ended up being one of the best things I have ever seen them do. It was a patient jam with Hunter emulating his swelling and subtle picking similar to his style on "A Gift for Gaia." Zach kicked off the jam and created peaks and valleys for an incredible dynamic drive that culminated in a soaring crescendo. Just before the band could exit the stage, Hunter walked over and handed me one of his neon guitar picks with the STS9 logo on it. I was ecstatic.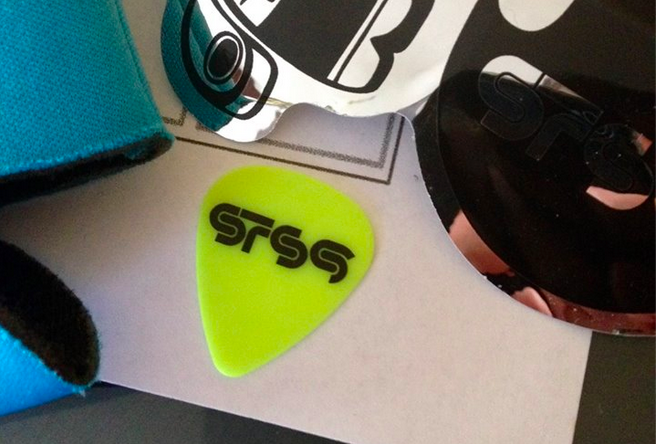 Now, let's get to the main event. This band is just on fire. They crushed an uplifting "Click Lang Echo" and then dug deep into their catalog for some big first-set surprises, including a well-executed "Pianoir" that segued perfectly into "Kamuy" and a "ROYGBIV" bust out.
The following three-song run was some of the best STS9 I have ever seen.  The composed part of "Circus" was played to perfection, with Hunter and Zach syncing up and nailing the peak. The band got spacey during an extended breakdown with Zach switching between his electronic drum pads and the bell of his cymbal to guide the prominent bass of Alana. The "GLOgli" was unreal – and I mean unreal. This was my first time seeing it and I was certainly not disappointed. Phipps was a madman during the dark synth breakdown and Free took control of the jam with his lightning-fast percussion playing. I never would have guessed that "GLOgli" and "Grow" would segue so perfectly but they did. Again, we were treated to an extended version of a Sector 9 classic and Hunter was shining.
"Totem" is a very fun and vibrant set opener, and the Stevie Wonder cover of "I Wish" was fantastic. Again, the band was having a blast as they continued to make eye contact with one another to extend the songs and guide each other through more jamming.
"Ramone & Emiglio" was fantastic. The drum and bass segment was drawn more than it has been in recent years and Zach was on his game. Of course, the highlight of the song was Phipps's signature piano breakdown that received a strong response from the rowdy Chicago crowd.
I could not believe the next run of songs. I know, I keep saying this; but this band hasn't been this unpredictable in a long time. "Itzamana." "Itzamana." One more time… "Itzamana." STS9 dusted off the first "Itzamana" since December 6, 2003. That's over eleven years and it was fantastic.
The joyous celebrations continued with a segue back into the second part of "Pianoir" and the first "118" in nearly five years. The expansion of the band's live repertoire is incredibly exciting and nothing is out of the question. Two years ago, I never would have predicted these creative segues and I certainly never would have seen "Itzamana" at a Friday night Chicago show.
"Hubble" and "Abcees" were mean – in a good way. I absolutely love the one-two punch of a couple of the band's darker pieces and the setlist flow of "Hubble," "Walk to the Light," and "Abcees" was perfect. "Hubble" still has the slightly reworked middle section but still holds true to the original composition. Thankfully, the band is back to the original "Abcees" ending. Instead of drawing out a four-on-the-floor jam, the crowd was treated to the dark and ominous crescendo with Hunter's vibrato guitar notes and it served as the perfect set-closer.
I had no idea what to expect for an encore. A friend turned to me and said, "What if we got 'We'll Meet in Our Dreams?'" As soon as I said, "Yeah, right," Hunter cued the opening sample that kicked off a beautiful rendition of one of my favorite songs.
I was blown away. Everything from the setlist construction to instrumentation and execution was on point. This is such an exciting time to be an STS9 fan. I want to extend my sincere appreciation to the band for spending time with the fans during the meet and greet and for another incredible show. Here's to a solid close to the three-night run tonight!
Oh, one more thing. I made a promise to some people that I would note this after leaving it absent in the first review. People, we gotta stop ordering grilled cheese sandwiches at House of Blues. That garlic stench is unbearable. Get a pretzel. Thanks.
03/06/2015 Setlist
SET ONE
Click Lang Echo
Pianoir (first part) - >
Kamuy
Metameme
ROYGBIV
Circus
GLOgli - >
Grow
March
SET TWO
Totem - >
I Wish (Stevie Wonder cover) - >
Totem
Ramone & Emiglio
Itzamana - >
Pianoir (second part)
118
Hubble
Walk to the Light
Abcees
ENCORE
We'll Meet in Our Dreams