Setlist / Review: The War On Drugs @ Chicago Music Exchange 9/5/14
Lost In A Heavy Dream – The War On Drugs At The Chicago Music Exchange
By: Brian R. Brinkman - @sufferingjuke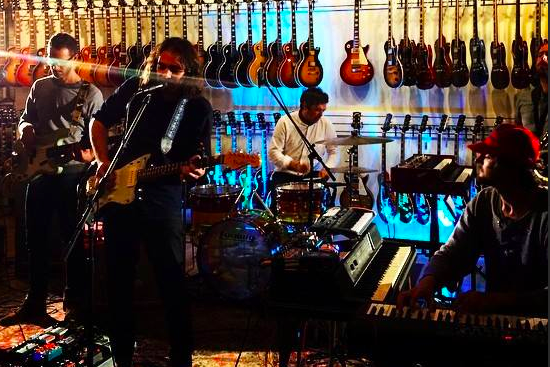 My uncle passed away suddenly from a heart attack on March 21, 2014. The man had so much love in his soul that his heart simply couldn't work any more. 59 years young, he left a legacy of six children, a slew of handcrafted bars, cabinets, tables, and restaurant interiors, and an unyielding love for honest, hard-working music that reflected his own philosophical views. This was passed on to anyone fortunate enough to spend even just five minutes with him.
I found out about his passing in a windowless hotel room in Hanoi on a 30 cent/minute Skype conversation with my mother. My wife and I reacted with the kind of broken-down shock that can only come from a loss like this. So far from home, incapable of understanding why someone who'd given us so much was so unfairly ripped from our lives.
Half an hour later we boarded a fifteen-hour overnight train ride south for Hue, Vietnam. I bought a bag of Ba-Ba-Ba beer and put on The War On Drugs' Lost In The Dream, and tried to come to grips with this new reality.
The War On Drugs were a bridge for my brother and I, and our father and his brother. Music is in our blood. It is the ties that bind. Yet music can be generational, especially in this frayed world of styles and sub-cultures. The War On Drugs value the hooks and sweeping melodies and introspective storytelling that had marked my father and his brother's own growth-period through music. At the same time, the band's experiments with noise, drone-spaces and ambient soundscapes appealed to my own brother and I as our musical pallet's grew.
It was with this personal backdrop that I walked into The Chicago Music Exchange last night for a private concert from The War On Drugs.
Part guitar-shop, part museum, the CME is a destination for guitarists and musicians whenever they pass through Chicago. It's akin to a ballplayer hitting a home run in old Yankee Stadium. Simply strumming a few chords from the hundreds of vintage hollow-bodies and Tele's in the vast showroom sends chills down any guitar-nerd's spine. Adam Granduceil, the lead-singer, front man, and heart & soul behind The War On Drugs noted several times throughout the performance how in awe he was of playing in the presence of so many gleaming axes.
Speaking with Adam in the minutes before the show began, he presented a hushed persona, graciously gifting fans and gear-heads substantial time to shower him with praise and questions. Equally amazed by the quality of the songs on Lost In The Dream ("I don't know, the songs come from just a lot of memories I have. Sometimes I'm singing them and I'm blown away that I wrote them…") and inquisitively analytical about the band's stylistic developments since 2011's Slave Ambient.  "'Best Night' was written towards the end of those sessions, it sounds way more like what I'm writing now," he seemed at ease in the warmly lit space of CME.
Opening with "Eyes To The Wind," while giving a shot out to 'Uncle Jim,' the band played eight songs in total, heavily favoring their new record.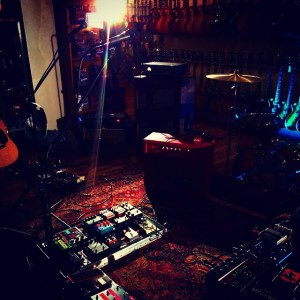 Their songs translated with ease to the live setting, as the space contained within them offered ample room for expansion and fluidity. Unified in their sonic approach, their songs rose and fell with structural purpose, reminiscent in many ways of the full-band wave of sound that emitted from Phish's take on "Ghost" at Northerly Island in July. A testament to power chords, brass, functional drumming, multiple guitars, and a keyboardist lilting over the burning melody, there was a musical force that filled the immense space of CME with the kind of hugging sound that felt like a vinyl billowing through an apartment.
Thematically, their songs speak to the kind of unified moments of desperation, loss, and exaltation that literally everyone can relate to. These are not singular moments that they are singing about here. These songs are meant to be shouted with a crowd in the thousands. Songs like "Suffering," which drifts with soulful longing, "Burning's" 80's-era Springsteen-like celebratory pop, and "In Reverse" which works as an emotional coda to the record, the crowd in a substantial way.
Perhaps it was to be expected, but it was in the potential-song-of-the-year, "An Ocean Between The Waves" where the true brilliance of The War On Drugs was seen and heard clearest. A song that that band clearly LOVES playing, they took it for a ride that built to a wall of anthemic sound before stopping on a dime. That it resulted in a massive roar of approval from the 150-odd people in the store only further displayed the connective power The War On Drugs has with their audience.
No album has meant as much to me in 2014 as Lost In The Dream. To experience an intimate show like this with my father and my brother was a heavy dream all to itself. It's an ephemeral thing to write personal songs that reach a wide-audience. What The War On Drugs proved in their performance at CME is that the pain Granduceil clearly experienced in the two-years he spent crafting the album is something that is truly human in nature.
Setlist
Eyes To The Wind
An Ocean Between The Waves
Burning
Best Night
(Unknown Cover)
Suffering
In Reverse
Red Eyes