Setlist / Review / Video: Beck @ Pitchfork Night One 7/18/14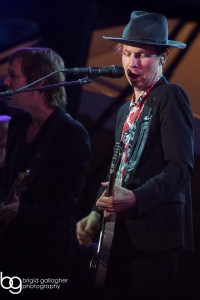 Photo via Brigid Gallagher Twitter (@ChiCleCtq)
For his headlining set at Pitchfork Music Festival, Beck used the stylistic diversity of his back-catalogue to create an unpredictable, career-spanning set that was surprisingly light on new material.
The opening heavy guitar riff of "Devil's Haircut" dissipated any fears that the musician would stick to the acoustic styling of this year's Morning Phase and set an aggressive, upbeat tone for the eccentric set to come.
A stripped down, moody performance of "Black Tambourine" was matched by the murky blues-rock of "Soul Of A Man" in a well-planned back-to-back run.
Beck's backing band was fully capable of bringing his songs to life, no matter the style, with a heavy use of keyboards and synthesizers as well as an array of other instruments.
The poppy electronic track "I Think I'm In Love" interpolated Donna Summer's "I Feel Love," a shout-out to fellow Pitchfork performer Giorgio Moroder who produced the single in 1977.
After slowing down the pace with the delicate "Blue Moon" and "Lost Cause," Beck doubled the energy with "Loser" and "Get Real Paid," both tracks offering the perfect blend of strangeness and liveliness for the festival setting.
"Chemtrails" was a surprising highlight, its dense, spacious arrangement filling Union Park with splashing drums and guitar noise in its climax. Three tracks from Morning Phase followed, offering the audience a sampler of the new album's softer, gentler folk sound.
With energy at a low, Beck quickly jumped into Guero classics "Girl" and "E Pro." Though both songs were hard-rocking crowd-pleasers, the mood swing exemplified the set's sporadic nature.
But such is Beck.
Known for his oddball flare, things grew predictably weird in the encore.
As the band left, police tape was set up across the entirety of the stage. The band returned and the guitarist asked whether the audience wanted to "defy some laws."
"Sexx Laws" followed with force, Beck's vocal delivery the primary focus while funky bass, upbeat drums and banjo melded together for an odd backing.
A slow, spacious instrumental gave way to "Debra," a live staple allowing Beck to improvise sexual lyrics while strutting across stage, the band jamming the song's funky groove endlessly beneath.
"Where It's At" was stretched to an even greater length, it's party-music vibe becoming the harmonica-led blues-stomp of "One Foot In The Grave" before circling back to the chorus.
Beck's performance felt exactly like his discography: consistent in quality while inconsistent in style.
And who would expect any different?
Set list:
1. Devil's Haircut
2. Black Tambourine
3. Soul Of A Man
4. Gamma Ray
5. I Think I'm In Love / I Feel Love
6. Blue Moon
7. Lost Cause
8. Loser
9. Get Real Paid
10. Soldier Jane
11. Chemtrails
12. Heart Is A Drum
13. Wave
14. Waking Light
15. Girl
16. E-Pro
Encore:
17. Sexx Laws
18. Debra
19. Where It's At > One Foot In The Grave > Miss You > Where It's At