Setlist / Review / Video | Sturgill Simpson @ Metro 7/31/15
By @WeirScrewed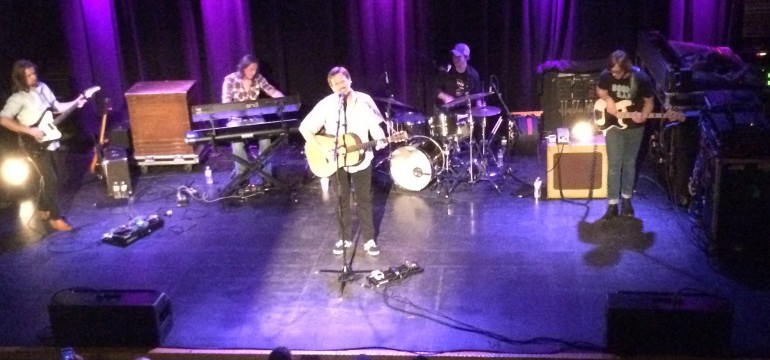 Lollapalooza as a whole is not always our cup of tea, but its sheer volume typically brings such a variety of acts to Chicago that it's bound to come up a big winner on at least a handful each year. Friday night at Metro brought us psychedelic country crooner Sturgill Simpson, who has been setting stages ablaze following the release of his album, Metamodern Sounds in Country Music.
Sturgill and his band hit the stage around midnight -- sounding tight and polished, clearly a function of their constant touring behind Metamodern. The band is a well oiled machine and brought their "A"game for the late-night crowd.
They covered a majority of Simpson's catalog over the course of the night, though the songs were played with an unexpected ferocity.  The band blended outlaw country with a looseness that allowed their material to breathe and show off the chops of guitarist Laur Joamets, the Estonian dynamo. His leads made these songs soar high at times and launched more than a few of them into the stratosphere.
The band found its center playing outlaw country with a punk rock level of energy throughout the night.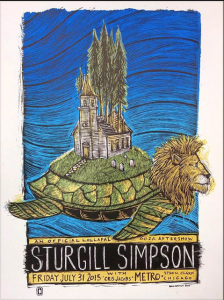 The set started off with the typical pairing of Sturgill's older honky-tonk duo "Sitting Here Without You" and "Water in the Well" followed by two tracks off
Metamodern
, "Long White Line" and "Voices", which provided the first hint that this band is more musically complex than your average honky-tonk country outfit.  Joemets not only tackled the standard country guitar licks with technical precision, he also handled the country ballads like "Time After All" with syrupy tones.
Stanley Brothers classics like "Poor Rambler" and "Medicine Springs" were woven into a set that also featured a few tunes from Sturgill's original band, Sunday Valley.
It was near the latter half of the second set where the show clearly turned on a dime, moving from hillbilly hoe-down to psychedelic throw-down. "Somedays", a track from Simpson's first album, Hightop Mountain, tore the roof off the Metro, tipping the crowd face first into a funky dance party. If the people around me were an accurate barometer, this was way funkier and more jammed out than anybody could have possibly imagined.
While the energy dipped for the set closer "Turtles on the Way Down", the double encore of "I'd Have To Be Crazy" > "Listening To The Rain" again showcased the another blend of syrupy and intense country, with Little Jo showing off his guitar chops to the crowd's delight.
Opener Cris Jacobs' solo set consisted of him playing both an acoustic guitar and three string cigar-box guitar and had no trouble getting the crowd up and moving.
The highlight and crowd favorite was the fiery "Samson & Delilah". If Sturgill Simspon can be likened to Waylon Jennings on LSD, Jacobs evokes Richie Havens, though the qualifier may not be necessary.
Sturgill Simpson
Friday, July 31st, 2015
Lollapalooza Aftershow
Cabaret Metro- Chicago, IL
Sitting Here Without You
Water In The Well
Long White Line
Voices
Poor Rambler
Time After All
Medicine Springs
A Little Light
Living the Dream
Life of Sin
Sometimes Wine
It Ain't All Flowers>
The Promise
Somedays
Railroad of Sin
Turtles All the Way Down
E: I'd Have To Be Crazy>
Listening To The Rain