Review / Setlist / Stream / Download / Video: Ryan Adams @ Chicago Theater 10/16/14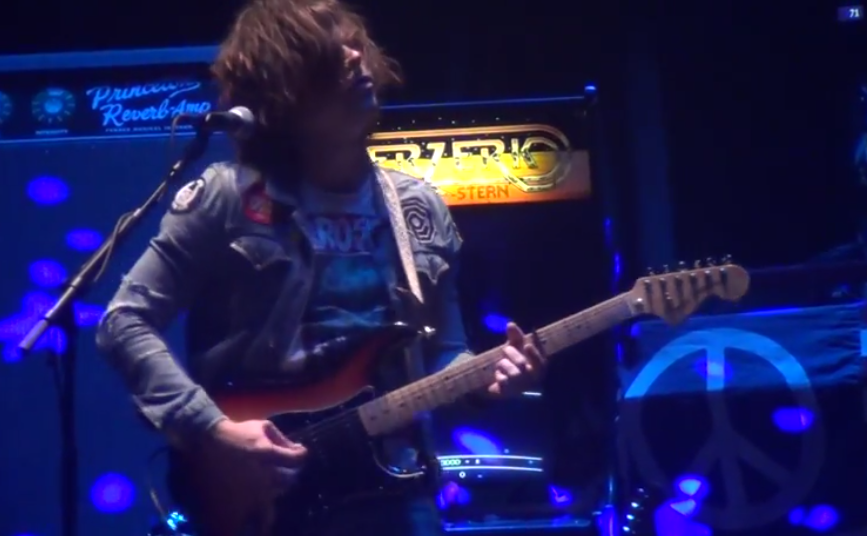 Ryan Adams is trying to make the stage his happy place.
At center stage on Thursday in Chicago, the noted pinball enthusiast was flanked by vintage Asteroids and Berzerk machines.  A phalanx of his beloved guitars sit at the ready.  He addresses his bandmates with the casual jocularity of their friend, not their boss -- tossing around witty nicknames for each and praising their ability in equal measure.
It's a fine place to be for an artist whose success depends on emoting about his feelings, a fact that he touched on several times throughout the performance.  The stage hasn't always been a friend to Adams, so becoming comfortable here is a great first step in connecting with the audience.
With that out of the way, it boils down to this: if you love his songs, you'd love this show.  Without bringing much terribly new (save a frenetic, folkier acoustic reading of "New York, New York") to the material, the band essentially plays the role of jukebox, but oh what an incredibly deep and emotionally resonant one it is.
What the live show does is reinforce the humanity of this catalog.  In the same room with Adams, the audience is drawn right into the narrative -- the theater transforming into a barroom for "A Kiss Before I Go", transported to points across the country for "My Sweet Carolina".  With songs that often mine desperation, exasperation, trust and mistrust for content, the show can sometimes hit on something raw, exposed, nervy -- but that's where the rewards lie in this music.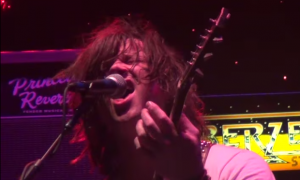 And while Adams seems to relish competency of his mates, there is no mistaking who the star is.  In each arrangement, the lyrics are out front, the guitar piercing and penetrating -- while Adams doesn't hesitate to lean on the band for emphasis during a dramatic bridge ("Fix It").
If the songs tended to stay true for their nature, the show grew its unique legs via a creative set list construction and breezy, conversational between-song banter -- a welcome counter-balance to how heavy the material can seem.
Adams is committed to mining depths of the songbook -- sourcing material from the majority of his prolific solo career.  Tunes from his recent self-titled release stood toe-to-toe with both old crowd favorites and deep cuts, opening the show with the instant classic "Gimme Something Good" and "closing" with the earnest, revealing "Am I Safe".
The self-effacing dialog made it evident that there's room for more than just soul-plundering depths on stage.  While addressing the sold out crowd, he subtly acknowledging his private side and personality quirks, but did so in a way that indicated they are essential as an artist and entertainer.  He's having fun making music that often doesn't sound all that fun -- and that's as it should be.
He also played into the Chicago audience's hands -- acknowledging the beautiful surroundings of the Chicago Theater ("I feel like I should change all the curse words in my songs to 'fudge' tonight") and offering high praise for Chicago pizza (despite his dairy allergy) and meat loaf (!?).
The band didn't leave the stage prior to the encore.  With dozens of outstanding songs left in the bag, many could have fit the moment, but "Come Pick Me Up" got the call.  No complaints here, as it truly represents peak Ryan Adams songwriting form.  With Adams exchanging vocals with opener Butch Walker on the chorus there was a certain joy in every note.  For such a heart-wrenching tune, that could only happen in Ryan's new happy place.
Stream This Show
[box type="download"]Download Entire Set (mp3 .zip)[/box]
Gimme Something Good
Let It Ride
Stay With Me
Dirty Rain
This House Is Not For Sale
Fix It
New York, New York
Shadows
A Kiss Before I Go
Dear Chicago
My Wrecking Ball
When The Stars Go Blue
Lucky Now
Do I Wait
My Sweet Carolina
I See Monsters
Kim
My Winding Wheel
La Cienga Just Smiled
Am I Safe
E: Come Pick Me Up (with Butch Walker)