Setlist / Stream / Download: Built To Spill @ Metro 11/14/13
Built To Spill has been hitting the road hard in 2013.  And with their latest record There Is No Enemy released back in 2009, it's given them a great opportunity to dive deep into the repertoire.
Setlist.fm can be an awfully busy site visually, but if you sort throught the clutter, each setlist has a cool little pie chart about source material for teh show.  Here's the chart for last week's Chicago show at the Metro.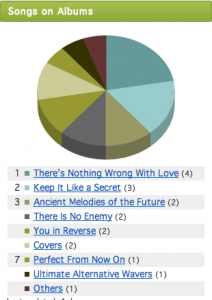 A pretty nice distribution from their career, including the two covers: Blue Oyster Cult's "Don't Fear The Reaper" and The Smiths' "How Soon Is Now".  Pretty faithful renditions, both.
Our friend Jeff Frank was on hand to capture the sounds...
The Stream
[box type="download"]Download Entire Show[/box]