Setlist / Full Show Video | Brendan Bayliss @ Tonic Room 5/11/15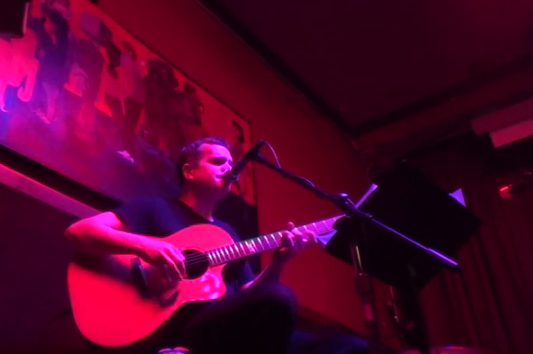 Umphrey's McGee's Brendan Bayliss treated hometown fans to a rare Monday night solo and acoustic gig at Tonic Room.  The two sets featured highlights from the Umphrey's catalog, a sit-in from an old friend (Michelle Hallman), some classic and modern rock covers and even an new song that is still unnamed.  Bayliss read the lyrics of Ween's "Baby Bitch" from a fan's phone (check the video below).
Here's the full setlist courtesy of Umphreaks Anonymous.  Follow them on Twitter at @umphreaksmcgee.
Brendan Bayliss – The Tonic Room – Chicago, IL

Set One: Similar Skin, Puppet String > I'm on Fire [1] > Puppet String, Cut the Cable, Alex's House, Backbone [2], Wellwishers, August > "unnamed Bayliss tune" > August, 50 Ways To Leave Your Lover [3], No Diablo, Hourglass
Set Two: You and You Alone, Circle [4][5], Under African Skies [3][5], No Comment > Obvious Cables AKA Upward, Pay For What You Get [6], Nemo > Ocean Billy > Nemo, Passing, Susanah, Final Word [7], Baby Bitch [8], Debra [9], Two Dips

Encore: Liar [2], Hajimemashite

[1] Bruce Springstein
[2] 30DB
[3] Paul Simon
[4] Edie Brickell & New Bohemian
[5] w/ Michelle Hallman on Vocals
[6] Dave Mathews
[7] W/ Bayliss reading lyrics from fans phone
[8] Ween
[9] Beck
Video courtesy of zeoftheworldphotos, Kevin Higley and Tom Miriani