Setlist / Video | David Gilmour @ United Center 4/4/16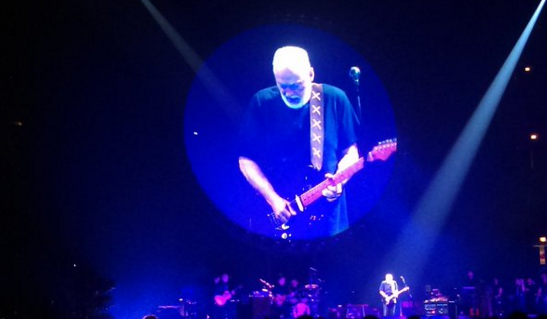 David Gilmour set up for the first of three Chicago shows on Monday night.  While his upcoming Auditorium show has the small venue flair, and Friday's United Center gig will be the weekend blowout, tickets for this appearance appeared to be plentiful and inexpensive on the secondary market, despite the instant sellout.
It was a two set affair, featuring plenty of Floyd material in addition to the solo tunes.
There are two sets of videos already on YouTube that well give you a feel for what went down.  8baseballgeek has some great shots of Gilmour performing, though the songs are a tad truncated.  sk8terfreak21 has full songs, but at an angle from the back of the floor that primarily captures the lighting (itself a reason to attend these shows).  Check out highlights from both below.
Set 1: 5 A.M., Rattle That Lock, Faces of Stone, Wish You Were Here, What Do You Want From Me, A Boat Lies Waiting, The Blue, Money, Us and Them, In Any Tongue, High Hopes

Set 2: Astronomy Domine, Shine On You Crazy Diamond (Parts I-V), Fat Old Sun, Coming Back to Life, The Girl in the Yellow Dress, Today, Sorrow, Run Like Hell

Encore: Time, Breathe (Reprise), Comfortably Numb