Setlist / Video / Poster: Umphrey's McGee @ The Riviera Theater 2/21/14
Day two in the books and one with plenty of segues and a few cool covers. A sweet video of the Pink Floyd encore (dedicated to South Bend, Indiana) below the setlist.
Tonight is the third night of the entirely webcasted Chicago run.  See you there.
Set 1: A Mild Sedative > Plunger, Passing, The Crooked One, Cemetery Walk, Comma Later > Preamble > Mantis Ghetts > Mantis

Set 2: All In Time, The Triple Wide, Hajimemashite > Glory > Hajimemashite > Glory[1], Prowler > Intentions Clear -> Dance Hall Days, Hangover[2] >Voodoo Child[3] > Hangover

Encore: Comfortably Numb > 1348

[1] with Hajimemashite teases
[2] with La Grange (ZZ Top) jam
[3] incomplete

Notes:
during band intros before Prowler, Lose Yourself (Eminem) and You Shook Me All Night Long (AC/DC) were teased, among others; also included Whole Lotta Love (Led Zeppelin) verse

via allthings.umphreys.com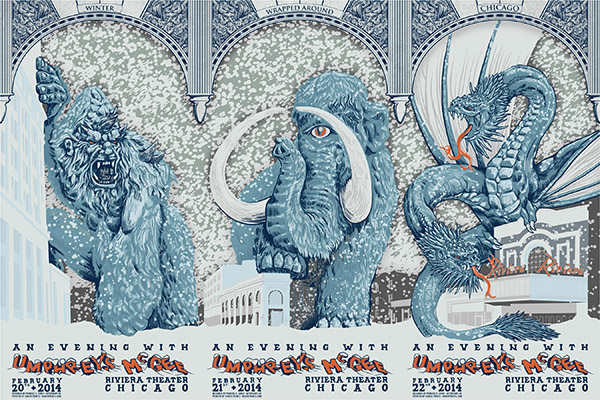 Umphrey's McGee Chicago 2014 Triptych Poster
Here's the run's poster by Phineas X Jones
Individual night prints will be available at the merch booth in Chicago.

Five-color screen print, on French Steel Blue Construction 100# cover stock. Uncut prints are edition of 200. Each night's cut print is an edition of 60.