Setlist / Video / Recap: Joe Marcinek Christmas Jam @ Wire 12/23/14
Joe's Garage: Joe Marcinek's Christmas Jam At The Wire - Berwyn
By @312mrg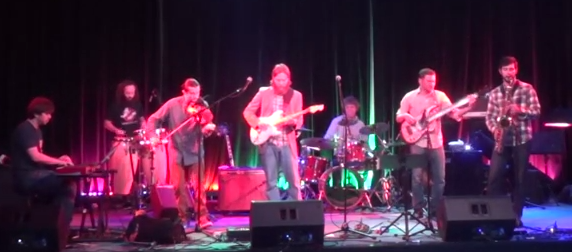 Live music has a way of rewarding you with enchanted evenings if you're willing to make a little effort or taking a risk.
Whether it's following a lead, listening to a buddy, or maybe just allowing your interest to be re-kindled with an artist or band you've closed the door on, what is happening on-stage can end up swallowing you whole.
There are plenty of reasons to stay in two days before Christmas and it may have been a bit of a stretch from the normal arms-length venue in Chicago's sweet spots, but Joe Marcinek and the Wire in Berwyn hosted one hell of a holiday kickoff party with his 3rd annual Christmas Jam into Christmas Eve on December 23rd.
The show featured 25 performers, 3 sets (with an extended encore) and was anchored by three bass players, while the night's maestro Joe Marcinek pulled strings and called his friends from the high tops or bar stools sitting beside me on up to the stage.
Fusion, funk, jazz, blues, rock and so much soul. It literally could have been in Joe's Garage, pre-tour rehearsing for the road. There were no visible blemishes and the night was extremely polished as Marcinek confirmed, remarkably, there was NO rehearsal.
In 2014, Marcinek gigged over 275 times with stints in Fresh Hops, which was featured in the bulk of a set of music on this night, and his ever-changing Joe Marcinek Band, whose incarnations have included jam-scene all-stars like Allie Kral, Jennifer Hartswick, Steve Molitz and Freekbass. He also drew from his friends (and material) from the Dead-inspired Terrapin Flyer and various ensembles and jams he's been associated with in this mind-numbing amount of shows.
In all, the 25 musicians that took part in this special evening were deserving of the extra room musically, as this was one of the coolest low key most talented musical events I've witnessed.
Extended members of the Joe Marcinek family supported or led on different occasions, while Marcinek orchestrated, concocted or coaxed sublime peaks throughout.
Jaik Willis' vocals on Stevie Wonder's "I Wish", Ron Haynes' (Liquid Soul/Lenny Kravitz) trumpet leads on "Both Sides", and  Terrapin Flyer's vocalist Kara Cavanaugh's take on "Shakedown Street" were choice contributions to covers covers.  Percussionist brothers Nate (Snarky Puppy) and Nick Werth (Galaxe) introduced me to another layer of the JMB onion.
Marcinek was on full display in "A Go Go" (John Scofield), and my favorite shred "Jan Jan" (Grant Green). The emphatic encore of this Christmas Jam, added a mind blowing punctuation to an already stellar event with Nick Werth rapping at the tail end of Phone Call into an all-out jam.
Joe Marcinek is one of the most humble artists I've had a chance to talk with. He greets you with a smile and a handshake, and is extremely generous with his time.
While talent alone can get someone in the door, it's that talent paired with personality that I often seek. Judging by the willingness of his friends to play a role in this "ultimate party", there's a familial bond about and Joe cultivates a big loving one in his "garage."
Please support local musicians like Joe that mean so much to our scene!
Set 1 :
Terre Haute, Set You Free, Love Having You Around, The Ocean, Flood in Franklin Park, Sun God
Set 2:
A Go Go, Cissy Strut, I Wish, Mighty Quinn, Both Sides, Jan Jan
Set 3:
Blues for Ben, Moovin & Groovin, Shakedown Street, 60 Degrees, Living for the City, Hyperbole
Encore:
Gold Mine, Phone Call> Jam