Springsteen at Wrigley Roundup: Review, Music and Diagrams
My live music passion has taken me all sorts of places but it didn't occur to me, until being in the stands at Wrigley Field on Friday, that there are some things I'm just not used to experiencing:
Up to twenty musicians on stage at once and a dramatic full band "roll call" to introduce them all
A-list (some might say A+) special guests that don't over-shadow the show's stars
Performers enthusiastically venturing out into the crowd to get toe-to-toe with their fans -- repeated multiple times throughout the eventing
Not one, but two, fans (one an 11-year-old girl) brought up on stage to sing and dance in front of thousands
Lengthy introspective monologues and exultant raps in between and within many songs
Stadium sized sing-a-longs of top ten hits from my youth, or for that matter...
being half a block away from the stage
30 minute encores with house lights blaring
Oddly, those were all things that I absolutely about loved seeing Bruce Springsteen at Wrigley Field on Friday night.  Some argue that a stadium is no place to experience music.  I won't try to convince them otherwise, but (with apologies to Roger Waters), my assessment is that if you are going to indulge, Bruce Springsteen and the E-Street Band is the way to do it.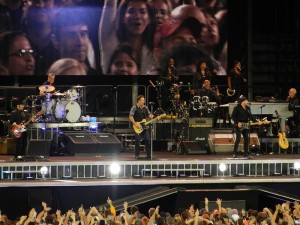 The stage show is tailor made to make all of the above as enjoyable as possible.  Set up in center field, a massive video screen made the larger-than-life performers literally larger-than-life; a nod towards intimacy.  But it was Springsteen himself -- his personality, his energy, his songs -- having made such a strong psychic connection with so many, that truly created that intimacy.  It is no wonder that superstars like Eddie Vedder and Tom Morello count themselves among his flock -- coming by not just to experience it, but to contribute to it, two nights in a row.
Putting every bit of his blue-collar, working class image on stage, The Boss makes those connections in his music and his actions.  His is the exuberant master-of-ceremonies, yet still one of us, and it is this inclusive feeling that resonates from the front-row to the cheap seats.  He grabs a hand-made "Jungleland" sign from a fourteen-year-old girl in the audience, all glitter and glue, and then guides the band through the epic tune, depsite only two previous plays this year.  When he stops the show for a few moments to pay a silent tribute to his dear friend and partner Clarence Clemons in "Tenth Avenue Freeze-Out", it is the culmination of what Bruce offers to his crowd: something personal, emotional, human.
Stream or Download Friday's Show (Videos and Photos, too)
The band?  They don't turn corners on a dime.  They don't blow minds with improvisational glory.  But what they do is synthesize -- throughout the night their anthemic rock was tinged with gospel ("Wrecking Ball", "My City Of Ruins"), Celtic ("Death To My Hometown"), R&B ("Twist and Shout"), folk ("We Are Alive") and Americana; and with instrumentation which includes full horn section, fiddle player and accordion it seemed effortless to harness multiple sounds.  And I don't think anybody does a coda better, channeling the energy from their leader into a big driving sound that rumbles through every inch of the building.  The "Prove It All Night" was the first of many of these rave-ups that were performed throughout the night, delivered with the right tone and timbre to encouraged collective sing-a-longs, foot stomping and fist pumping.  And they made room for contributions from their guests -- Morello's solo on "The Ghost of Tom Joad" was deliberate, haunting, and simply smoldering within their context.  Vedder's presence on "Atlantic City" was amplified under their expert touch.
But enough about the differences between Springsteen's show and the music I typically write about... there were other things that struck me as quite similar.  The first is that for a artist who broke through in the seventies, material offered from his most recent albums held up among the strongest of the night.  Springsteen continues to be creative, vital even.  "We Take Care Of Our Own" was used as walk-off music the night prior at President Obama's DNC speech, and its inclusion in the set list on this night reinforced its message that transcends politics.
What's more, we didn't get to hear it all.  Despite twenty-eight songs being rolled out over 3 and 1/2 hours with nary a stop, those who made it out Saturday's show were treated to even more selections from the vast catalog .  A decidedly fan-centric approach and one that certainly keeps it interesting for the musicians.
Inspired, I put together of the two nights to illustrate this point.  Friday in Green, Saturday in Blue.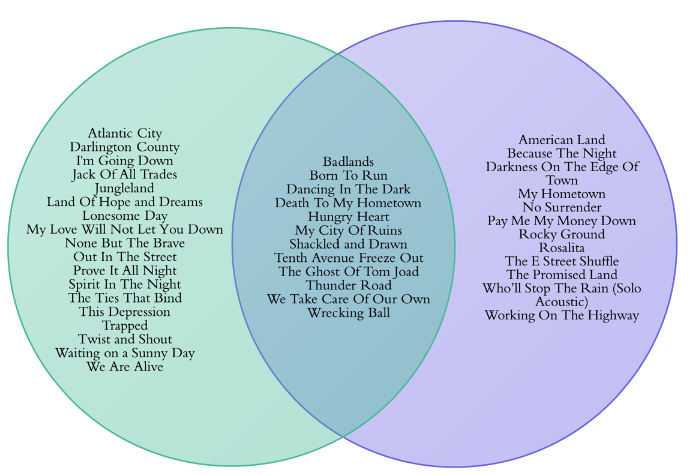 Remarkably, these shows came nearly 34 years to the day of Springsteen's legendary appearance at Chicago's Uptown Theater.  I thought it would be interesting to compare the set list from that show to these in a three way Venn (the 78 show is in orange).  It gives a feel for the blend of old and new that makes Bruce Springsteen such an engaging and satisfying performer.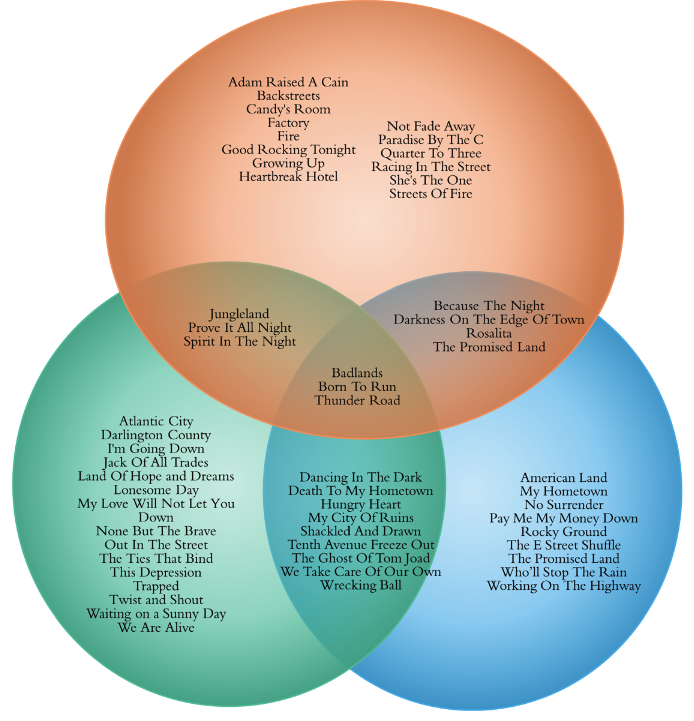 Stream or Download Bruce Springsteen at Uptown Theater September 6, 1978