Strange Arrangement Hints At Hiatus; 11/21 Chicago Gig with Greensky Bluegrass @ Park West May Be Last For A While
We were out-of-our-minds-with-joy when last January's Strange Arrangement / Greensky Bluegrass co-bill at the Park West was announced.  Not surprisingly, the gig itself more than lived up to the hype, with the closing encore of "The Shape I'm In" featuring members of both bands totally bringing down the house.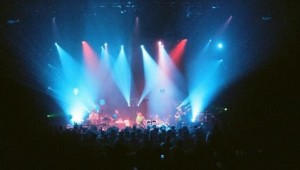 Though Wednesday, November 21st will be a literal replay of that event -- with the same great players in the same great room -- this time it will be a little bittersweet.  Strange Arrangement announced via a post on their facebook page that they will take some time off from the band until next summer, making this hometown pre-holiday gig an extra special affair.
After hosting their own unique festival this summer and contributing mightily to the midwest festival and music scene in their own right, the news comes as an unfortunate reminder of the harsh realities of making music for a living.  We love those guys and want them to do what is right by themselves and their fans -- and we'll be here with open arms upon their return.  There's not many bands out there who so willingly (and ably) go for it using equal parts rock, jazz and funk, we're happy to have one right here in Chicago.
That said, Greensky is still going strong and remains one of our current favorite touring acts.  Their recent Halloween gig is proof positive of what elevates them above so many others out there -- actually bringing gravitas and emotional content to bluegrass 80s covers (an awesome Tom Petty cover from that night is embedded below).  It will be great to have yet another dose of their songwriting and jamming sensibility in Chicago this fall.
Tickets for this show are available now.  Full text of Strange Arrangement's announcement follows.
Hey Strangers,

Strange Arrangement has been traversing the Midwest and the country for the last 5 years, sharing our brand of jam funk to anyone that would stop and listen. That being said, after our show at the Park West on November 21st, Strange is planning to take the Winter/Spring off to recharge our batteries. Time has become an issue for us, with day jobs, Joe and Jimmy's children growing up more and more every day, mortgages to be paid, and other side projects beginning to take shape. Being able to find time to catch our breath, write new songs, and keep things fresh for our fans has become a daunting issue. We plan on taking this time off and will hit the road again next Summer.

The list of people to thank is too long to mention everyone individually, as it seems everyone we have come across wants to give a helping hand or lend us a kind word for doing what we do. Words can't begin to describe our love and gratitude for the thousands of Strangers out there that have helped support us in immeasurable and incalculable ways. It sounds cliche, but there really is no way we could have lasted as long as we have without the sturdy backbone of love, laughs, and generosity by everyone who ever came to see us, bought a CD, played us on the radio, or introduced us to their friends or loved ones. Check out strangement.com for upcoming shows.

Thank you from the bottom of our hearts, we'll see you soon!!!
Greensky Bluegrass - Free Fallin' 10/31/12