Stream / Download / Video: Experience Hendrix @ Chicago Theater 3/14/14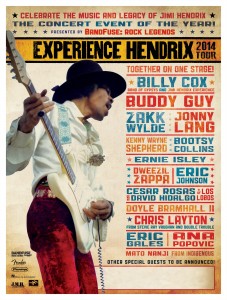 The Experience Hendrix Tour is an annual package that brings the music of Jimi Hendrix to some of the nation's best theaters starring an A-List cast of guitarists and other musicians.
The 2014 edition featured such Barn favorites as Eric Johnson, Cesar and David from Los Lobos, Dweezil Zappa, and an a appearance by Chicago Blues legend Buddy Guy.  Bassist Billy Cox, Jimi's one-time bandmate also was featured prominently.
Have a listen to this full show recording for a feel for how this group approached Jimi's music and attempt to keep his legacy alive well into the 21st century.
Our man Wyatt Brake was on hand to grab some nice video, too.
The Stream
(Click SHOW PLAYLIST to see full setlist / personnell)
[box type="download"]Download Entire Show (mp3 .zip)[/box]