Video: Los Lobos Welcome Ronnie Baker Brooks For Hendrix Medley 3/29/15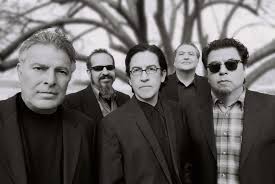 Sometimes the booking agents and talent buyers just get it right.
Los Lobos at Fitzgeralds is  slam dunk artist / venue pairing, that had me wondering... what took so long?  I wasn't alone.  The show sold out in minutes.
Not to let a good thing go to waste.  Los Lobos welcomed Chicago bluesman Ronnie Baker Brooks to the stage with them on Saturday night for a full blown Jimi Hendrix jam which breezed through both "Hey Joe" and "Are You Experienced" over the course of it's 15 minutes.
It sure lit a fire through the Berwyn crowd on Saturday, as evidenced on this video by mmmphish1.  Sure you can barely see the performers, but when the music is this hot, does it matter?