Stream / Download / Video | Greensky Goes Electric @ Hoxeyville 8/15/15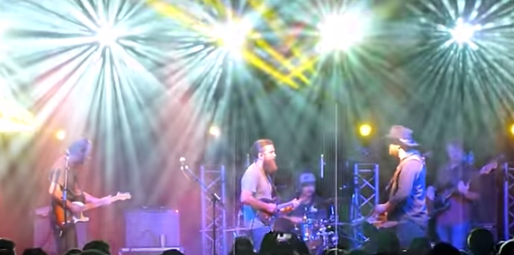 Hoxeyville is a festival with a charm that is completely in line with its name.  After a brief flirtation with trying to grow a bit and book national acts, it seems to have embraced what it is: an annual August showcase for Michigan talent in the pristine Pure Michigan of Manistee National Forest.
Of course Greensky Bluegrass can now be considered a national act, although they've been a featured performer here as long as I can remember.  The Kalamazoo based band decided to turn the tables at their "home" festival, treating the loyal crowd to a concept that, according to Paul Hoffman, "had only occurred in basements" prior to Saturday evening.
When the band emerged for their second set on Saturday, Hoffman had an electric mandolin, guitarist Dave Bruzza was seated behind a drum kit, banjoist Michael Bont sported an electric guitar, standup bassist Mike Devol has grabbed an electric and Anders Beck played what appeared to be an electric guitar, though positioned like his trusty dobro.
Yes, Greensky had gone electric.
While they took a few songs to find their footing in this format, they shined on a couple of newer tunes, "What Happened To Jim" and "Frederico" before a showstopping finale of "Reverend" and "Bring Out Your Dead."
Thanks to dutiful audio and video tapers we can all get a taste of this remarkable set in a very special place.  Thanks go to Will Paiz for getting this show up on archive.org and upping these great videos.