Stream or Download: GRAB @ Northerly Island 7/20/06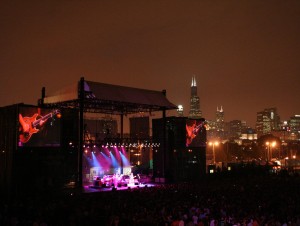 If this was a Phish show, it'd be forever known and praised as the "Take Me Out To The Ballgame Show" -- with Anastasio throwing out the first pitch at Wrigley that afternoon, he decided to weave teases of the ballpark staple throughout this long one-set show with Gordon and The Duo in the summer of 2006.
Alas, it's only half of Phish, and these antics are relegated to the dusty corners of the memories of those who were in attendance.  I admit, I was at this show and I barely recollected it before I pulled out this recording to commemorate Phish's debut at this very same venue (nearly seven years to the day).
At the time, I think those of us still shaken by the Phish breakup might have give this band the short shrift... but in retrospect, Mike and Trey do seem to find a nice chemistry even without Page and Fish.  Despite a few huge Trey clunkers ("Coming Up Roses", the unsinkable "Let Me Lie"), it's actually a nice showcase for some of Gordon's songwriting, some solid covers (fuck yeah "Who Are You"), and the material (and playing) that Benevento & Russo bring to the table is outstanding.  The acoustic segment is actually quite charming and there is no shortage of improvisation throughout.
Certainly a show worthy of a re-examination.
The Stream
Download Entire Show