Summer Camp Music Festival | Friday & Saturday Summary
By: Ryan Mannix | Photo: carmelocorn Instagram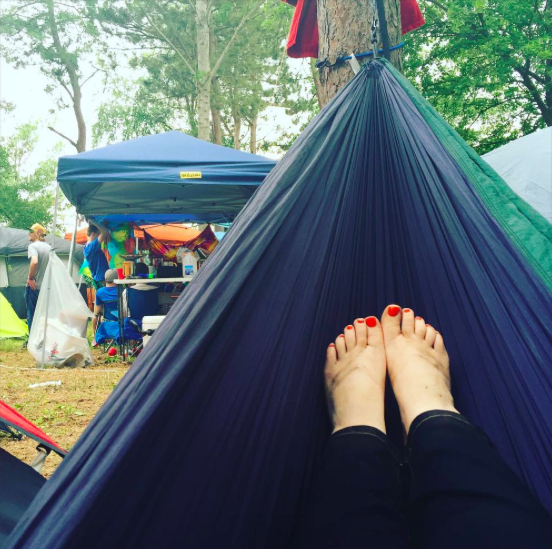 After a festival Thursday that delivered way more than just a pre-party, Friday kicked the festival off in earnest.
So it was appropriate to be eased in with one-man-band Keller Williams. A staple of the jam and festival circuit, Williams brought his big but affectionate presence to the afternoon crowd -- there'd be plenty more grooves and dance loops throughout the festival, but Keller's acoustic-driven take on them was an ideal kickoff under the afternoon sun.
"Freaker By The Speaker" was met with plenty of singing and swaying in the crowd. Friends Al Schnier (guitar, moe.) and Jason Barady (mandolin, Floodwood) lent a hand on a slightly awkward "New Minglewood Blues", but I shrugged it off --  with a festival this fun and loose, seeing friends get up there and take a swing at something is just as cool when it produces magic... or doesn't.
Two sets of Umphrey's McGee followed that included some of my highest points of the weekend. Friday's first set seemed to be anchored in mellow, floaty jamming with "Miami Virtue", "Syncopated Strangers", and "Divisions" all contributing to the feel.
However, set two was popping with some extremely exploratory improvisation. Perhaps it was the rain that came pouring down in between sets.  While some speculated that the band wouldn't return, they came back ready to do battle, with tarps set up to the block the gear against Mother Nature's offensive.
By "Ocean Billy" the rain was failing harder than ever, leading to some comical "hand towel" guitar soloing by Jake Cinninger.  But the comedy eventually led the improv into some seriously interesting sonic territories, capped by  a jazz inspired outro. If the band was deterred by the weather, it certainly didn't come through in the performance.
The second set also included a nice jam on "2x2" sandwiching the new tune "Speak Up" (ironically, this one doesn't quite "speak" to me... kind of bland and cheesy) within its boundaries. The epic freak-dance rocker "Hurt Bird Bath" closed the show with a bang.
Early vote for "most unique" set of the weekend was for Mike Dillion's New Orleans Punk Percussion Consortium. The tiny Campfire stage was loaded down with glockenspiels, gongs -- basically, anything that you can hit.
With no bass player, Dillon's band sits in stark contrast to a lot of the dance music that dominates the late night crowd at these festivals. They drew a smaller crowd than their EDM peers, but they'd go pound for pound for enthusiasm with those fans, really diving deep into the band's Zappa-esque set.
Jim Laughlin of moe. came up to duel with the vibraphone master, Mike Dillon himself. Dillon's tone is more reminiscent of a distorted fender Rhodes than the jazzy, mellow sound the vibes are known for, utilizing multiple effects pedals to compliment his massive, left-of-center vocabulary.
My late night set was delivered by The Schwag, and I was excited to end the night with some good ol' Grateful Dead. That meant plenty of folks belting out the lyrics and offering up hugs. There seems to be endless amounts of Dead cover bands, and not all are created equal. The Schwag's version comes by way of only a single guitar player -- which may in fact short change some of the compositions -- at some points producing a languid sound, and at others generating over-the-top shredding.
Saturday afternoon began with the talented Steve Kimock and Friends. Kimock, who we interviewed a few months back, wowed with his Garcia-like phrasing, balancing ripping solos and sweet ballads. Multi-Dead project keyboardist Jeff Chimenti steered the band through some 70's jazz fusion territory.
Yet, the group (which also included Jay Lane, Leslie Mendelson, Dan Lebowitz and Jay Lane) was extremely mellow, even at their peaks, which is really indicative of that "East Bay Funk" sound. "Mystery Train" was one of the highlights,  showcasing some telepathic interplay between members.
In the heat of Saturday's sun, nothing could be finer than moving to the music of Bob Marley. The Wailers, brought out a number of mega hits: from "Could You Be Loved" to "Buffalo Soldier" to "I Shot The Sheriff", dragging the crowd along with their island rhythms.  Summer Camp comes at the beginning of summer, but this set is one that sets the stage for the whole season.
I can now check off the new Chicago group, Mungion, from my list of bands-t0-check-out.  The prog-rock, jazz fusion group ventured through some Phishy territory throughout their set -- blending some extremely long and complicated lines with high energy soloing from band members. I'd say to put this band on your list, as they'll be on my list of bands to check out again.
Dopapod stormed the Starshine stage, playing to one of their biggest crowds to date. Eli Winderman (keys) and Rob Compa (guitar), are able to improvise over some of the most complicated music performed at the festival. Their set built off the new tune "Super Bowl" and the fan favorite, "Trapper Keeper".
By my count, the set was only five songs, leaving room for plenty of jamming. They worked through multiple unique feels, including one of my favorite moments: a peaking gospel-inspired solo from Winderman that seemed like it would never stop building. Then, another one of Dopapod's signature moves.  Compa started a tune with a solo classical piece, that went off into a funky Bach style jam with Eli. Prediction: these guys will very soon be playing on the big stage.
Two more sets of the Umphrey's guys followed a lightning storm that unfortunately cut The Roots short. The band really brought the heaviness on night two with both the song list and improvisation, especially in "Wizard Burial Ground" and "Puppet String".
The second set reads like "Best Of" show on paper, with "All in Time", "Ringo" and "Nothing Too Fancy" all getting the call. Great riff-rock fueled, Jake-led improvisation was scattered throughout the second set, but the show didn't quite go as far out-ther as Friday's.
With four sets of UM already in the bag, it was only right to close Saturday night with moe.. The fest veterans offered a much spacier set than their afternoon appearance on the previous day -- this set got weird fast with the help of String Cheese Incident's Kyle Hollingsworth. The band worked through a solid rendition of the Talking Heads "Slippery People", to the delight of those who came to dance and also featured a standout version of "Opium", with an intense and psychedelic solo from Chuck Garvey.