The Allman Brothers Band In Chicago: Five Things (and 25 Photos) To Ponder
There is nothing quite like a musical institution that spans generations, within the band and the audience.  Chicago finally got another chance to experience the foremost purveyors of this experience, The Allman Brothers Band, up-close-and-personal for two nights in August.  I was able to catch one of the shows (night two, Wednesday), but eagerly followed news and watched some outstanding videos from the first night.  I'm also extremely pleased to have had Adam McCall on hand Tuesday to weave his photographic magic for one of the best musical runs of the summer.
So here are five things, and 25 photos, to ponder about this run.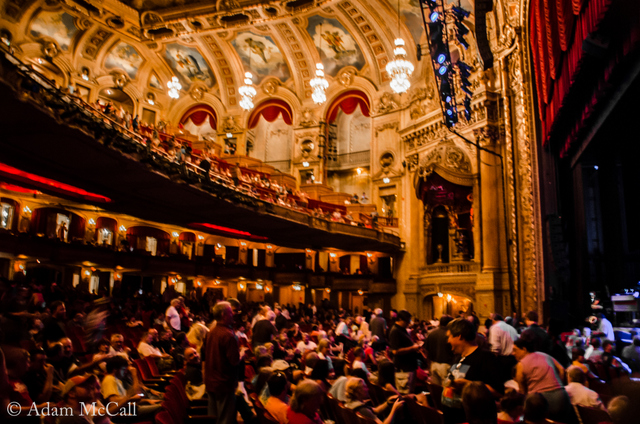 1. This was the
ABB's first Chicago visit in four years
, since their co-headlining run with Widespread Panic at Northerly Island in 2009.  As far as the crowd goes, enthusiasm has not dropped off one bit.  Warren causally mentioned on Wednesday that "you may have noticed we tend to play a lot more blues in Chicago".  For a band with roots in the south, and a rabid fanbase in the Northeast, make no mistake that blues loving Chicagoans are equally as eager to welcome the band as heroes.  Like ABB, we have rich history with blues, jazz, and soul and there's a bit of what they do that feels like "us". The Chicago Theater is a fine home turf for elder statesmen -- elegant and refined but still the type of venue that can channel the
other
and withstand a good rocking.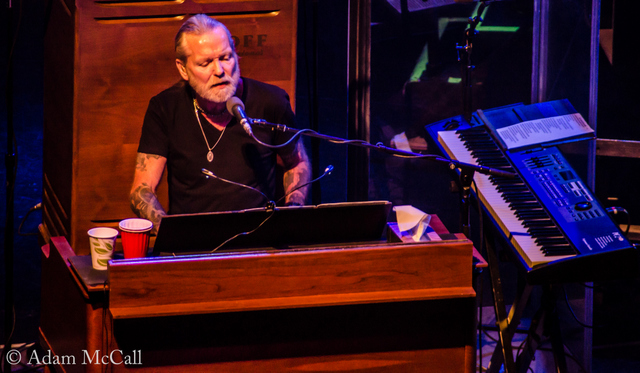 2. There may be
no band that blends history and contemporary
as well as the Allman Brother Band.  In Gregg Allman, you have one of the true musical legends at the helm.  When it's his turn, hat voice still as powerful as ever and his organ-playing still displays the same urgency as it did at the Fillmore East.  Throwback psychedelic visuals (mushroom imagery, mandalas and, oddly, Windows 95-style computer Visualizer effects) dominate the LCD backdrop.  And yet, Gregg is perfectly willing to yield the conversation.  Derek, Warren & Oteil certainly honor the awfully big shoes that they are filling, they are pushing this music ahead and nowhere was this as obvious as the big finishes tacked on to "Dusk Til Dawn" and "Feel Like Bustin Up Someone's Home" -- not exactly Allmans staples.  Still, while the band initially lost the crowd when the more unfamiliar tunes started up, fans were up and out-of-their-seats for the rousing codas.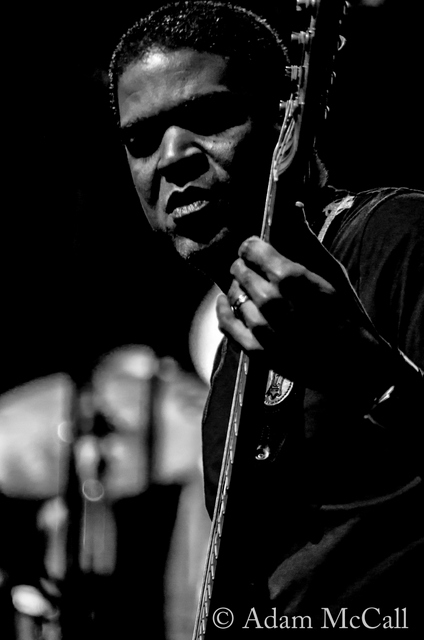 3. The
repertoire been honed over years of Beacon runs
, and I think they're in a great place as far keeping the songlists interesting. Dropping some unexpected covers, "Rain" and "Into The Mystic" (which was a Weds highlight) among the tried-and-true and newer originals, there's a little something for everybody.  "Keys To The Highway" was a great surprise and something I've never heard them tackle before.  And after two nights and four sets, when the band returned to the stage at 20 minutes until 11:00  having not played "Whipping Post", I thought for sure it was about ready to emerge.  Got to respect a band stacked enough to hold back, too.  Still, I miss some of the Dickey Betts material, though it was nice to see "Blue Sky" get a nice workout on Wednesday.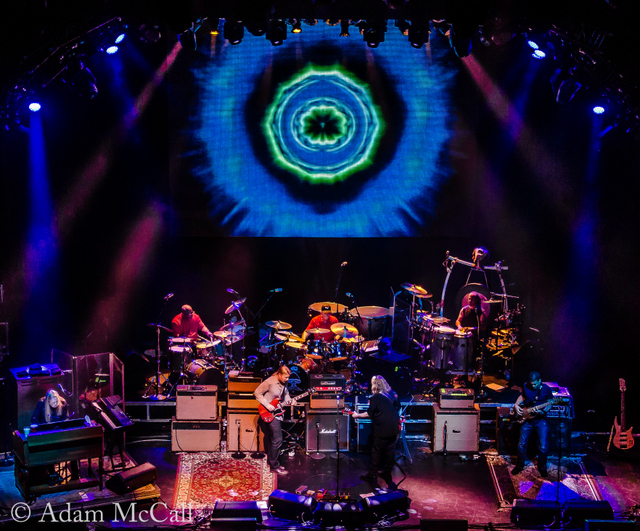 4.
Don't underestimate the rhythm section
.  Sure, Gregg is the superstar and Derek and Warren are the guitar heroes.  But the ABB just ain't the ABB without those drums.  It's sometimes hard to wrap your mind around how a rhythm instrument can sound psychedelic, but that's exactly how I feel about what Jaimoe, Butch and Marc bring to the table.  It's tribal but also swings.  They keep tremendous time, but find a way to slip in and even force Derek and Warren into some interesting places.  Evidence: "Black Hearted Woman".  You had to be a status to note move to the crescendo of the "Other One"-type jam and it was the beat that drove the guitar action and not vice versa.  Throughout the night, Oteil's bass smooths out all that power with a simple melodic elegance.
legitimately blown away last week at my first experience with Tedeschi Trucks Band last week
.  BUT,
there is nothing like the way these two play off each other
.  The harmony is so pleasing to the ears... The way the simple musical ideas can be extended effortlessly through their give and take.  It's like witnessing a true psychic connection.  They may play off other musicians and even each other in other formats, but in The Allman Brothers Band is where it truly comes to shine.
Setlist & Videos: NIGHT ONE - NIGHT TWO