Legendary Yes Vocalist Brings Classics and Great Stories to Town with Solo Tour
Dial up any classic rock station in the world and you'll likely hear Jon Anderson within an hour or two. As lead singer of the prog-rock stalwarts Yes, his iconic voice weaves through the musical lives of baby-boomers and Gen Xers everywhere.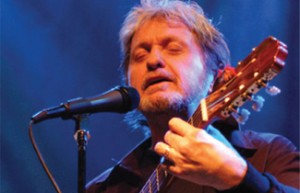 But sidelined by his former Yes bandmates after an extended illness -- in favor of (heard this one before?) a cover band vocalist -- you would think Anderson would be bitter. Not so. In fact, in The Barn's conversation with Jon, he was quick to reinforce how much fun he's having with the stable of exciting projects that he's currently involved in. Ever the optimist, Jon has kept himself busy with studio and live work, and finds himself headed to the Chicago area for two solo shows filled with classics, new songs and old stories never told before.
The Barn talked to Jon about his split with Yes and relationship with his bandmates, his upcoming solo tour and what keeps the progressive pioneer positive and healthy into his 67th year.
You have two shows coming up in the Chicago area [June 6 @ Mayne stage, June 8 @ Viper Alley]. What's in store for fans who make it out?

I do an acoustic show with a guitar. I play a little piano and dulcimer... a few songs on the ukelele. I tell stories about my life and sing my favorite Yes songs that everybody likes. Some of the songs from collaboration with Vangelis and some new ones.
What about the storytelling? What types of things can we expect to hear?
Generally how songs came about. Crazy things that happened on the road. Meeting Vangelis for the first time and what a crazy guy he was.
I'm a huge fan of musical journeys. I just stumbled across a project you did called Open. Can you tell me about your approach to longer form pieces?

That's been a part of what I do going way back to Gates of Delirium. I wrote [Gates] on piano and presented it to the band as just me playing piano. It must have sounded really bad. Long form music was something I really enjoyed doing so last year I started writing with the guitar and and an open structure. I had a friend who did beautiful orchestration. Over about a period of a few weeks here and there, I was in touch with some young people that I had been working with and got a couple of them to come and help me and do some work on the project.
They were brilliant -- just young kids who listened to the music and just played on it. Really good! We used some seniors from the local school who have an acapella band. My wife sang; so did a couple of other friends. It was an ongoing thing that I worked on now and again for four months.
I released it in October on my birthday.
Do you have a next phase?
I've already worked on the next piece. I've got the structure down and I'm just now working on it. I'm doing other things now but eventually it'll be ready later this year.
It is an important part of my musical experience. It's an adventure and a lot of fun.
You release a lot of music. It seems like concepts and songs come easily to you. Is that the case?
I like making music. I'm fortunate to be able to work with lots of musicians through the Internet. I get people sending me music every week. I develop it, keep working on it. You get some music that you'd never dreamed you'd work on.
I just finished doing a project with a friend in Los Angeles and now we're going to get into the production. We've written about a dozen new songs and its a very exciting time.
Can you tell me about the songwriting process. Do you have to lock yourself up and create for a week or does it come to you all the time?
It's something that happens all the time. I've got a studio here in the back garden of my cottage and generally what I'm doing is receiving music from others. I'll sing melodies and lyrics and send it back. After a while, you've finished quite a lot of musical ideas. Every time I get to new music, I see a different challenge. I don't want to keep doing the same thing.
Talk a little about Rick Wakeman. You always seem to find ways to collaborate with him. Are you really good friends?
Oh yeah. We were always friends. We've had a couple of times where he got very sick and I went to see him in the hospital. That sort of thing, it really just mulls the friendship. He's a lot of fun to be around. He's a crazy guy. We have a good time.
You recently collaborated with him on a live CD. Tell me a bit more about that project.
The tour was a lot of fun. We always enjoy working together on stage just the two of us. We finished up recording a few of the shows and decided to put out a live album since it changed the songs in such a different way.
I was reading about Kanye West, who sampled one of your vocals for one of his songs. I heard that you were flattered by this. Coming from an LP era, what do you make of the digital world? You seem to have taken to it very well.
You know we did that kind of sampling way back when we did 90125 -- there was a lot of that going on. You use modern technology as much as you can and really try your best to make it work musically. It is something that is part of life. You can't discount it. You want to work with it and make it happen, really.
Some people are interested in staying with what they do which is kind of cool. Me, I just like doing different things. It's just the way I am.
What kind of music do you like to listen to nowadays?
I always have my Sirius radio on the 40's music. It's my childhood -- I was born in '44 so I listen to music that I remember as a little kid: Bing Crosby, Big Band, Jazz, things like that.
On the other side of that, I listen to new things that are happening, there are some girls who write beautiful music called First Aid Kit. Really good songwriters and great video work as well.
I tend to keep in touch with different people. I went to see a band the other week called Group Love who were really good. I work with a lot of young musicians and there are many that go to this music school nearby in San Luis Obispo, where I live. I was there a couple of weeks ago, writing and recording a song together.
Are there any other newer artists that you would love to collaborate with?
There are so many talented people out there. I've been working a lot with people who get in touch with me that are already making music -- they know who I am and what I like to do. Currently, I''m working with a couple dozen people around the world. Writing music with people anywhere from North Africa, France, Australia, New Zealand. Some guys from LA.
Besides singing and playing, I hear you are also a painter.
I used to love painting in school. When I went on the road, I like to paint, sketch, water colors. Over the last few years, I do it like meditation. Sit down. Zone out. Be in the place where you forget about everything. It's beautiful.
There are some really beautiful pieces of work on the website. How's your health?
Pretty good. It's been rough this last month since there's a lot of pollen in this area. I'm getting ready to go on tour... rehearsing. My voice is sounding good. Life is good and I'm very happy about a lot of things.

Do you do anything to keep your voice in shape?
I sing everyday. On the road: don't talk to much, save you energy for that show at night.
You've got a tour and expect a CD in the summer. What else is coming down the road?
I'm going to London to perform at the Olympic Games with the Slovakian Orchestra. I'll go to Brazil and Uruguary. I'm doing a concert with an orchestra in Chile. Generally keeping very busy, keeping going.
It was great to talk to you. Looking forward to the shows. Wishing you well on the road.
It'll be a good night out!