The Best Albums of 2013: Alex's Top 125
couldn't be happier with his contributions
.  Before his association with the site, it had been his yearly tradition to circulate a top albums list amongst his friends.  We're excited to publish the 2013 edition here to kick off our 2013 year-in-review coverage.
1. DAFT PUNK - RANDOM ACCESS MEMORIES
It's easy to hate on an album that makes it as big as Random Access Memories. Many listeners who loved it initially quickly grew tired of it from hearing "Get Lucky" everywhere they turned.  Older Daft Punk fans ripped on it for taking such a large step into pop territory, and other less-informed listeners claimed it was simply a rip-off of 70s and 80s music.
Yet Random Access Memories doesn't simply steal its sound from these eras. Daft Punk borrows (and even leans on) their favorite records to successfully evoke a specific period without sounding like any one of them. Though drawing comparisons to Chic, Donna Summer and the most-obvious Giorgio Moroder, not one of these muses has recorded a record like Random Access Memories, nor could Random Access Memories' success because it sounds natural, as though Daft Punk had been waiting to record it their entire career. Any other band trying to pull this off would sound forced or fall flat on their face.
Loaded with hooks in hits like "Get Lucky" and "Give Life Back To Music," accessibility gives way to more experimental passages in "Touch." The gentleness of "The Game Of Love" becomes the overwhelming intensity of "Giorgio By Moroder."
Production remains flawless with depth and clarity throughout. Guests are always utilized perfectly, never simply there for the name.
With Random Access Memories, Daft Punk managed to live up to the overwhelming hype surrounding their return by playing it accessible but not necessarily safe.
2. THE ARCADE FIRE - REFLEKTOR
Until this album, I never had overwhelmingly positive things to say about the Arcade Fire. I'm still confused by the hype surrounding Funeral. Thus I was skeptical of Reflektor. Hell, I didn't even want to like it. Perhaps having twice as many band members than were ever needed made it easy, or perhaps James Murphy stepped in and fixed everything, but Arcade Fire's move into LCD-style electronics worked better than anyone could have expected.
The first Arcade Fire album I would describe as "clean" or "precise," Reflektor keeps the grandiose builds and big sound that characterized past releases but added upbeat dance backing and additional room per song to try out new ideas.
For a third studio full-length, Reflektor is surprisingly mature and coherent, even despite its long run-time and excessive promotion.
3. MAN MAN - ON ONI POND
Though I know I shouldn't be surprised to see Man Man left off of every major year-end list, On Oni Pond is good, clean fun. An engaging listen from start to finish, the constantly shifting grooves and broad instrumentation of its sound separate it from the bulk of this year's releases.
The music is deceptively danceable and upbeat. Honus Honus' gravelly vocals deliver constant hooks, the kind that make you sing along the first time hearing them. Though the band toned down their weirdness in recent years, On Oni Pond is still distinctively Man Man and unlike anything else around today.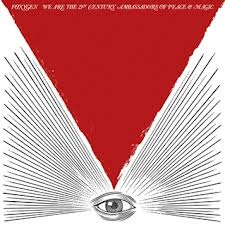 4. FOXYGEN -
WE ARE THE 21ST CENTURY AMBASSADORS OF PEACE & MAGIC
Despite a year filled with turmoil and show cancellations, Foxygen's We Are The 21st Century Ambassadors Of Peace & Magic accomplished more in 35 minutes than a lot of 60s psych throwbacks do in a career.
If this remains their only record, so be it.
A record full of organs, double-tracked guitars, constantly moving bass lines and countless production tricks and effects, 21st Century Ambassadors has many memorable moments and little wasted space.
With confidence and a clean production aesthetic, Foxygen channels 60s vibes of the Beatles, Stones, Velvet Underground and countless smaller psychedelic bands, creating an album both nostalgic and fresh.
5. VAMPIRE WEEKEND - MODERN VAMPIRES OF THE CITY
Vampire Weekend altered their signature sound with each release since their highly successful self-titled debut. Modern Vampires Of The City feels like the next chapter. Koenig's falsetto vocals and Batmanglij's keyboards hold the spacious songs together. Using manipulated vocals, spoken word passages and diverse instrumentation, the band continues to pursue new directions.
Through the contemporary feel of the music and lyrical themes, Modern Vampires Of The City is a record of and about city life. Catchy as ever but sounding unlike their past work or their peers, Modern Vampires is another appropriate step for the band.
6. WHITE DENIM - CORSICANA LEMONADE
With Corsicana Lemonade, White Denim tone down the frantic craziness that was D, opting for more structured psychedelic jams.
Despite this change, Corsicana Lemonade still rocks with the force and energy listeners expect from the band. Each song builds to blistering guitar passages, tight percussion helping songs shift seamlessly from mellow to rocking.
Though immediately enjoyable, Corsicana Lemonade is a record that rewards repeated listening, its songs feeling simple on the outside but complex within.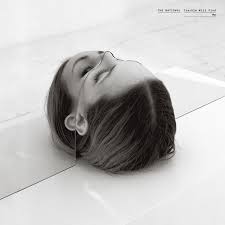 7. THE NATIONAL -
TROUBLE WILL FIND ME
The National are, sonically, a combination of the deep, dramatic production of their instrumentation and the melancholy baritone of Matt Beringer, all wrapped up in the imaginative drumming of Bryan Devendorf.
Each song on Trouble Will Find Me seems to chug along slowly but build to massive, impenetrable walls of sound, each layer of guitars, horns, strings and vocals adding to its immensity. Beringer's lyrics match the somber tone perfectly.
Understated but poignant, the National have mastered their craft with this record.
8. BILL CALLAHAN - DREAM RIVER
There's a lot of folk and folk-rock records coming out these days, but Bill Callahan keeps rising above the rest with each new release. Dream River is simple yet dense, risky yet contained, effortless yet thorough. Lyrically clever as ever, Bill Callahan's western imagery and dry daily-life observations combine into a narrative, or perhaps more of an autobiography.
9. PARQUET COURTS - LIGHT UP GOLD
Fast and sloppy like punk with the sharp, jagged guitars of 80s alternative or post-punk and the offbeat lyrics and vocal delivery of 90s indie, Parquet Courts sound like Minutemen, The Fall and Pavement all mixed into one. But, frankly, they sound like they don't care who you think they sound like. This is a powerful, energetic debut that hasn't grown old a bit over the last year.
10. IRON & WINE - GHOST ON GHOST
After introducing horns and funk to the mix with 2011's Kiss Each Other Clean, Iron & Wine continue their musical metamorphosis with Ghost On Ghost. The harmony rich, horn filled folk-rock record is filled to the brim with sunny melodies.
Though an easy listen, the record works thanks to the dense production, eclectic compositions and Beam's sleek, layered vocals.
11.) Atoms For Peace- Amok
12.) The Flaming Lips- The Terror
13.) David Bowie- The Next Day
14.) Pokey LaFarge & The South City Three- Pokey LaFarge
15.) Kurt Vile- Wakin' On A Pretty Daze
18.) Elvis Costello & The Roots- Wise Up Ghost And Other Songs
19.) Jim James- Regions Of Light And Sound Of God
20.) Laura Marling- Once I Was An Eagle
21.) Steve Mason- Monkey Minds In The Devil's Time
22.) Nick Cave & The Bad Seeds- Push The Sky Away
23.) The Devil Makes Three- I'm A Stranger Here
24.) Thee Oh Sees- Floating Coffin
25.) MGMT - MGMT
26.) Phoenix- Bankrupt!
27.) Chance The Rapper- Acid Rap
28.) Camera Obscura- Desire Lines
29.) Steve Earle & The Dukes (and Duchesses)- The Low Highway
30.) Neko Case- The Worse Things Get…
31.) Bonnie "Prince" Billy- Bonnie "Prince" Billy
32.) She & Him- Volume 3
33.) Savages- Silence Yourself
34.) Kanye West- Yeezus
35.) The Men- New Moon
36.) My Bloody Valentine- mbv
37.) The So So Glos- Blowout
38.) Ghostface Killah & Adrian Younge- Twelve Reasons To Die
39.) Typhoon- White Lighter
40.) Blitzen Trapper- VII
41.) Yeah Yeah Yeahs- Mosquito
42.) King Krule- 6 Feet Beneath The Moon
43.) Meat Puppets- Rat Farm
44.) King Khan & The Shrines- Idle No More
45.) Ty Segall- Sleeper
46.) Queens Of The Stoneage- …Like Clockwork
47.) Of Montreal- Lousy With Sylvanbriar
48.) Lucius- Wildewoman
49.) Adam Green & Binki Shapiro- Adam Green & Binki Shapiro
50.) Nine Inch Nails- Hesitation Marks
51.) Dr. Dog- B-Room
52.) Wavves- Afraid Of Heights
53.) John Vanderslice- Dagger Beach
54.) James Blake- Overgrown
55.) Deerhunter- Monomania
56.) Mount Moriah- Miracle Temple
57.) Bonnie "Prince" Billy And Dawn McCarthy- What The Brothers Sang
58.) Chelsea Light Moving- Chelsea Light Moving
59.) Janelle Monae- The Electric Lady
60.) Mikal Cronin- MCII
61.) Boards Of Canada- Tomorrow's Harvest
62.) Deltron 3030- Event II
63.) Sonny & The Sunsets- Antenna To The Afterworld
64.) Mutual Benefit- Love's Crushing Diamond
65.) The Civil Wars- The Civil Wars
66.) Eels- Wonderful, Glorious
67.) John Scofield- Uberjam Deux
68.) No Age- An Object
69.) Frankie Rose- Herein Wild
70.) Jonathan Rado- Law and Order
71.) John Vanderslice- Vanderslice Plays Diamond Dogs
72.) Oblivians- Desperation
73.) Youth Lagoon- Wondrous Bughouse
74.) The Growlers- Hung At Heart
75.) Volcano Choir- Repave
76.) Thao & The Get Down Stay Down- We The Common
78.) Jagwar Ma- Howlin
79.) Dean Blunt- The Redeemer
80.) Sigur Ros- Kveikur
81.) The Wood Brothers- The Muse
82.) Waxahatchee- Cerulean Salt
83.) Robyn Hitchcock- Love From London
84.) Earl Sweatshirt- Doris
85.) Okkervil River- The Silver Gymnasium
87.) The Underachievers- Indigoism
88.) The Knife- Shaking The Habitual
89.) Phosphorescent- Muchacho
90.) Cass McCombs- Big Wheel And Others
91.) Thundercat- Apocalypse
92.) Johnny Marr- The Messenger
93.) Cayucas- Bigfoot
94.) The Heligoats- Back To The Ache
95.) Dawes- Stories Don't End
96.) The Handsome Family- Wilderness
97.) The Thermals- Desperate Ground
98.) William Tyler- Impossible
99.) Black Joe Lewis- Electric Slave
100.) Speedy Ortiz- Major Arcana
Honorable Mentions:
101.) Majical Cloudz- Impersonator
102.) Blood Orange- Cupid Deluxe
103.) Paul McCartney- New
104.) The Dodos- Carrier
105.) The Spinto Band- Cool Cocoon
106.) Talib Kweli- Prisoner Of Conscious
107.) Julian Lynch- Lines
108.) Local Natives- Hummingbird
109.) Tunng- Turbines
110.) Califone- Stitches
111.) Gringo Star- Floating Out To See
112.) Mason Jennings- Always Been
113.) Devendra Banhart- Mala
114.) North Mississippi All Stars- World Boogie Is Coming
115.) Yo La Tengo- Fade
116.) Colin Stetson- New History Warfare Vol. 3: To See More Light
117.) The Strokes- Comedown Machine
118.) Autre Ne Veut- Anxiety
119.) FIDLAR- FIDLAR
120.) Murder By Death- As You Wish: Kickstarter Covers
121.) Elf Power- Sunlight On The Moon
122.) Mavis Staples- One True Vine
123.) Case Studies- This Is Another Life
124.) Danny Brown- Old
125.) Edward Sharpe & The Magnetic Zeros- Edward Sharpe & The Magnetic Zeros