The Devil Makes Three Preps For Halloween In Chicago
By Alex Wood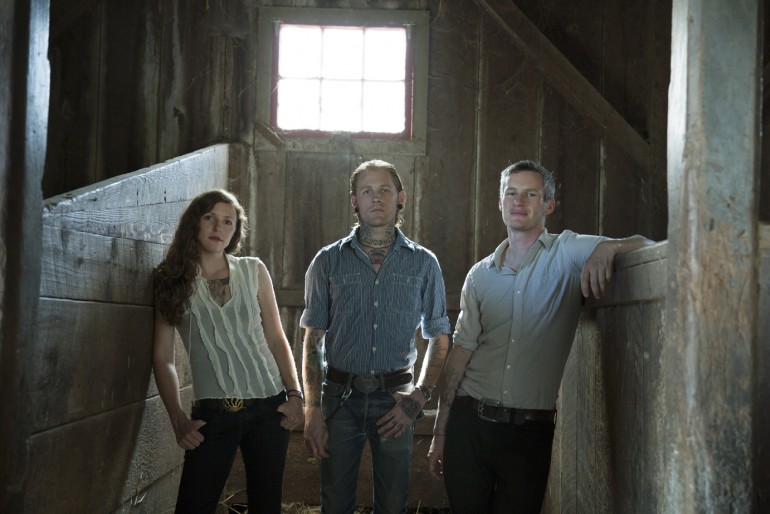 The Devil Makes Three will set up for a two-night run at the Chicago House Of Blues on Halloween weekend.  Guitarist Pete Bernhard caught up with The Barn to chat about the band's current tour, recording plans and influences.
Though Bernhard was indifferent to Halloween prior to the formation of the band, he's found a passion for the holiday since touring.
"When we're playing, we get really into [Halloween], so it's fun," he said. "We've been looking forward to this for a while. It's really cool to have two days in a row in a city we love going to."
The band, known for its energetic live performances, promises a few new additions to their set for the shows.
"We have a fiddle player out with us and a percussion set with us this time around. We're playing some new material, and playing some stuff we're recording after this tour."
The two additional musicians will also be recording with the trio on their next album, which Bernhard is unmistakably excited for, though reluctant to detail.
"It's sort of a concept album. Most of the songs are going to be traditional songs on one side. But I guess I'm just going to make people wait and see," Bernhard said.
Though the "concept" is left a mystery, the addition of guests is certain.
"We're going to have some percussion on it, fiddle player, baritone guitar. The idea of the record is taking a bunch of people we've met on the road and have them sit in on a couple songs," he said.
Like I'm A Stranger Here, released two years prior, the new album will be recorded in Nashville, though with a different producer.
As the band uses their live shows to perfect new songs, fans attending the Chicago dates will undoubtedly have a chance to preview some of the new album.
"We're sort of in the process of trying things out live. And that's kind of our process," he said. "We get our songs together, we play them live, see what's working and not working and then we sort of narrow them down."
"It's hard to work new material in. At this point, we've been a band for quite a while, so we have a lot of material," he said. "The other night we played for over two hours just because we want to try out new material, which we usually don't do."
Actively performing since 2002, The Devil Makes Three largely preceded the explosion of folk, country and bluegrass bands gaining popularity within the music scene, a fact that isn't lost on Bernhard.
"The genre has gotten a lot bigger… It's become sort of like a popular music form, which has been nothing but good for us," he said. "When we first started off we kind of had a hard time getting shows. When we first started off no one was doing folk stuff."
"I think the scene is bigger and better than ever. I can't say that I like all of it. I don't like every band out there but at the same time I'm not complaining. It's better for the genre," Bernhard concluded.
The Devil Makes Three's sound is difficult to pin down into a single genre -- combining folk, country, blues, and bluegrass to create a signature style. According to Bernhard, its primarily influences are "western swing and gypsy swing," citing artist like Django Reinhardt as a huge inspiration.
Their other largest influence is rooted here in Chicago, only adding to the band's excitement surrounding their two-night Halloween run.
"Actually, Chicago blues is a huge influence. Muddy Waters, Willie Dixon, Howlin' Wolf… I'd say they're one of the biggest inspirations the band has," he said. "Chess Records, I started listening to that when I was 11 years old."
Yet the energy of their performances comes from a far less predictable source.
"We all grew up going to punk shows and stuff and we really try to get the energy of punk into our live show. On the record, we don't really do that," he said. "We've always been a live band, and I think our live show is always much higher energy than our studio. If you've only heard us on record, you've never gotten a good impression of what it's like to hear our band."
The Devil Makes Three will perform at the House Of Blues on October 30 and 31. Watch recently released professional footage of the current lineup performing "Dead Body Moving" below.