The Low Spark Interview | Jazz Funk & Fusion In Residence @ AliveOne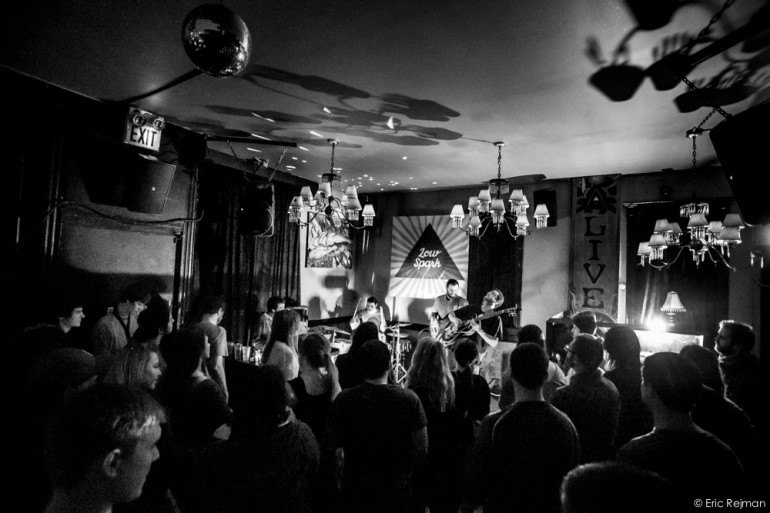 Want to have your finger on the pulse of the bands who are likely to be breakout stars in the Chicago scene?  Look for the artists-in-residence at some of the city's top clubs.
AliveOne, in particular, has seemed to carve out a platform for bands embracing boundary-pushing jazz, funk and fusion.  They've recently spawned Spare Parts and The Heard, who are making considerable noise nationally.
Low Spark is the next band to continue this tradition every Thursday at AliveOne.  They are embracing the legacy of the Lincoln Park establishment -- which includes blazing a few trails of their own.  Now seems like the right time to learn more about what Low Spark is all about, and I had the pleasure of digging into their background while also looking ahead.
The five-piece features Justin Canavan on guitar, Collin O'Brien on drums, Ben Kolber on bass, Doug Ferdinand on keyboards/synthesizer, and the newest addition, Derek Brown on saxophone.
The Barn: First, I'd love to have a little background on who's in the band and how you came together.
JC: Collin and Ben have been playing together for years with our old keyboard player Taylor Streiff and another good friend, Pat Harvey, on guitar. I saw them playing and was like... man, these guys groove! Although I didn't immediately say it to anyone else, I definitely knew I wanted in that band.
Pat happened to move to Colorado shortly after and I jumped on the opportunity.  Taylor joined Nick Moss Band, a great blues/rock band, and wasn't around so much so we had to seek out another keys player. After trying out a handful of guys, about a year ago, we started playing with Doug and knew immediately he was one. He has really forced our whole sound into a new direction and it's really been exciting.
The same can be said for Derek.  Although it's only been a handful of months, he has come in and learned our entire repertoire.  He's really brought some new life to some of the older material and is bringing his voice to our new material as well.
DB: Yeah, I'm the "Sax Guy." I play tenor and soprano saxes, along with the various digital effects I apply to them. I've been in Chicago for six months, but almost immediately started playing with Low Spark every chance I could get when they were doing the regular Monday night jam at the Underground Wonderbar.
Eventually they started asking me to sit in more and more at other various gigs around town, and now I'm with them pretty much everywhere they go. It's great! [Justin and Collin still host the Monday Jam at Wonderbar, but its no longer the full Spark because of AliveOne]
You've stepped into a Thursday night slot that has been previously held by The Heard and Spare Parts. Where do you see your band musically continuing the legacy and in what ways are you breaking apart from what those bands have established?

JC: It's really such an honor to be taking this Thursday slot. I have been coming here regularly on Thursdays basically as long as I could get into bars.  You just KNOW the music is going to kick ass!
There is truly no other club or venue in Chicago that can guarantee such great music. Not to mention it's FREE! I've always felt that way about AliveOne and to be on the other side of it has been so exciting for us.
I've always loved Spare Parts and The Heard.  While they have stylistic differences, the one main thing that stands out to me in terms of similarities is that these guys GROOVE! Killer tunes and arrangements, but also fun and accessible. That can be a difficult combo to find sometimes.
That's why I think we're a great fit for this slot. Although our music definitely has its complexities, we make it a point to keep it heavy grooving and danceable. There is a great party atmosphere at Alive One and we want to keep it that way. It's really an honor and a privilege to be following in the footsteps of both of these bands.
CO: I think between the Heard and Spare Parts (and Lubriphonic, who were before SP), our music touches on a bit of each of those band's signatures: heavy funky grooves, fusion, jazz, soul and blues influence. AliveOne has always been a sort of hub for original funk and fusion music in Chicago. I feel like Low Spark is carrying the torch of that tradition, while writing music that is true to us as individuals.
Has the residency had an effect on how you book other area gigs? Are you looking to branch out of the Chicago area? What steps are being taken in support of a "master plan" and what role does the residency play?
CO: We have to be more selective about playing in the city outside the residency -- which is tough for us because we love any/every opportunity to make music. But moving forward, we're booking more tours -- weekend runs around the Midwest -- and linking up opening slots with touring bands in the city. This residency is great because every week we see this great crowd of friends and new faces. AliveOne has a great "built-in" crowd and we are steadily reaching more ears and building a stronger fan base.
BK: Branching out of Chicago has been one of our main goals for the past seven months or so. We had already started taking weekend trips to Michigan, other towns in Illinois, Nebraska.  Back in December '14 we embarked on our first extended tour outside of the state.
I see the residency as a training ground and a launching pad. A place where we can perform confidently and keep fine tuning this thing we call Low Spark.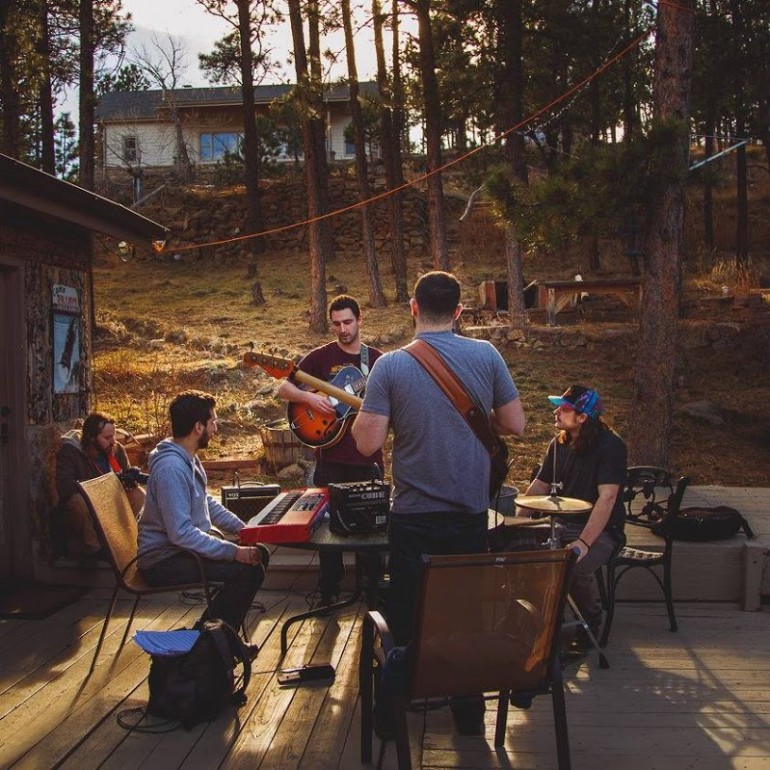 Tell me a bit of your perception of AliveOne as a music room. What does this physical place mean to the band?
BK: The back room atAliveOne is a magical place. It has an inviting ambiance and is very small and intimate. When a room is this size, a band can really connect with it's audience and I see that every week.
CO:  Before we started playing there, we were going to see The Heard and Spare Parts regularly as fans. It has been the spot for us and our friends ever since we were old enough to go there -- watching our friends kill it and grow as bands and musicians.
DB: I love the atmosphere there! It's not the biggest room, so it always feels packed. Plus, I feel like the moody, low lighting encourages people to dance as you don't feel like you're in the spotlight. You can do your own thing!
And it's really great that AliveOne has an entirely separate bar in the back room, so people don't have to leave the excitement every time they want a drink.
Any ideas for keeping the residency "fresh"?

CO: We're doing a lot to mix it up each week. Between constantly writing new music and learning covers, we will be hosting some special events with openers, and usually have some friends come up to sit in. We want the night to open up into family affair -- a place where we cultivate our sound as a band, and then collaborate our friends. Its really a great platform to express ourselves and represent the Chicago music scene.
BK: We will occasionally have a group open for us, and have friends out to sit in. Were really open to ideas and who knows what could go down in future Thursday night events. The sky's the limit.
DB: I like how we change up the set list each night, and include new cover tunes here and there. And the weekly gig is especially great for encouraging us (aka "forcing us") to come up with new material, so that it does stay fresh. And finally, as a soloist, it makes me work hard to creatively do new things each time I solo. After all... if I did the same thing every time, I'd kind of go crazy week after week (or maybe that would be a good thing?)!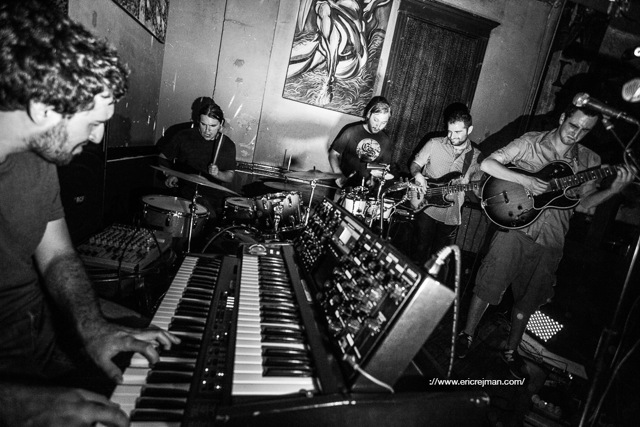 The name Low Spark. Let's talk about it. Anybody ever show up expecting a Traffic cover band? How do you think it's representative of your influences and your sound?
BK:  Tom me, the name Low Spark evokes images of flow in the state of nature. Bubbling with ideas and sounds that range from funky to ethereal. It's all really a fusion of sorts. It's the only one that really made sense to choose out of all the different names we all came up with. If I remember correctly, the name can be credited to Taylor Streiff's (former keys player) imagination.
CO: Honestly, [the Traffic thing] comes up a lot, but less than I expected it to... There was a while where we weren't too keen on our own name but now I feel like our music aesthetically lends itself to Low Spark. We are defining ourselves and our sound -- the music we make is Low Spark music. Not to knock Steve Winwood and Traffic (definitely a fan), but I wouldn't draw any direct connections between the sound of our music.
What else do you want my readers to know?
We love and appreciate everyone who has checked us out and supported what what do! We promise to continue to work hard to produce the best possible music we can, and put love into everything we do. Thank you!
Check out Low Spark on the web lowsparkmusic.com or on Facebook facebook.com/lowsparkmusic.