Unconstrained: Chris Greene Embraces Boundary Issues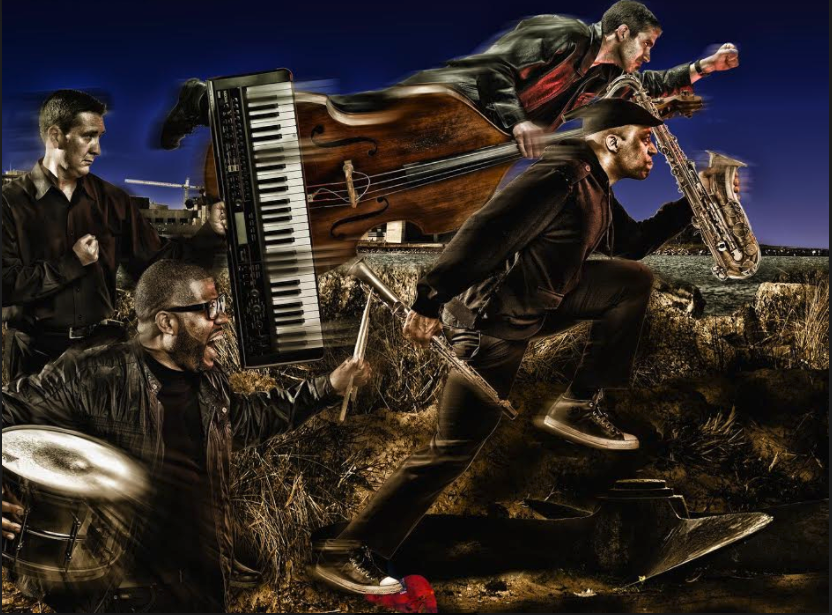 The Chris Greene Quartet uses an epigraph from Funkadelic in the liner notes of their latest album, Boundary Issues.  "Who says a jazz band can't play dance music?  Who says a rock band can't play funky?  Who says a funk band can't play rock?".
Saxaphonist and bandleader Greene embraces the Funkadelic ethos on this latest release -- CGQ are jazz like Funkadelic is funk, emblematic of the genre but offering so much those willing to jump in from another musical "home".
We got a chance to catch up with the Chicago-based musician in advance of Boundary Issues' release and he was open and eager to talk about what went into to making this collection.
Greene went in with a plan, but was neither constrained by genre, personnel or influence.  His gift -- putting everything he can imagine into the mix, and still ending up with a cohesive package.  Further proof: the album's other epigraph is from Bruce Lee. "There are no limits.  There are only platueus, and you must not tay there, you must go beyond them."
Boundary Issues is definitely a jazz album, but it sounds comfortable and familiar to those familiar with rock, funk, and pop.  Is this deliberate or a by-product of your own musical upbringing?
The latter. I never try consciously write or arrange a song with an audience in mind. I'm really just trying to select songs that are fun, interesting and challenging for the band to play.
I figure that if we look and sound like we're having fun making music together (which we usually are), that attitude should come through during shows and on our records. Moreover - before I "discovered" John Coltrane and Miles Davis at 17 years old, I was all about the music of Prince, Public Enemy, Babyface, and Guy.
I was the kid who'd watch hours of MTV as an adolescent in the early 80s while waiting for the newest video by Michael Jackson. So even though I'm a jazz musician, I'm a student and fan of many different styles and genres of music. Because of all that, we've been able to amass a nice group of followers from jazz aficionados to people who just like good music to people who'd previously convinced themselves that they "hated" jazz.
The album features a mix of covers and your own compositions.  How did you decide on the mix of material? 
I usually get the band in the studio we've had a chance to road test material that has been recently added to our repertoire. The album has 5 covers and 5 originals by me, Damian, and Marc. We all have a hand in the musical arrangements.
There's always a point where we're no longer focusing on the sheet music or playing it "correctly" and we're solely focused on making the music sound and feel good. That's usually when it's time to call Joe Tortorici (our producer) and Rob Ruccia (our engineer) and starting planning the session.
There are several spoken word passages on the album.  Where did those come from and how did you come to include them on the album?
I usually come up with the album concept and title long after the music has been recorded and mixed. "Boundary Issues" is probably the first album where, upon walking into the studio, I knew exactly what I wanted to say and how I wanted to present it.
I knew that I wanted to include an intro with sampled speech passages - from artists I deeply admire like Prince, Nina Simone, Stokely Williams and Branford Marsalis) - but it was just a matter or picking sound-bytes that fit the album concept.
Plus, we got my longtime friend and sometime employer Julio Davis (of the J Davis Trio) to do some spoken word DJ "trash talking" on the song "Here to Help." His contribution acts as a bridge from Damian's solo section to my sax solo.
It appears that this band's lineup has been pretty steady for some time now.  What did that afford you in the recording of the album?
My guys are the best. They're committed to me, and I'm committed to them. 
Like I said before - when we get to the studio, the band is usually firing on all cylinders - musically speaking. We've gotten comfortable with the material we plan to record usually over the course of several months.
Joe and Rob set up a comfortable studio environment for us to be creative in. From that point we hit record and try to do it the way they did it at Blue Note Records back in the day. No more than 2 or 3 takes per song.
We took a further risk with the album by having guests on the album. Percussionist JoVia Armstrong sits in on 2 songs ("Nica's Dream" and "Summer Song"). Guitarist Isaiah Sharkey joins us on 2 songs ("Nica's Dream" and "Blues for Dr. Fear"), and my man Marqueal Jordan joins us for a friendly tenor saxophone "battle" on "The Crossover Appeal."
Each one of the guest fell right in with our collective vibe and pushed the band to dig deeper than before!
You've got three separate "CD Release" shows coming up.  Any thoughts on how whether the different venues will produce distinct shows?
Not really. I never write a set list. I always try to read the audience and figure out what material from our repertoire will work the best on any given night. We'll draw material from all of our albums and the standard. So, no two CGQ performances will be the same.
Boundary Issues drops on April 14th.  Catch CGQ to celebrate the release April 21st at Constellation, May 10th at Winter's Jazz Club and May 30th at Promontory.