Video and Preview: Greensky Bluegrass @ Bell's Beer Garden Opening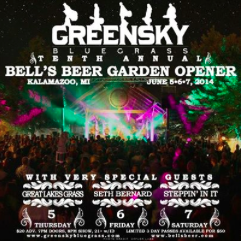 Greensky Bluegrass will do it again in 2014.  "It" (besides being one of the best bands on the planet) is open the Bell's Brewery Beer Garden, an honor that they've held for over a decade.
Chicago people….  This is road trip worthy -- dare I say road trip mandatory.  Their Thanksgiving gig indoors at Bell's topped my list of all things musical in 2013.  The best beer, the best band and a fine Michigan atmosphere.
There's a few opportunities to catch them this year, as they will anchor an extended weekend from Thursday through Saturday, with different support acts each night.  Or… go on and buy a three day pass (only $50 but quantities are limited).  UPDATE: Three day passes and Saturday night's show are now SOLD OUT.  Jump on Thursday / Friday.  Also, a block of room is reserved for GSBG fans for a discount at the Raddison which is stumbling distance.  Check it out HERE.
I can't wait to experience the outside stage in June.  For now, I can look back at last year's performance, which was captured in these great videos, which also includes a heartfelt introduction by Bell's founder Larry Bell.